Ship Sticks: No more lugging clubs through the Airport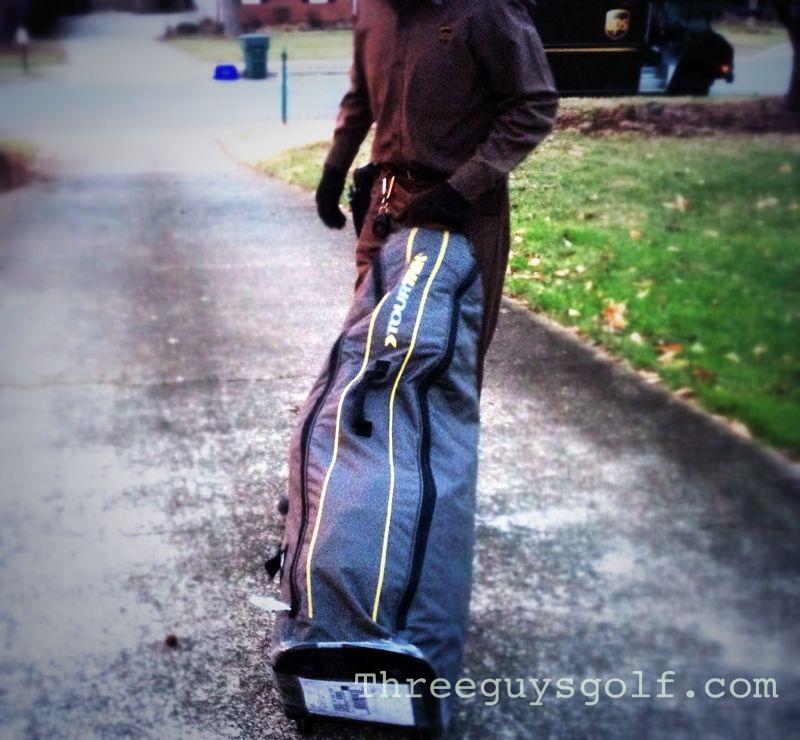 I am not exactly sure when, but certainly in the past two years, FedEx started to heavily promote their club shipping service. While the commercials were catchy, I was always wary of using the service because I figured the cost would be too much of a premium. I know this because I ship things on a regular basis (primarily via UPS) so I am aware of what it costs to ship a 45 pound bag. Throw in a box and service and I am thinking we are in the $75 per trip range. Side hint: UPS Stores and the like absolutely charge insane markups . . . go directly to a UPS location when possible.
In the case of Ship Sticks, who use both FedEx and UPS, it would then make sense that I would have to pay an additional premium as they are basically middle men (or so it would seem). Ugh, the dreaded middle man who takes a cut and offers no additional value . . . this is where I would be 100% wrong.
Ship Sticks' basic business model is to offer a convenient and affordable golf club shipping service. Let's talk cost first since that is what most people care about. Shipping your clubs one way costs about $40 (or about $0-$15 more than most airlines). It is my understanding that Ship Sticks is able to offer this rate because they have negotiated lower prices with the carriers, and are therefore able to keep the marked up price still at the going rate. Ok then, why Ship Sticks rather than going straight to UPS or FedEx?
In late January I was scheduled to attend the PGA Show where I was going to play 4 epic rounds of golf. I would be flying into Orlando and  then leaving from the Marriott at TPC Sawgrass (yes that Sawgrass!). Because I was going to be in Florida for nearly a week (and tend to over pack), I was going to be carrying a large suitcase that would require checking. So even though Southwest boasts "bags fly free", in this case I was going to have to pay for my clubs. Moreover, there are few things I hate more that lugging a suitcase, briefcase and golf bag 500 yards from my car to the terminal in 40 degree cold. Not to mention dealing with them upon arrival. The decision was clear then to utilize the Ship Sticks service.
The Ship Sticks website is extremely easy to navigate and it allows you to have your clubs picked up at your house, office or dropped off at the UPS Station. As for delivery, you can have them shipped to your hotel or directly to the club you will be playing. The return trip can also be customized such that you hand the bag to the final club you play. Then it is just a matter of printing out the shipping labels and attaching them to your hard or soft travel bag. NOTE: my hotel did not charge me for accepting delivery, but you may want to call ahead to make sure your hotel will not ding you for that service. If they do, you could consider shipping to the golf course.
Ok, so far this is not much different than how I ship any other UPS boxes. Now, here is what is different. I got into Orlando about 1pm and headed directly to lunch where I met up with a friend. We ended up having a few beers and when he asked me about my clubs I told them they should be at the hotel. I gave the hotel a call but they had not arrived . . . panic mode. While I did have the tracking number somewhere buried in my phone, I decided to call Ship Sticks instead. To my delight, I was informed they were scheduled to be delivered later that day. About 90 minutes later,  I got an email telling me they had arrived – panic mode over, time for another round of cold ones! I should mention, this was not the first time I talked to Ship Sticks because the day before my clubs were picked up from my house, Ship Sticks buzzed me to remind me of the UPS pickup. I assumed that is standard protocol rather than them realizing I am way disorganized and would have forgotten.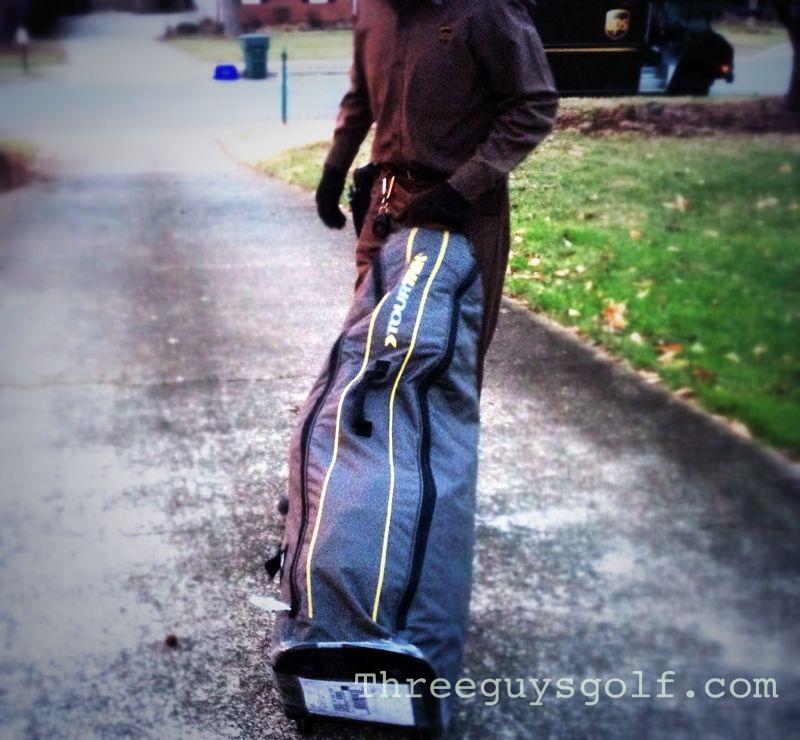 You get the idea? Ship Sticks is like your personal concierge. Sure I love UPS for my everyday delivery, but with my golf clubs I want a little more. Not only do I get personal service but I get a standard $1,000 of insurance. That's right, UPS insures your clubs for $500 but with Ship Sticks they bump it up to $1,000 at no additional cost and you can add on another $2,500 of insurance if you like. Now if they are lost or crushed you can actually pay for the replacements.
When you boil it down, shipping your golf clubs is basically cost neutral compared to putting them on the plane or shipping directly with UPS/FedEx and you get personal service to boot. No brainer in my mind. Not to mention not having to lug your clubs around (which is a pain). The only downside is that you may have do without your clubs for a few extra days, but for me giving up a round of golf right before or after my trip is no biggie since I am scrambling to either get all my work done or catch up on my work on those days anyhow. NOTE: they do offer overnight service so if you are in a pinch that is also an option but obviously it will increase the cost.
Bottom line: Shipping your golf clubs now makes financial sense and the convenience you get is well worth the day or two you don't have your clubs. From a safety standpoint I do not have any statistics on who treats bags better, UPS or the Airline, but I am putting my money on the company that ships bags for a living, not the airlines. Take this picture as proof. This scary image hit my Twitter stream the day I shipped my sticks. Suffice it to say Golfspy Tim was not too happy with American Airlines.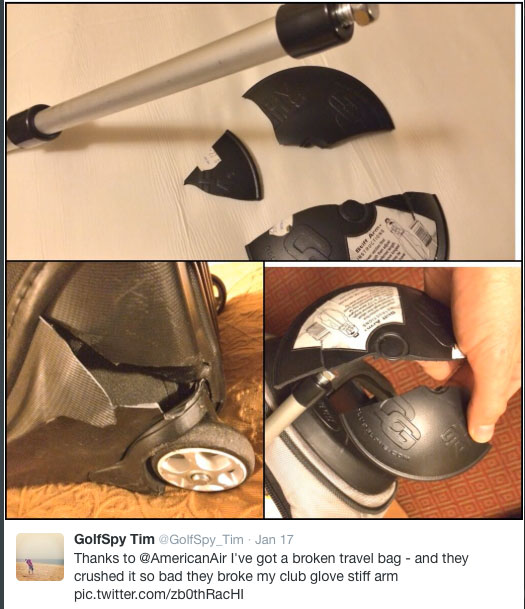 Now, I know this is the exception rather than the rule, but if you are judging safety when deciding how to ship your clubs, I would argue that Ship Sticks is as safe or safer than any airline.
Final hint: Remember you will need attach the return label so be sure to bring extra tape or, even better, a self-adhesive packing slip envelope.
To earn more and ship your clubs (or skis, snowboard or boots) visit the Ship Sticks Website.
Bonus Travel Tip from Three Guys Golfer @Matt Murley:
Okay, so you've shipped your sticks, and now you only have 1 bag to haul into the airport. Congrats! I'm sure your first instinct is to keep that sucker as a carry-on, as most folks tend to think that checking a bag is one of the great horrors of the world. Not so fast. Do your overhead compartments a favor and try checking that bag – not for the benefit of others, but for your own good. One of the great underrated pleasures of life is strolling through an airport terminal with nary a bag to weigh you down. Cruise carefree through security, check out a few different airport bars and see which one suits your fancy, get up to hit the head after your 3rd beer . . . peachy. When you land, you stroll down to the baggage claim and maybe wait 10 minutes for your bag. Who cares? You're already on vacation.