Bradley Allan Apparel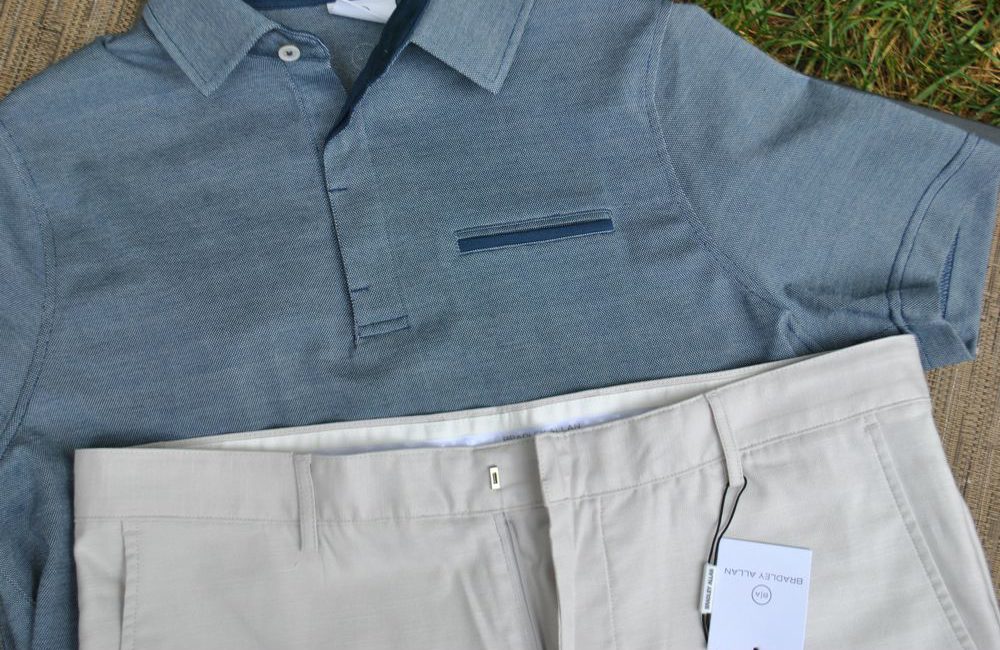 Trying to keep up with all of the new golf apparel brands can be quite the challenge, as it seems a new label pops up each day. Plus, the lines between golf apparel and just 'apparel' continue to blur. I mean, what makes a shirt a "golf shirt" or a pair of shorts "golf shorts"? Frankly not that much. Sure there are some technical properties, such as material leaning towards performance, but mostly what we are talking about is a style that looks like it belongs on a golf course.
Bradley Allan is one of these newish companies trying to break into the golf apparel market. Started by, you guessed it, Bradley Allan (just kidding, it was founded by Brad Franklin), the designs are grounded in quality materials and classic looks.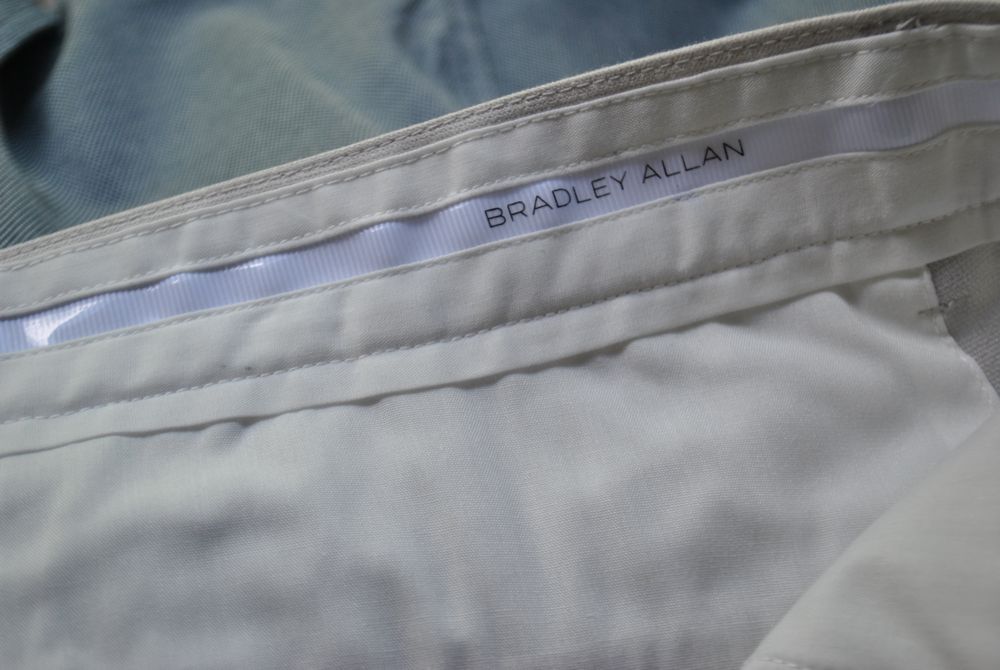 For this review, I took a look at two pieces: the Oxford Pique Polo and the Stretch Gaberdine Lunar Shorts. While they are branded as golf, I actually wear them more off the course than on.
The Oxford Pique Polo is a blend of Pima Cotton and Polyester which should mean it is really soft. I have a number of Pima Cotton shirts that I absolutely love and even wear for golf in the summer… I am all in on Pima Cotton.
With that setup, I have to say I am totally confused as to why I think the Oxford Pique just feels a tiny bit scratchy. I struggled with this comment as I know companies don't want to have their shirts described as scratchy. In my effort to get the facts, I checked with a few other bloggers who have worn this shirt to see if they felt the same way as me. Both disagreed with me and said they thought the shirt was quite soft. Feeling like I might be losing my edge, I convinced my wife to try it on to which she said without prompting "this feels scratchy".
So I guess we have a split decision. Perhaps I got an odd shirt but I have no doubt the shirt I got, while very good looking, is not what I would classify as "soft".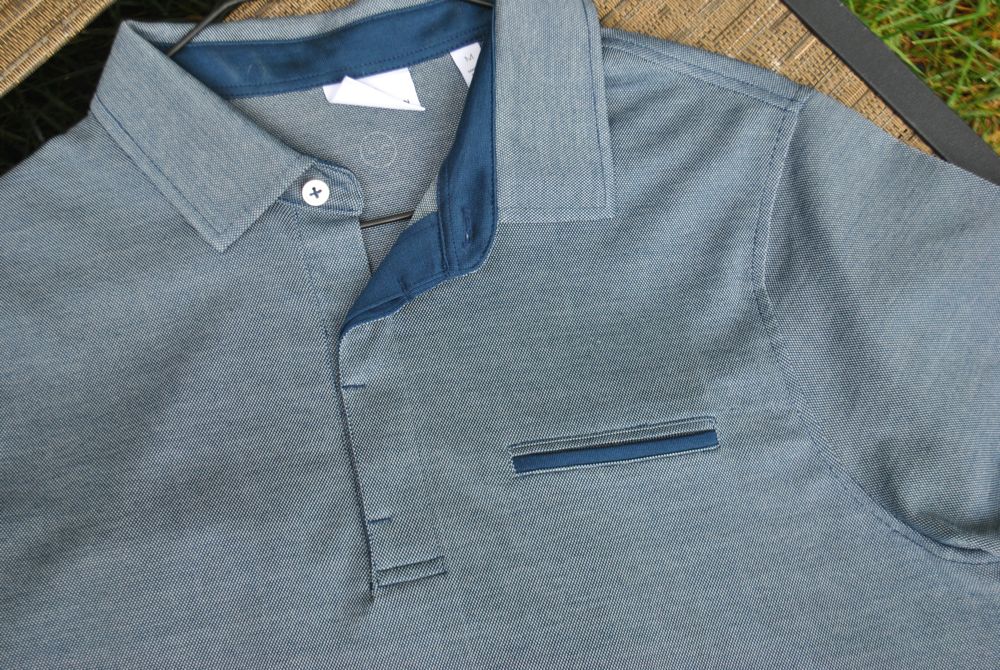 With that said, I really do like the look. Specifically, the faux pocket which sets it apart from your average polo. I love pockets on shirts in general, and while this is technically not a pocket it does provide the same look. Additionally, the Bradley Allan polo has a very unique placket that covers the buttons, giving it a very clean look with the only branding being a small logo on the back yoke.
In terms of fit, you are absolutely going to want to size up unless you like a very tight fit. I sized up to a large (I always wear medium) and was totally happy with that fit. Arms hit in the middle of the bicep and the sides are trimmed with a modern fit.
Bradley Allan Gaberdine Shorts:
Khaki shorts are a dime a dozen until you get a really nice pair. The Bradley Allan Gaberdine shorts are that pair. These are also a cotton/poly blend but much heavier on the cotton I think. Yes, there is a little stretch, but what you mostly feel is the cotton. I also know this because they are a bit high maintenance. While they are safe to wash and dry, you may need to pull out the steamer to release the wrinkles. The good news is that a few minutes of time is worth it as they look perfect. Details like the looped back pocket or metal emblem give the Bradley Allan shorts a touch of sophistication that most golf shorts lack.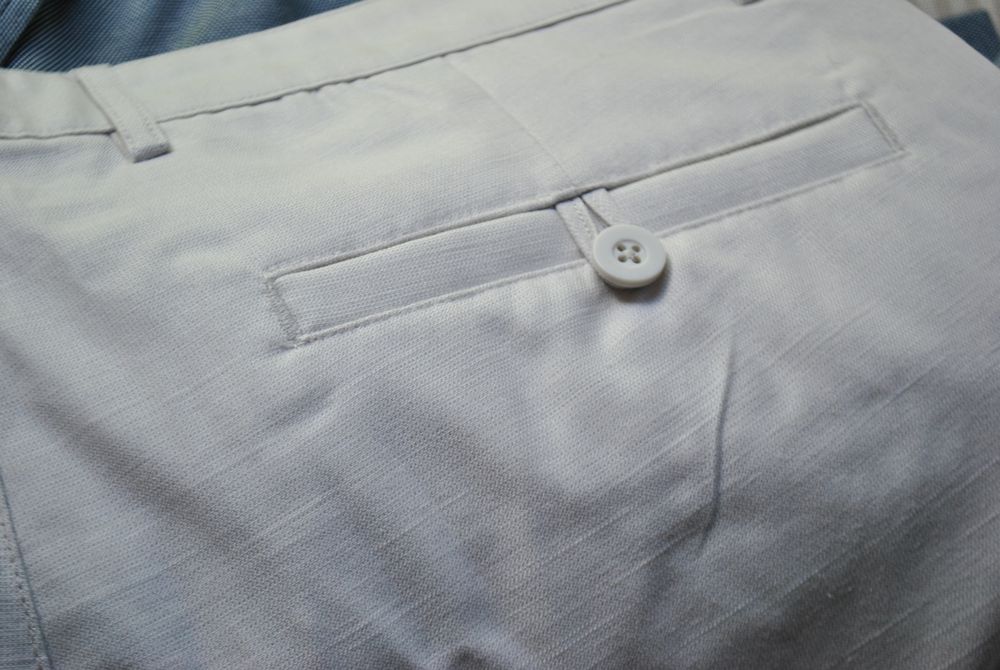 Two other features of the Bradley Allan Gaberdine Shorts that I love are: 1) the sticky waistband to keep your shirt tucked in and 2) the extra clasp on the waist to augment the button. Both of these features are so useful it makes me crazy when they are left out.
As mentioned before, I really like the loop on the back pocket, but the front pockets are equally impressive. For anyone who likes deep pockets, you are in luck with these shorts. Front pockets are easy to get your hand into and provide ample space for a wallet or other items.
Unlike the polo, the Bradley Allan Shorts fit to size. The length is standard, hitting just above the knee giving you a perfect country club look.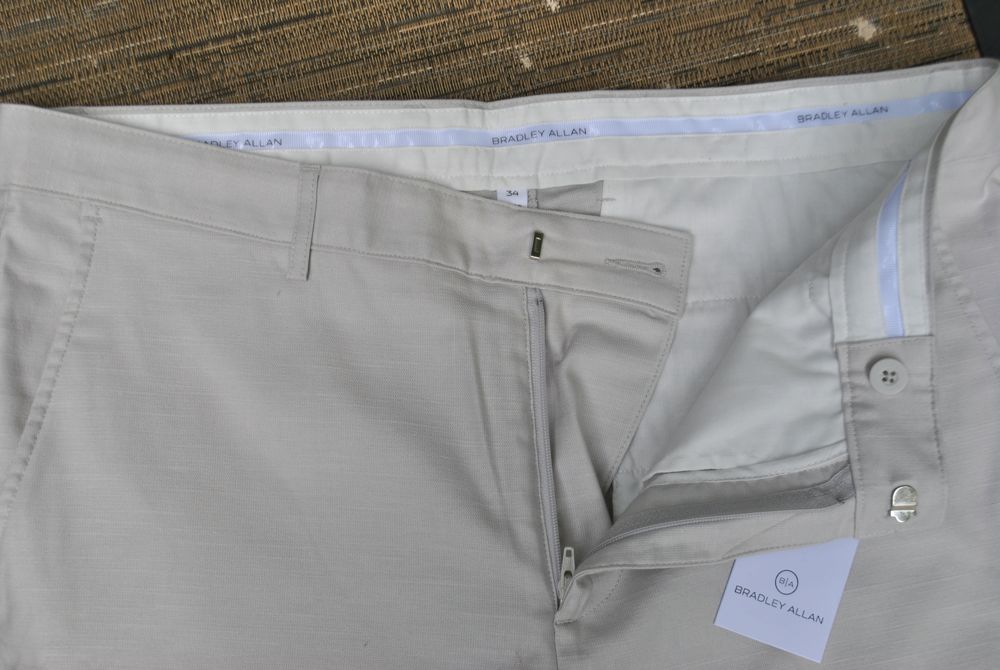 As I mentioned, Bradley Allan has roots in the golf industry, but this first line is very non-golfie much like Dunning (from where designer Brad Franklin got his start). With that said, Dunning is very business like, while Bradley Allan has more youth while maintaining a preppy/country club appeal.
No matter how much apparel experience you have, starting an apparel company is brutal. Over the years I have seen many brands fail despite having a solid first line. I have also seen awful apparel make it because they nailed the sales side of the equation. It is too early to foresee the future of Bradley Allan, but given this first line, I think they have a good start as they will not be locked into just the golf business.
I look forward to seeing how the brand expands and what features they will carry forward as "their look". For now, you can check out the Bradley Allan Apparel on their website.