Tot Hill Farm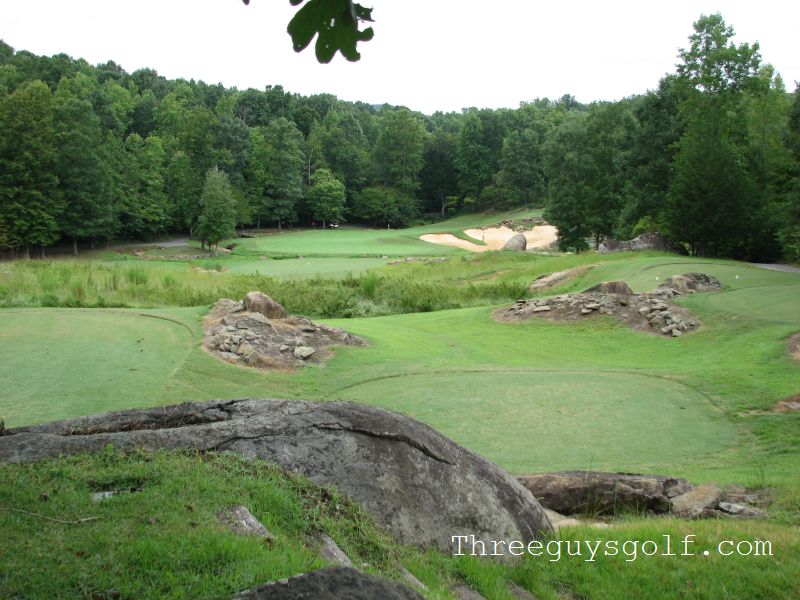 Since you're using the Internet to read this I'm sure you're familiar with the game "Six Degrees of Kevin Bacon", where you see how quickly can you connect Kevin Bacon to any other actor in the world. I think that I can connect Kevin Bacon, star of Footloose, to Mike Stranz, designer of Tot Hill Farm in Asheboro, North Carolina:
Kevin Bacon was directed by Clint Eastwood in "Mystic River".
Clint Eastwood got his start playing cowboy Rowdy Yates in Rawhide.
There's a picture in the clubhouse at Tot Hill Farm of Mike Stranz sitting on a horse, wearing a cowboy hat, as he surveys the property that would eventually become Tot Hill Farm.
Thanks for playing, you can now forget that I ever mentioned Kevin Bacon.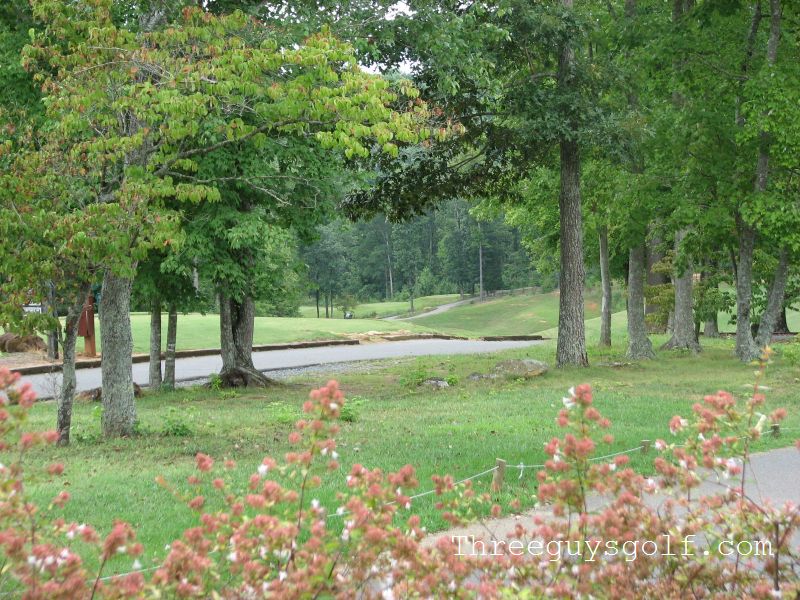 From the porch it looks peaceful
What's important is the connection between "Cowboy" Mike Stranz and Clint "Dirty Harry" Eastwood. I don't know if these two gentlemen ever met, but after a day at Tot Hill Farm I'm positive that Mike Stranz and Dirty Harry share a philosophy: "A man's got to know his limitations."
Tot Hill Farm has a fearsome reputation. Voted the 7th hardest course in America in 2007, Golf Digest gave it 4.5 stars in 2008 and 2009 and named it to their coveted list of Best Places to Play in 2010. Ask anyone who's played there and you won't get a tepid opinion – the consensus is that you may love Tot Hill Farm or you may hate it, but you aren't likely to forget it any time soon.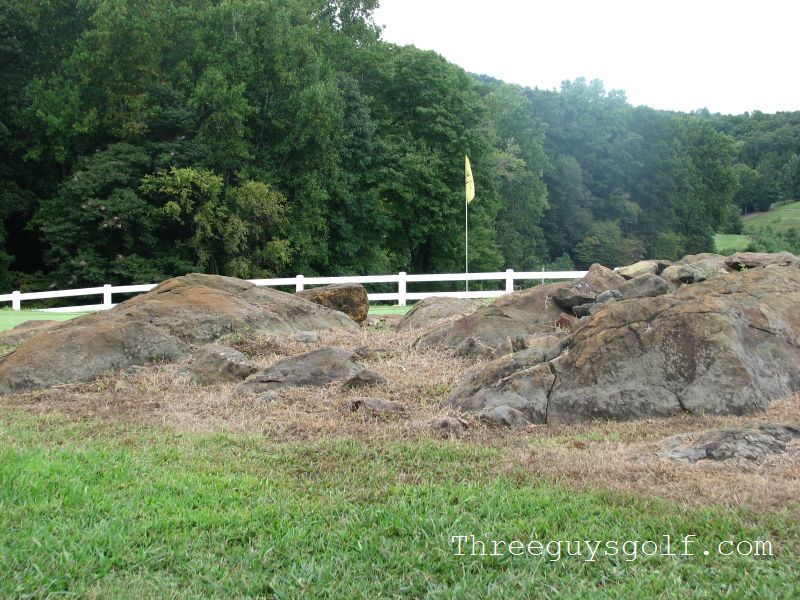 I'm thinking flop shot
That's fitting, because Tot Hill Farm isn't your average golf course. For starters, it plays just 6,500 yards from the tips. That's practically a pitch-and-putt course by today's standards, but I doubt that many will walk off the 18th green wishing for more length. In those 6,500 yards, Tot Hill Farm makes you use not only every shot in your bag, but something even more rarely called for in many designs: self-restraint.
If you watch any professional golf you'll hear commentators talk about a "good miss". A recurring theme during Master's Week is that "you have to miss it in the right spot." At Tot Hill Farm it's very rare for there to be a good miss. Nearly every hole offers you several places to safely hit the ball, but if you don't hit it to one of those places, my advice is not to waste time looking for it. At many golf courses you can hit toward targets – if you're a little short or a little long that's okay, it's a chip and a putt. At Tot Hill Farm you have to hit to targets. If you're a little short or a little long, it's a drop and at least one extra stroke on your card.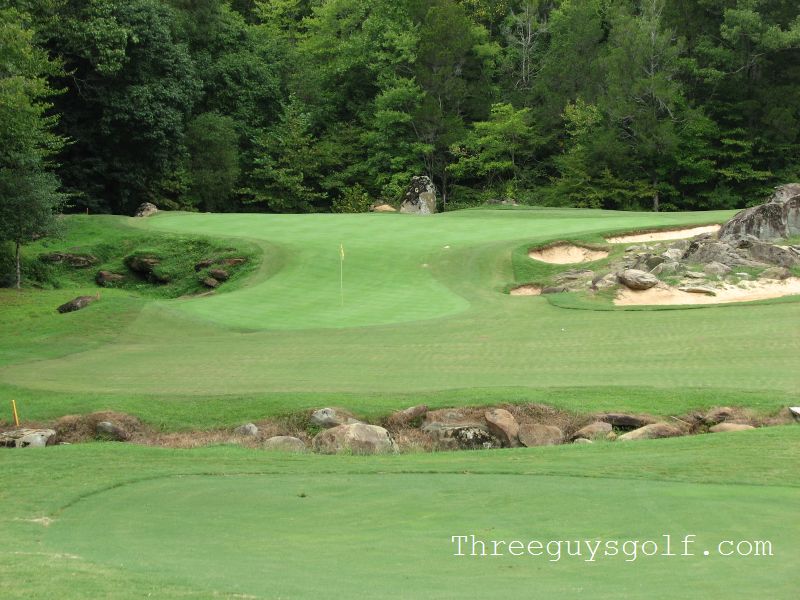 The good miss here is – don't
But if Tot Hill Farm is harsh, she's also fair. If you're willing to be honest about your game you can navigate the course with remarkably little fuss. After an atrocious start, hitting driver off the planet on nos 1 and 2, I settled down, accepted my limitations, and ended up bunting my way around using mostly my hybrid and mid irons, escaping this 132-slope maze with the same score I'm happy to card at my 119-sloped home course. My playing companion had more faith in his driver (and justly so), and was able to parlay that into a slightly better score, but since I would never play him straight up, I'm counting it as a moral victory.
In a few days the Eldorado Expedition went into the patient wilderness, that closed upon it as the sea closes over a diver. Long afterwards the news came that all the donkeys were dead. I know nothing as to the fate of the less valuable animals. They, no doubt, like the rest of us, found what they deserved.

-Joseph Conrad, Heart of Darkness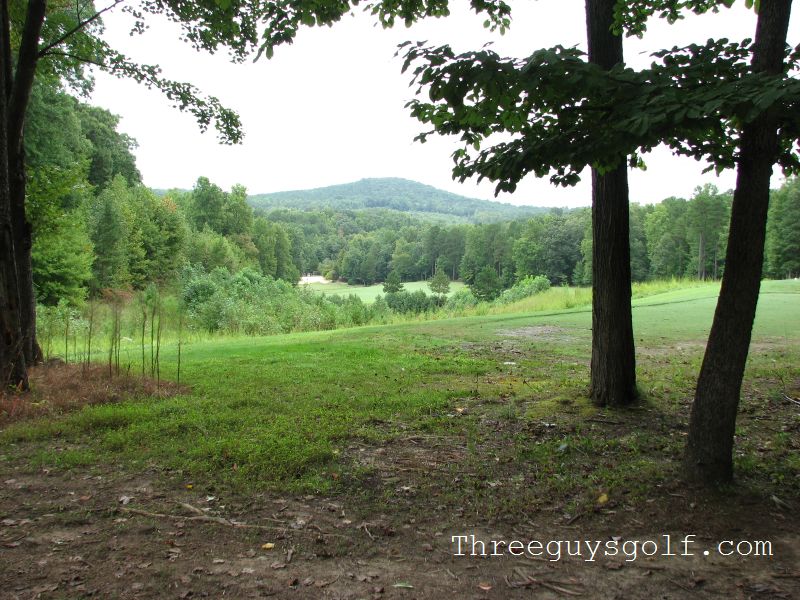 There's a fairway out there. Trust me.
Tot Hill Farm was built long after Mean Joe Conrad wrote the book that would become Apocalypse Now, but as you make your way from the first tee down the winding maze into the forest canopy of the front nine I wouldn't blame you if you felt the urge to keep looking over your shoulder. Somehow golf carts seem like the wrong conveyance – pack mules would fit right in.
I'll spare you the gory details of a hole-by-hole description (you can see an excellent flyover here) and hit the highlights. The front nine feels like Stranz wanted to get some work done while he waited for the bulldozer to get there. It's rare to see a golf course that looks as though it's always been there, but the front nine at Tot Hill Farm looks as though someone was cutting trees one day and came across a golf course.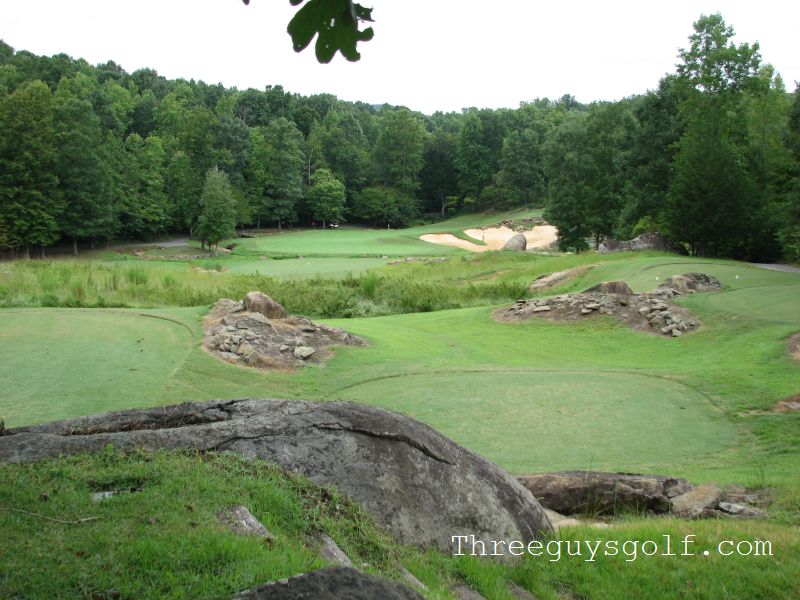 Well I'll be darned – a golf course!
Nearly every hole on the front nine features a significant elevation change, you'll know that you're headed back toward the clubhouse when you start back uphill.  Water is everywhere on the front, and not the kind of benign water that sits quietly out of the way, waiting to swallow bad shots on normal golf courses. This water is like a psycho ex, it will not be ignored and it demands to be considered when you select a shot. Finally, to keep things interesting, there are granite outcroppings scattered about, just waiting to send a misdirected golf ball on a new and random trajectory. And at Tot Hill Farm, all of the random trajectories end somewhere you don't want to be.
My favorite thing about the front nine is the complete lack of development. There may have been a little here or there, but none that grabbed your attention. The course flows through the woods with a sense of belonging, it reminded me of being a kid and following a creek just to see where it went.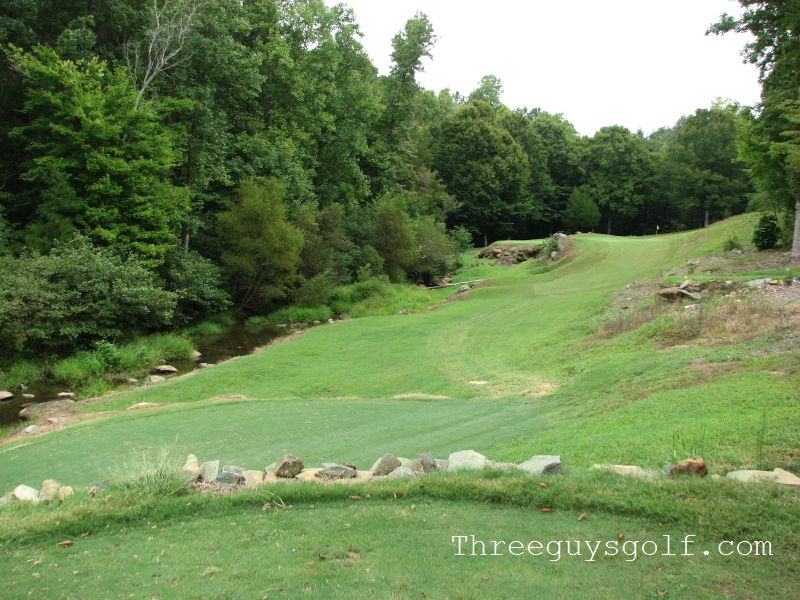 Easy hole, just hit it between the creek and the mountain
The back nine puts the "farm" in Tot Hill Farm – a bit more open, ponds replace some of the creeks. The forest gives way to beautiful homes that continue the theme of fitting in to the surroundings rather than sitting on them. An added twist on the back is that you'll end up driving through several tunnels, including one that's below the level of a lake, featuring a warning that it may flood rapidly ("What happened to Steve?" "Drowned in a golfing accident.")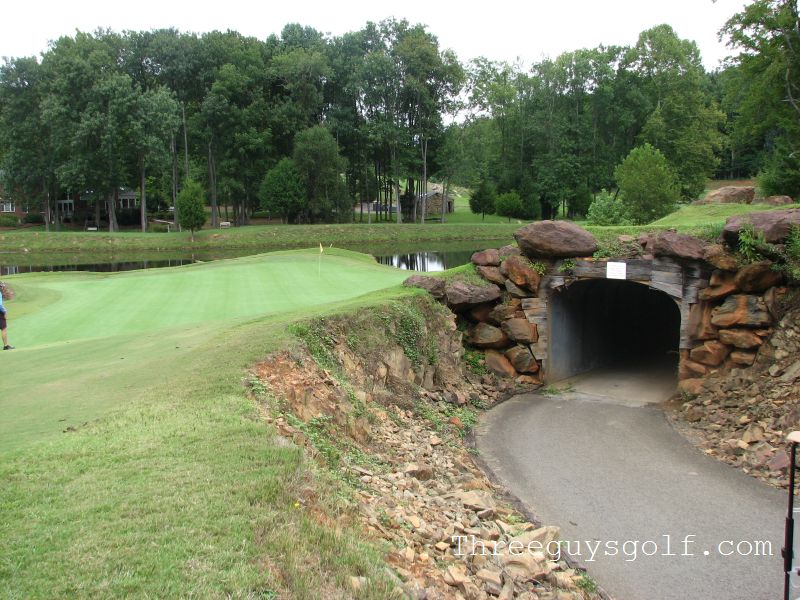 Yes, that's a tunnel. There's light at the end, I promise
We played Tot Hill Farm on a Wednesday after three days of heavy rain, so the grounds crew was playing catch up. Even so the course was in very good condition, the fairways were well-kept and the bentgrass greens were very receptive. Green speed was moderate, which I think is appropriate for the well-defended greens. There are very few holes at Tot Hill Farm that encourage you to hit a long iron at them, but the ones that do will hold the ball – if you can get it there. Putts rolled true, putting a premium on skill in reading the greens.
The practice amenities are comprehensive and well thought out. The fact that the driving range features a significant elevation change is a nice touch. I wish I'd had time to use it before we teed off, overestimating my yardage gain when hitting downhill cost me several strokes over the course of the day.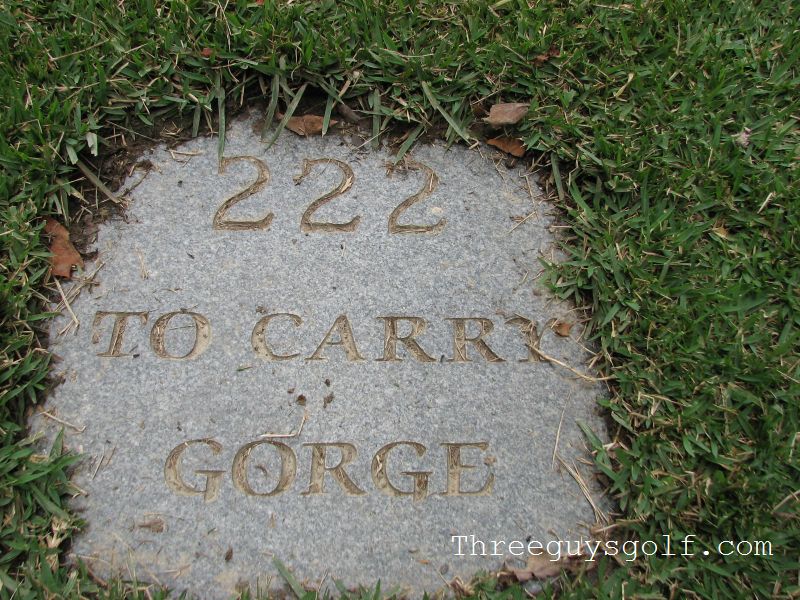 Just a smooth 7 – if you're bailing out
The clubhouse is not opulent, but packs a good selection of necessary gear and souvenir equipment into a minimal amount of space. You'll want a yardage book. Trust me.
No review would be complete without a mention of the grub. Tot Hill Farm has more of a "snack bar" arrangement than a grill room, although why anyone would want to eat inside when they could sit on the clubhouse's expansive porch and watch the hopeful start off and the survivors struggle home is beyond me. Selection for this type of arrangement is very good, and my chili dog was an excellent example of the breed – not veering into the frou-frou world of the "gourmet hot dog", but not a piece of roller jerky either.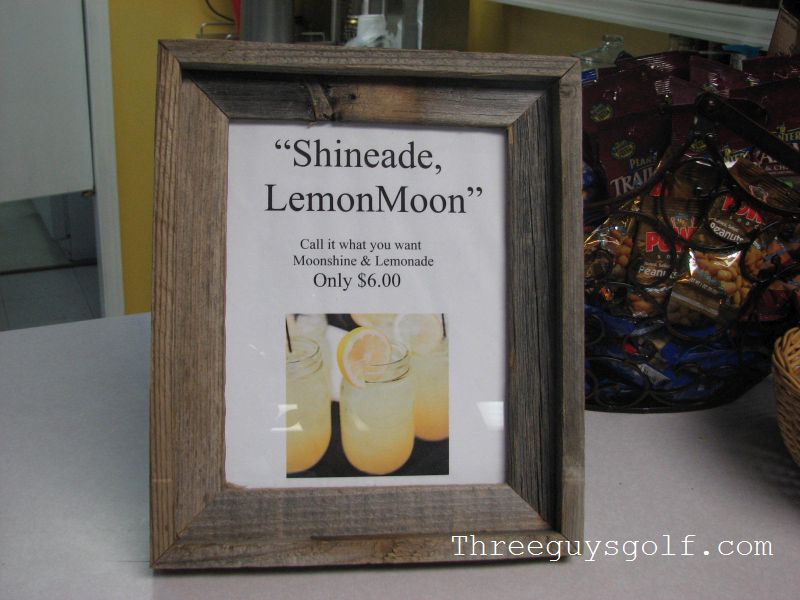 They should have called it "liquid courage"
The snack bar also has a full liquor license and a decent selection of adult beverages. With each of us facing an hour drive home we elected not to try out the featured Lemon Moonshine, but the next time I play Tot Hill Farm I'm going to bring a designated driver – a little of the 'shine might just make the tee at #10 less intimidating.
Everyone we met at Tot Hill Farm from the clubhouse staff to the grounds crew was great – friendly and smiling, they made the entire round a very pleasant experience. We played on a Wednesday morning and the course was well-attended. We waited a few times for the group ahead of us and ended up joining up with the group behind us for the last few holes, but in the end we got around the course in a timely 4:25 including grabbing dogs at the turn.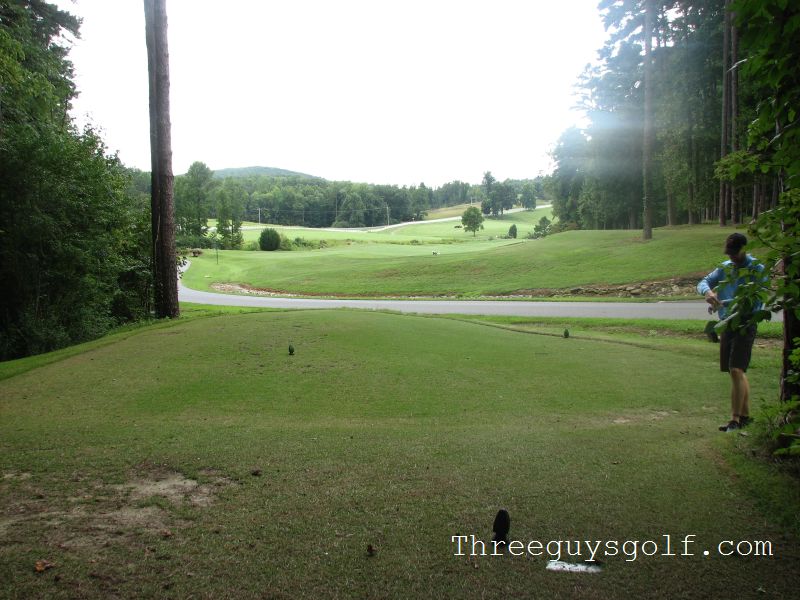 Check for traffic before you tee off
At Tot Hill Farm, Mike Stranz has created an unusual challenge. Not crazy length or humpbacked greens, the challenge at Tot Hill Farm is you. Mike Stranz has designed a course that gives you plenty of rope, and dares you not to hang yourself with it. If you're willing to take the shots that Tot Hill Farm gives you, you're going to have a great time. If you can't you might still have a great time, but you're going to need more golf balls.
You can see flyovers, scorecards, and more at the Tot Hill Farm web site.