Sun Mountain H2NO Golf Bag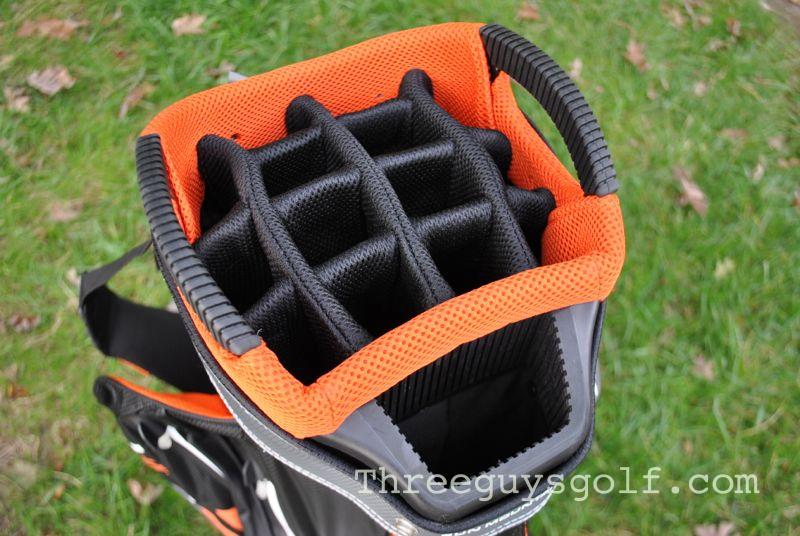 Sun Mountain H2No Cart Bag Review
We don't use them to bomb drives or bury putts but perhaps one of the most important golf purchases we make is the golf bag. The golf bag is our trusted home for our clubs and personal "carry-all" for 4+ hours each glorious time we tee it up. Like many people, I only get a new bag every 5-7 years so when it comes time to replace "old trusty", I am pretty fickle about what I want. You would think 'a bag is a bag'. I mean, it would seem reasonable that at this point in time that golf companies would have figured out all of the best features and just put them in every bag and the only difference would be the color scheme.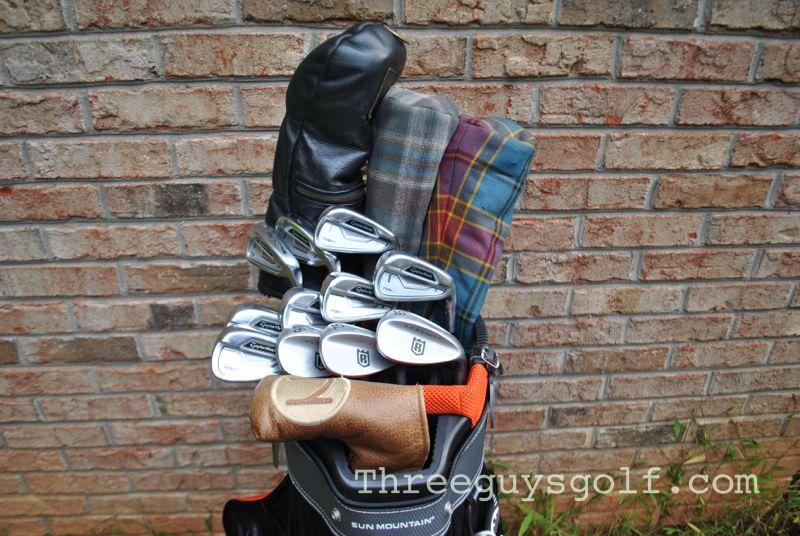 Unfortunately, most bags tend to leave off one critical feature or just miss the mark in terms of style. Luckily, I get to review lots of bags and have had ample opportunity to replace my old OGIO bag. Alas, every bag I have reviewed I ended up passing on because it lacked one key feature that I was not willing to do without.
Determined to finally find a suitable replacement for my aging bag, I looked around for something that had all of the features I knew I wanted, then crossed my fingers that the Sun Mountain H2NO would deliver.
The big selling feature of the H2NO bag is the waterproof claim. While not a deal breaker, the idea that more than one pocket is waterproof has some merit. When you play as much golf as I do, it is simply a matter of time before you get caught in a rainstorm. The added comfort of knowing nothing will get wet is absolutely a winner. And, yes, I not only played in light rain, but also used a hose for about 10 minutes to insure that all pockets did not leak. The Sun Mountain H2NO is definitely waterproof (with a clever name to boot).
Lift Grips
In my opinion, one obvious must-have feature of a cart bag is proper lift grips. Since a cart bag by nature is gonna be fairly heavily loaded down, the ability to easily get it in and out of a car trunk is pretty important. I am actually dumbfounded by how many cart bags do not offer an easy to access, stable grip that you can grab onto and haul out the whole bag. Fortunately, the Sun Mountain H2NO has two nice wide handles at the top of the bag that can be accessed from any angle and used to haul it around. There is also a lower grab area below the bottom pocket as well if you want to use two hands to maneuver the bag. Check one.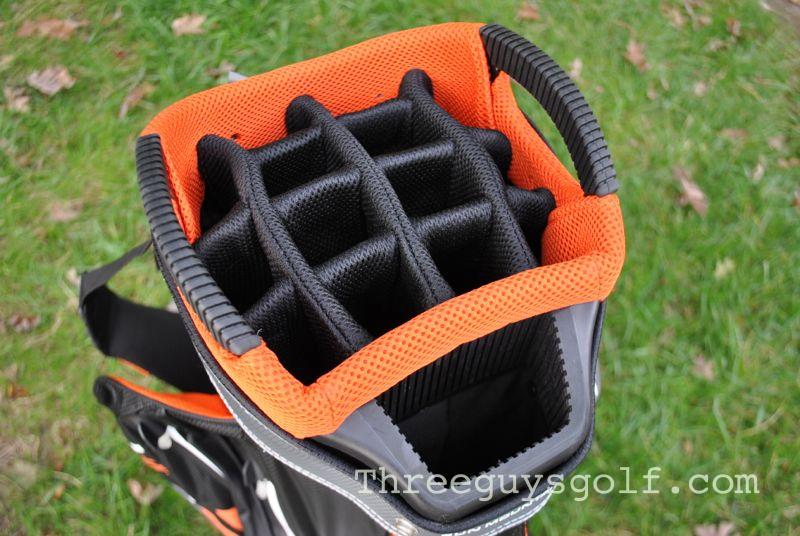 Club Slots
Another must-have in a cart bag is fully lined divided club slots. In the past, I have found some bags say they are divided but in fact are only divided for about a 1/2 of the way down the bag, which kind of defeats the whole purpose (tangled up grip mess!). The Sun Mountain H2NO has club dividers that go all the way to the bottom of the bag. There is also a separate slot for your putter that will take an oversized grip too. Check two.
As an added bonus, I have found the the square layout works really well. My old bag was more honeycomb shaped which was fine but this geometry is even better.
Pockets and Zippers
Next up, pockets and zippers. I am not sure what the magic number of pockets is but I am pretty sure it is around 7 to 9. That number is enough that you can keep like items together and still have some spare room. In the case of the Sun Mountain H2NO, there are 7 pockets which, although is on the low side, still should be sufficient for most golfers.
Starting on the front, you have 3 running down the length of the bag. In the top pocket I put ball markers and divot repair tools. Next, I use the smallish middle pouch for tees, and finally balls in the lowest pocket.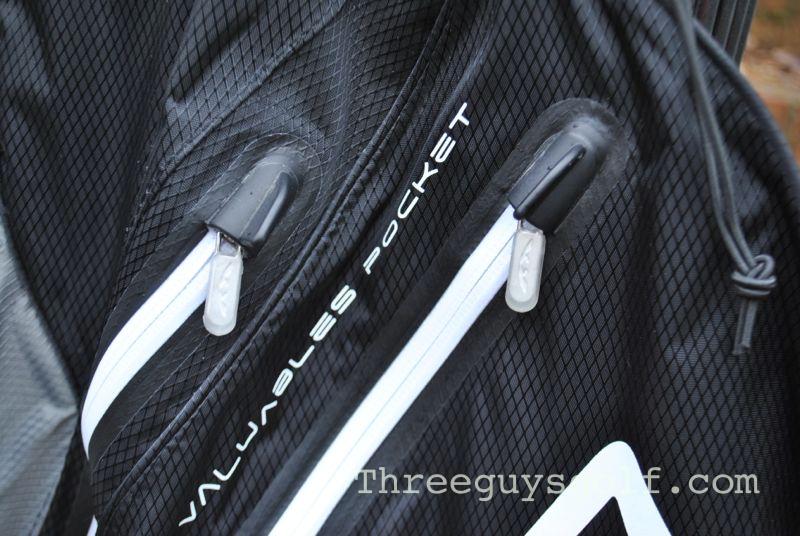 Near the top on either side are two smaller pockets. The top right pouch is the valuables pocket and is lined with soft material. This is where I dump my cellphone, wallet and keys. On the other side is a similar pocket without lining. I keep a few odds and ends like a koozie and club tool. Right now it is also home for the ball I made a hole in one with last month (oh snap!).
Finally, there are also two full-length pockets on each side that are big enough to hold a jacket, sweater or other outerwear. NOTE: this is also where the rain hood is kept. Speaking of which, the rain hood is orange and in fact does match the bag. It is pretty standard in design with a single zipper that goes up the front. Not the best design in the world but it does work and can be secured with 4 snaps.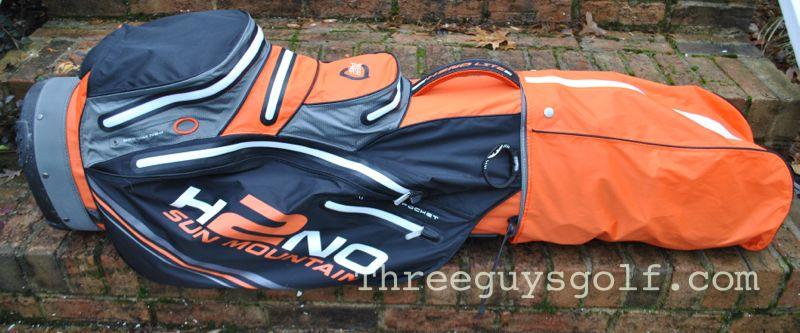 Overall, the pocket layout and construction works well . . . if forced to make a complaint, I would only have two small issues:
My first complaint is actually not a design flaw but a result of the fact this is a waterproof bag and hence uses single zippers that go to the bottom in order keep out the water. What this means is that to get into the bag pocket you basically need to unzip the entire pocket to get to the balls. Also, you will need to zip it back up so the balls won't fall out. Again, this is not really a design flaw I just prefer two zippers on the ball pocket so I can keep it partially unzipped and have the hole near the top. In the end, not a huge deal unless you lose 5 balls a round or need to get in and out of that pocket a lot.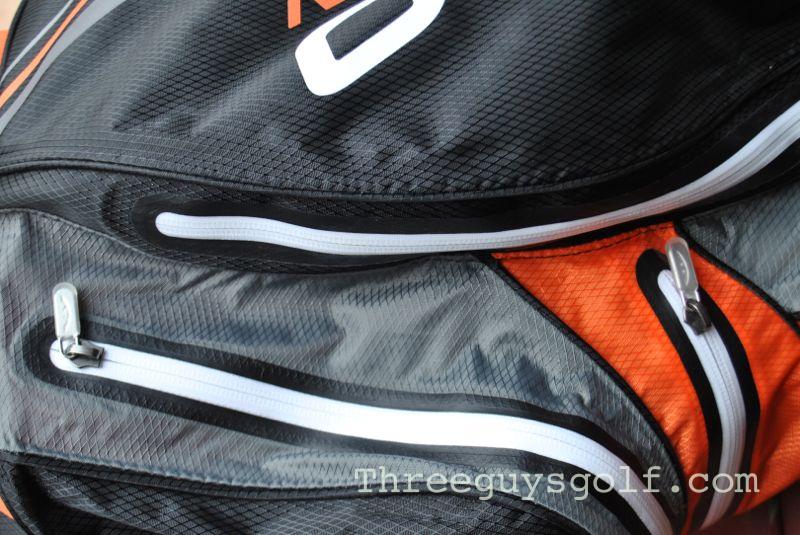 The other nit I have is the lack of a medium-sized pocket. In the past, I have used such a pocket to put my golf gloves in. NOTE, I keep my golf gloves inside the original packaging to keep them fresh so smashing them into a small pocket is not an option. With the Sun Mountain H2NO, my solution has been to simply keep them in one of the long full-sized pockets which is fine but not optimal.
Bells and Whistles
Beyond the must-have features, the Sun Mountain H2NO has a few other nice bells-n-whistles worth mentioning. Specifically, I like the addition of a towel loop and holster for an umbrella. Additionally, it has two "bumpers" on the back of the back to resist any damage when it is strapped into a cart.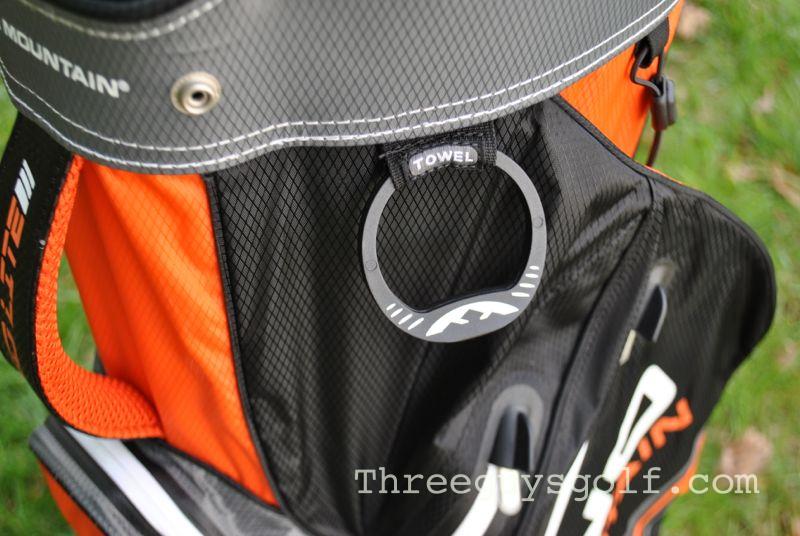 Speaking of carts, I actually push my bag about 90% of the time using a Sun Mountain SV1 Speed Cart (which I still love). Hence, it would make sense that this bag fits very well with the same branded cart. The only small drawback I have (and this only happens when I am using a push cart), is that the putter sometimes gets caught when I try to pull it out. I think this is due in part to the fact I use an oversized SuperStroke grip and the bag is not totally vertical. However, after a little practice I have learned how to get it out without the butt end catching.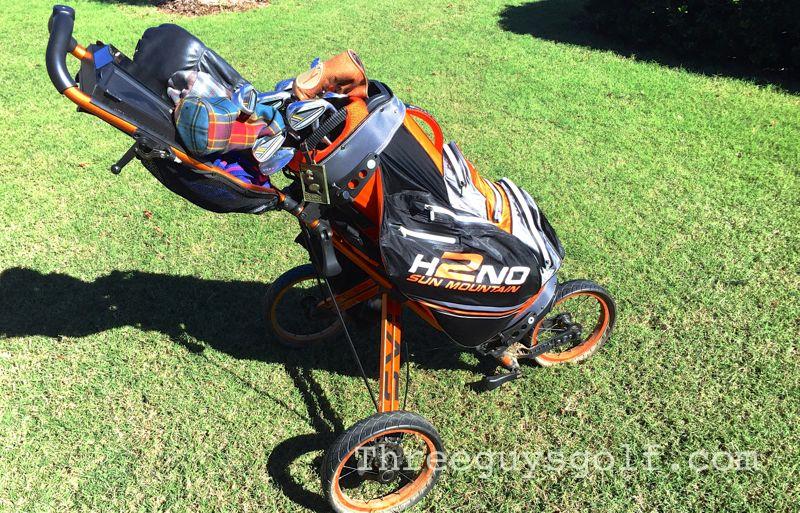 Two other small details that are worth mentioning. First, the base of the bag is fairly stable. Albeit not rock solid, but good enough that it will stand up on the pavement without falling over. The strap, which is rarely used, is ok but I do wish there was a place to tuck it in for when it is not in use.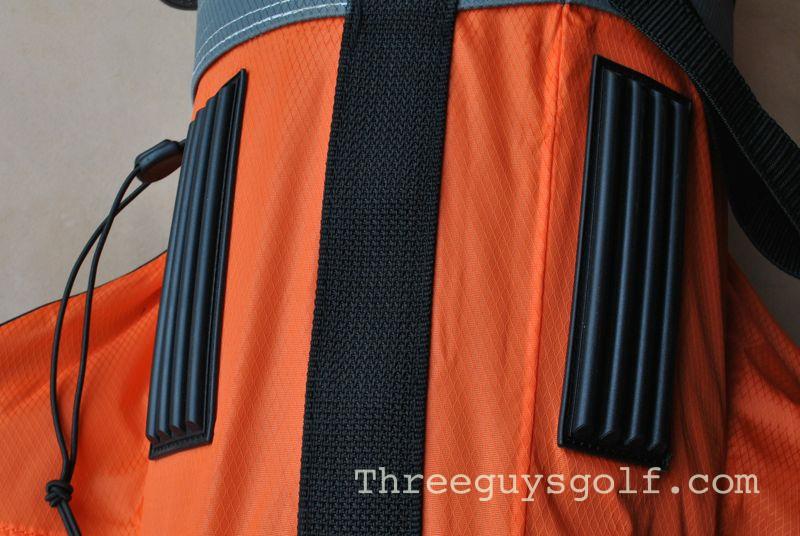 The Verdict
At long last, I have found a golf bag that I am 95% happy with. Not only does it have all of the required features, it is a good size (not too big, not to small) and sharp looking (at least I think so). Plus it's waterproof…H2YES!
You can find out more about the Sun Mountain H2NO bag on the Sun Mountain website.