Sligo Fall 2012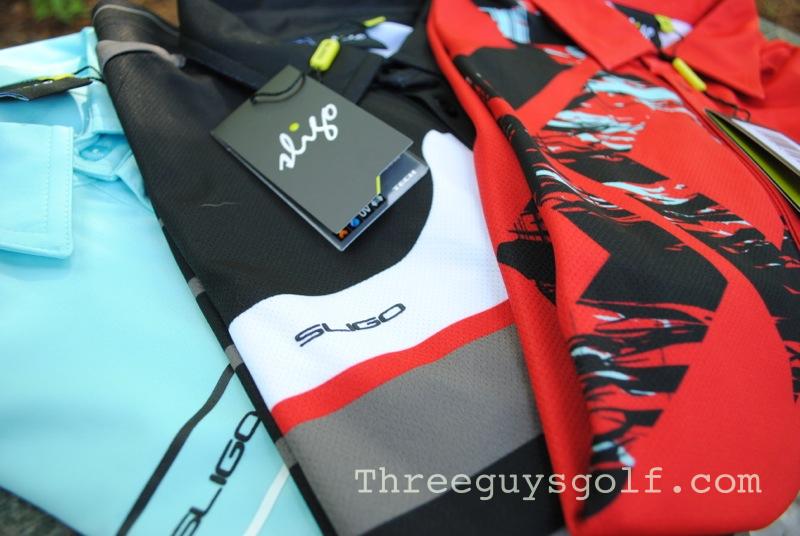 Despite being a full blown golf nut, my first real exposure to Sligo was at the 2012 PGA Merchandise show. Sligo (Sly-go), is a Canadian based company known mostly for their bright techno-patterned apparel. While I admit that I typically shy away from patterned shirts, the Sligo line is top notch and virtually every pattern is stylish, hip and says "yup, I'm a player".
Starting with the material, all of the shirts are a performance poly-blend and range from super thin to a more standard weight. In other words, perfect for the heat of the summer. From a cut standpoint, they verge on a Euro but run very fair in terms of sizing. For example, I typically wear a medium and the Sligo mediums fit perfectly. To be noted, like some of the Euro cuts, the arms on the Sligo shirts are fairly short but I think it just gives it a more athletic look.
In terms of the patterns, while it is clearly personal preference, I was pleasantly surprised how much I liked each of the patterns. As I noted, I tend to prefer solids or stripes, but was very impressed with the Sligo prints. It's hard to put my finger on it, but the patterns just work and each of the Sligo shirts got thumbs up from both my wife and guys on the course. There is just no way you won't look good in a Sligo shirt.
I guess part of the reason I avoid patterned shirts is because I think they are harder to pair with shorts or pants. Fortunately, most of the Sligo shirts have a solid primary color, like black, which simplifies things for us challenged matchers. In other words, if you have one pair of black pants or shorts, you can pretty much wear them with any Sligo shirt and look money.
In addition to the shirts, we also took a look at the Sligo trousers. If you are like me, you have tons of shorts but like two pairs of golf pants and one is the pair of khakis you wear to work. Good news, Sligo does a bang up job with all of their shorts and pants. The pants are 97% polyester which makes them really light and stretchy. Plus they are super easy to clean which is a big deal for me since most of my cold weather golf tends to be a bit muddy. We all know the dirt that is picked up on pant cuffs but with the Sligo pants, they come out perfect with a simple wash.
For the more traditional golfer, they have a solid colors, but Sligo also has some really great looking plaids if you are in the mind to make a statement. However, even in the case of the solid black pants, Sligo added a bunch of contrast stitching and pocket bling not seen on your basic golf pants.
Sure the stitching is a bit over the top, but if this 46 year old can pull it off, I am all in. Seriously, I did not catch any hell for the Sligo pants. On the contrary, I got tons of "those are bad ass pants". Lest you think I golf with a bunch of twenty somethings, my fellow bloggers can confirm, my weekend group are straight talking southern guys who are not afraid to tell me what they think.
Despite the fact that Sligo may not be a household name, it has not stopped them from offering a full line of apparel. In addition to the shirts and pants, we had the opportunity to look at a sweater, socks and hat. While the socks and hat were great, the sweater was outstanding. Lightweight sweaters are perfect for temperatures in the 60's as they are much better fitting than a jacket, and don't swish around. Plus they just look better.
The Sligo sweater, while a simple black, has a few nice touches like the green trim on the cuffs and zipped collar. Plus, unlike most of the other Sligo gear, the sweater can be worn anywhere without fear of looking like you just played golf. This fact alone will likely make the sweater the most worn Sligo item I have.
Over the course of this year I have had to opportunity to review a bunch of golf apparel companies and one thing that I find is common among the companies whose gear I really like is that they have "a look" that is unique and recognizable. In other words, they do one thing and one thing well. Sligo absolutely meets this criteria. It's not that all of the Sligo gear looks the same, rather it all gives off the same vibe.
Bottom line for me is that Sligo has figured out a look, that while it may not be for everyone, is top notch for golfers who like a hip, athletic look. If you are looking for guys on the PGA Tour who wear Sligo, look for Sligo ambassador Brian Gay.
You can see the whole line of Sligo gear on their website.