TactiCool BAMF Golf Bag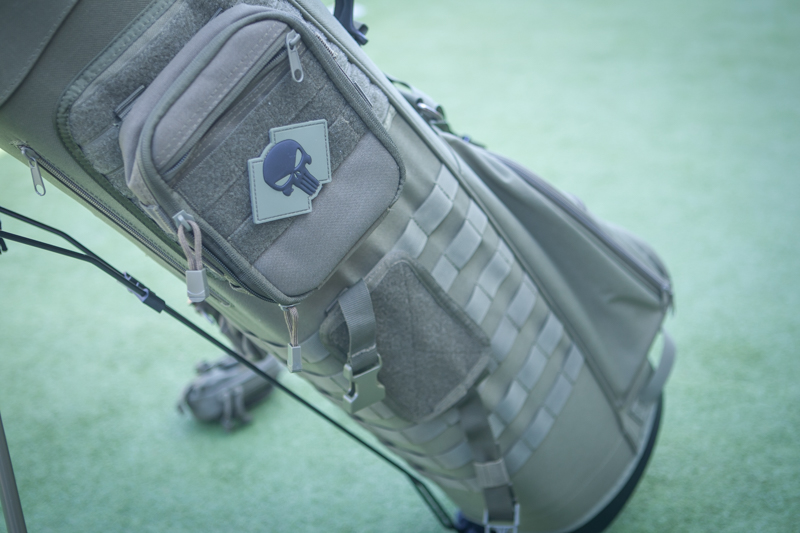 My desire to find the perfect golf bag as a product reviewer has taken a wild but pleasant turn, as we were introduced to a rather unique company based out of Arizona. TactiCool Clothing and Accessory Co has taken the very popular tactical gear industry and applied all it's features and durability and incorporated it into one of the most unique golf bags I've ever seen.
The 2016 BAMF Golf Bag takes all the common items you'll find in a club hauler, like a 14 slot top, pockets for your gear, carry straps and kickstands to make it a very useful carry bag, but when other manufactures go for style and flash the guys at TactiCool took the features of the bag and most definitely kicked it up a notch or 10!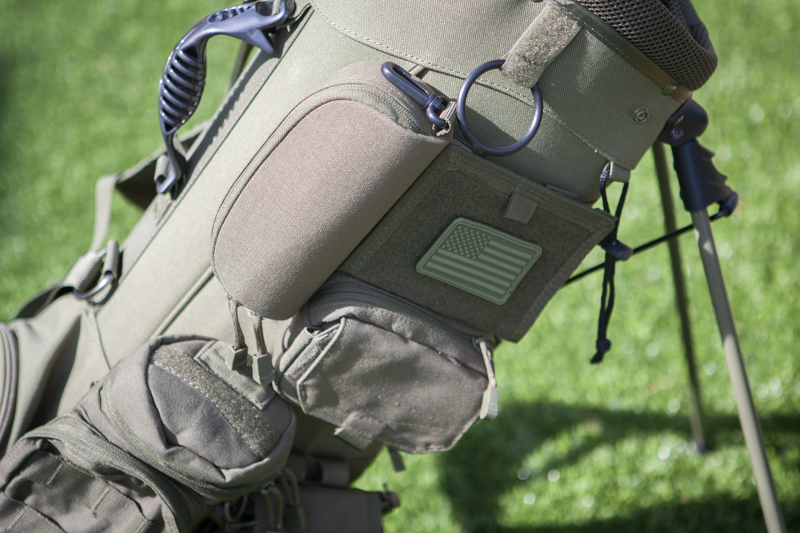 I come from a Military background, as a brat not actually serving, so when I saw the photos of the bag they were sending us for the first time I was shocked. For one it's a great looking bag and it screams the Military, USA, badass sons of bitches and so on. After completely looking it over though I began to wonder to myself, why is this the first time I've come across a bag with a strong military feel to it? Yes, it's very unique but in this day and age where there are so many new manufacture of goods I was stunned that nobody has done anything like a military based tactical bag, at this level, like TactiCool has.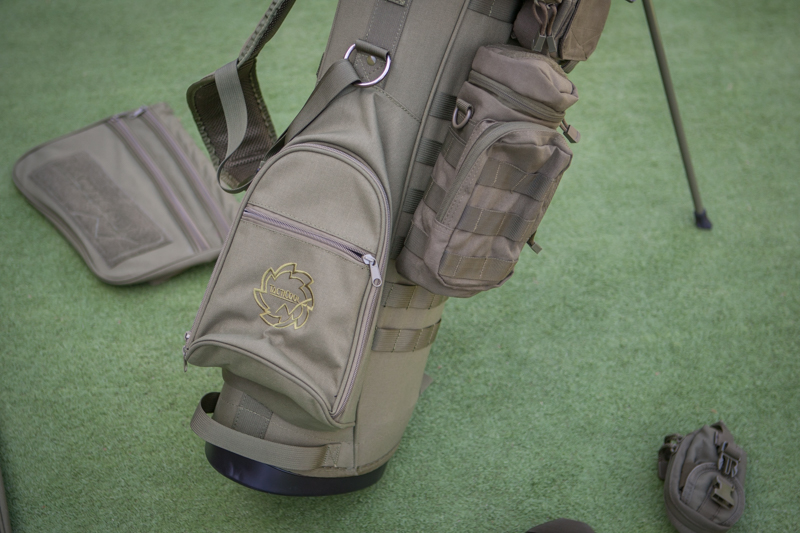 Once I started engaging with Jake, one of the partners in the company, I quickly began to understand the reasoning why a bag like the BAMF isn't your typical "lets thrown some designs together toss it on a bag frame and call it a tactical bag" bag. For the most part these guys have lived their lives involved in the military and have devoted their passion for serving our country into making a bag that not only makes a statement when it's strapped to your back, but also gives you the customization ability so few golf bags have. Customization is clearly what this bag is all about, and in order for me to get a grasp on what I had before me I was in need of some serious education on the main feature of the BAMF bag – the MOLLE system.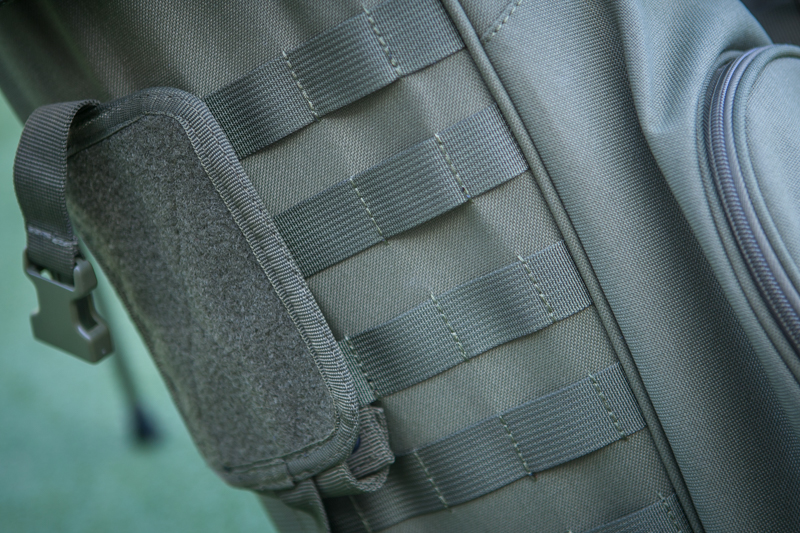 MOLLE is an acronym that stands for MOdular Lightweight Loadbearing Equipment. You can see why going by MOLLE is much easier. I've seen people on YouTube pronounce it either "Moll-Lay" or like the female name "Molly", which I'm partial too probably because I grew up on Molly Ringwald movies. I've never heard if there's a proper way to pronounce it, but in all honesty I really don't think anyone cares so I wouldn't be concerned with the grammar police on this one.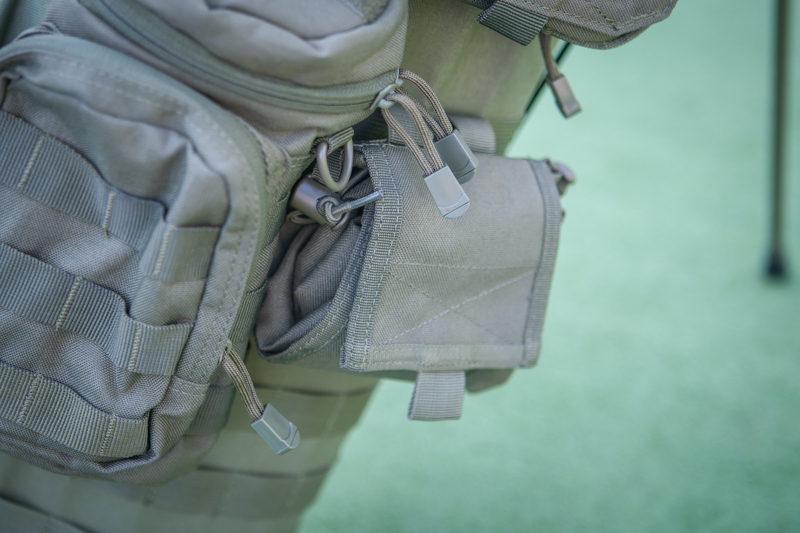 The key letter in MOLLE, at least for me, in the M for Modular. What makes the use of MOLLE so popular is there really are no limitations to what you can create with the stuff. TactiCool did a fantastic job incorporating a MOLLE system into the carry bag and really tested the limits on what can be placed on a golf bag without going over the top, so to speak. There are some many possibilities it's remarkable. It may take some time for the tactical gear companies to start incorporating actually golf made modules but what TactiCool has done with this first generation bag is outstanding.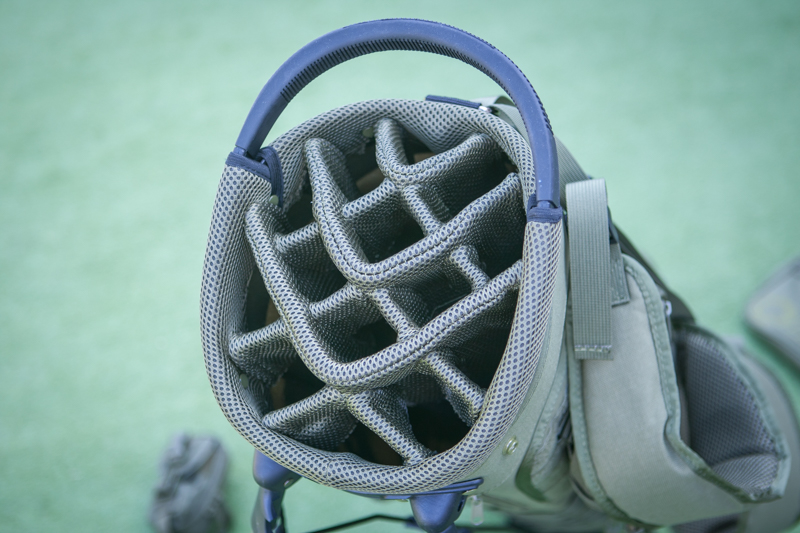 As I sat on my living room floor with bags and pouches and more bags and straps I was asking what the hell I got myself into! It literally took me a couple of days of playing around (mainly learning how to do the weaving properly) with the bag to figure out which configuration I was going to go with for my first outing. It was a little stressful. I didn't want to miss out on a feature but I also didn't want to look like I was preparing to walk 18 of the longest holes of my life with every possible accessory placed on the bag.
After much internal debate and spending a lot of time with all the different pouches that TactiCool was kind enough to send along, I was convinced this was going to take more than just a couple rounds of golf to fully understand the possibilities of the bag.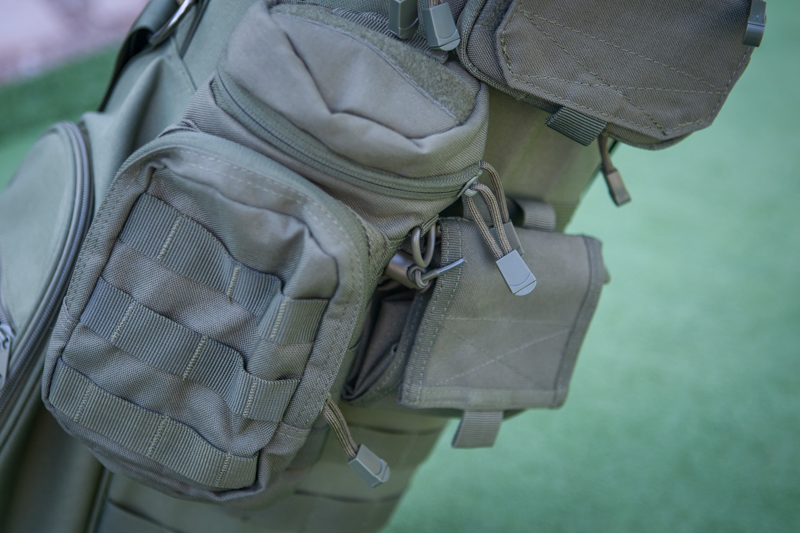 I did manage to put together a combination that I found to be quite fitting for my game. Now had this been two years ago when I practically brought my entire house with me to the course – training aids, 42 golf balls, range finder, hand held GPS, water bottles, food, shoes, hats, etc. – this would have been a match made in heaven. I've since learned to trust my skill set just a little bit more and now I leave a lot of that crap back in my garage.
Regardless of the personal dilemma I was having in deciding which configuration to go with, once I pulled the bag from my trunk and headed over to the practice range my worries about putting the right bag together quickly vanished when I started see the looks from other golfers at the facility. You guessed it, the bag is a head turner like no other. The only other time I've felt the glaring eyes of fellow players like this is when I throw my Loudmouth pants on for a round, this however was much different.
It took less than 5 mins of hitting balls during my warmup for the first person to come up and ask about the bag. As cools as that was, there was some hesitation in my mind. Did these people, who were incredibly fond of the BAMF bag, have thoughts in their heads that I was former or current military?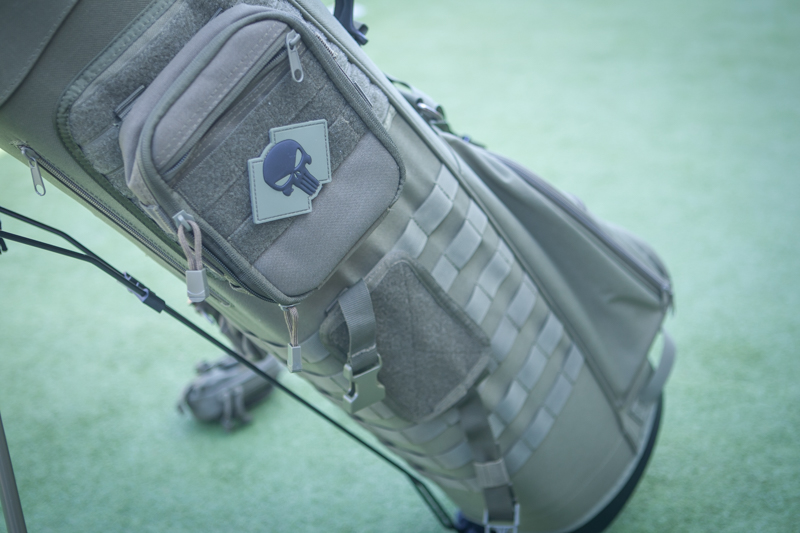 You may be shaking your head right now but let me explain a bit. When I first got the photos of the bag I was incredibly pumped up about it. Like I said and as you can see it just oozes a military product. That aspect turned several of my friends off to the bag. They felt, and still do, that I would be misrepresenting myself as a person of the military and therefore disrespecting the actual men and women who serve.
Hearing their point of view was troublesome but it was a point of view I was unfamiliar with. But, on the other hand there were also quite a few others who saw the bag and had the complete opposite reaction: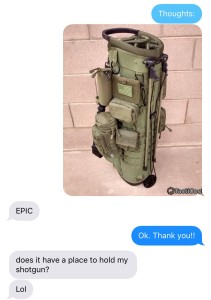 So it was a 50/50 split amongst my golfing buddies – some loved it, others not so much. Not wanting to offend anyone was a big concern but that all went by the wayside when I couldn't even warm up because I was fielding questions about the BAMF. Which reminds me… headphones are going back in the bag!
The ability to turn heads was awesome to see and I'm sure the guys back at TactiCool are going to be thrilled to hear that the majority of the golfers I've encountered on the course have had nothing but positive things to say about the bag. When it comes to creating a bag that appeals not only to everyday Joes but also true players of the game, as far as visually pleasing goes, I'd say the BAMF bag is a huge hit. Guys will love it, tactical gear heads that also play golf will absolutely have to have one and I'm almost certain it's going to be a new segment, the tactical segment, in the golf industry.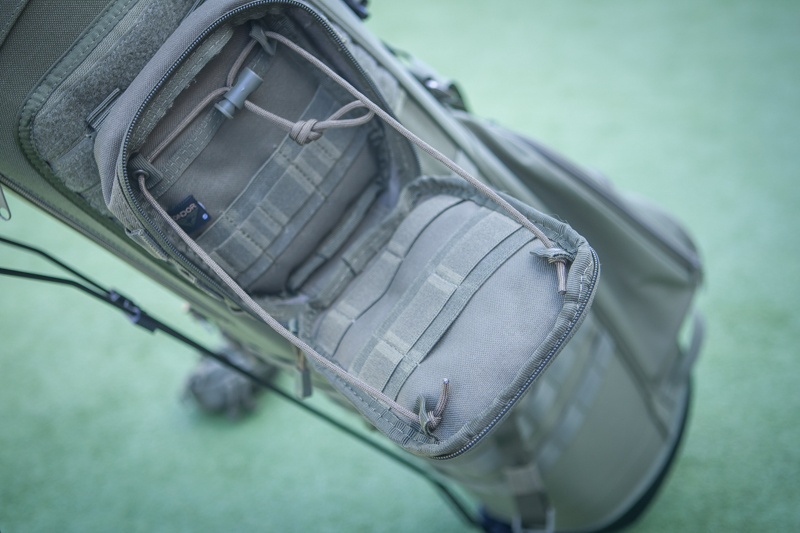 Looks will only get you so far though. As sad a truth it is in the ultra-competitive golf industry, no matter how well it looks and how many action-packed features it has, if it doesn't work on the golf course you're in trouble.
TactiCool is fortunate to have a great team that is very familiar with tactical gear and has an understanding of MOLLE to go along with some much needed golf knowledge. There's some mighty players in the Golf Bag world and I seriously don't believe TactiCool is trying to take away floor space from the big players at the giant retail outlets. They have created a very versatile golf bag that is going to appeal to a large number of golfers.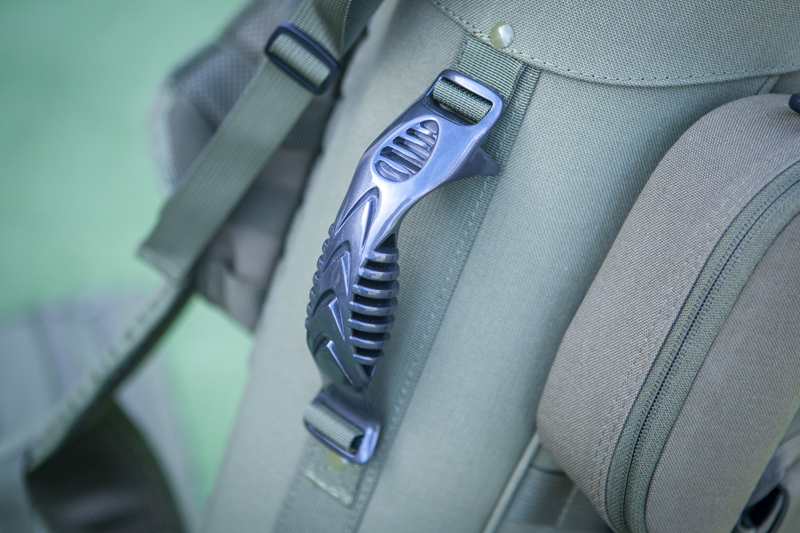 This being a first generation bag, I was worried the cons would outweigh the pros by a large percentage but I was completely wrong. The more I played with the bag the more comfortable I became with it and I'm positive someone who is familiar with how MOLLE works will be reading this and wonder how in the hell I didn't strap up and head out the door in under 5 minutes after opening the box.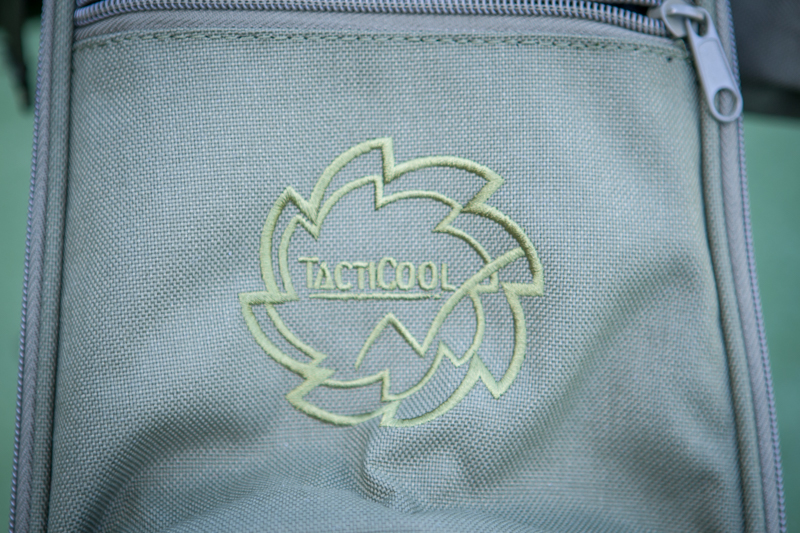 I have a few minor issues with the bag and I think you'll understand why. The first is the Putter pocket. It's very narrow and I use an oversize grip from Pure. It's larger than your average grip, and since its 100% rubber, getting my putter in and out of the bag became somewhat of an issue. With the growing popularity of oversized grips, I'm sure future releases of the BAMF Bags will take into consideration a wider opening.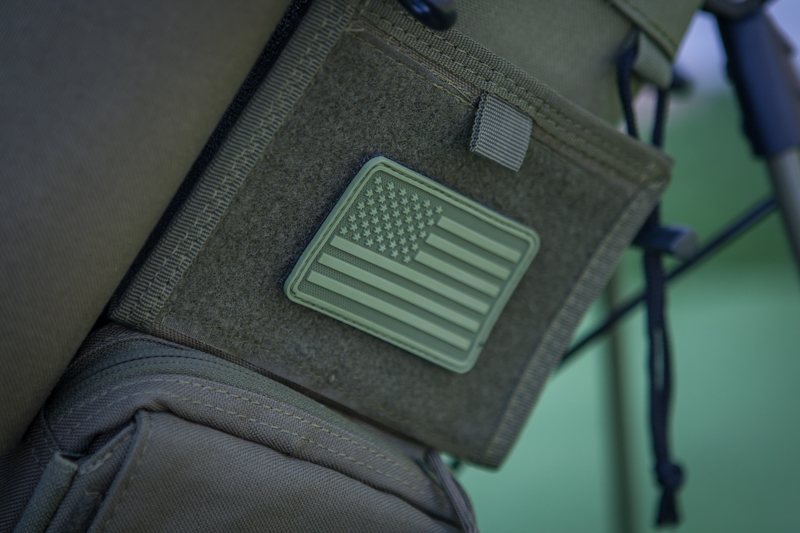 The other issue revolves more around the quality but by no means in a bad way. The bag is incredibly lightweight and because the pouches are so well made (seriously, there some of the most durable bags I've ever seen) and attach so well with MOLLE system, a few times when I grabbed a zipper on one of the pouches on the side to open it up the entire bag came with it. This was only at the range when I was warming up, but it happened a couple times at several different outings. I'm not sure if there's a fix for it, like I said it's a testament to the quality of the pouches. To offset the bag falling over I found myself grabbing a good hold of the top of the bag when I needed to open up a pouch and that seemed to work out pretty well, so no real harm done.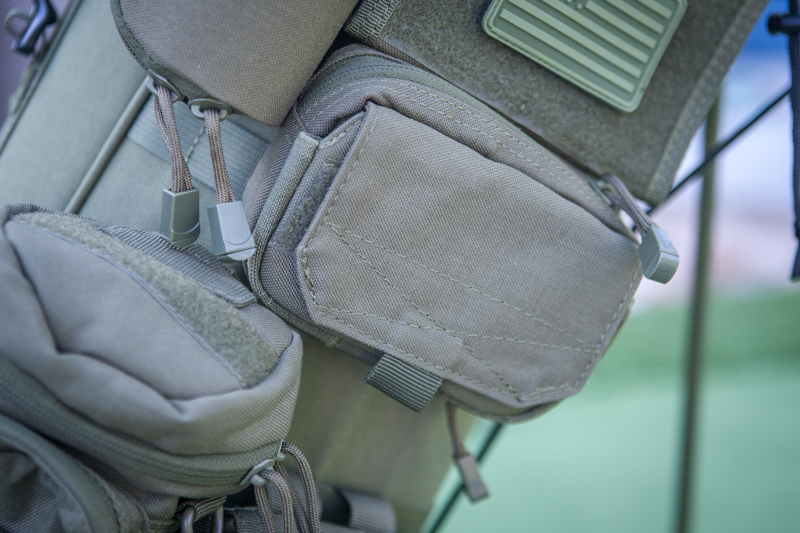 The Velcro on the pouches is incredibly strong. I was a little leery of tossing some of my important items like my wallet cell phone and laser range finder into apocket secured only by Velcro, but not once did the pouches leave me with any worries. I was actually quite surprised how well they held everything together. Even my big ass Hydro Flask was held nicely in place as the bag was tossed around in the back of the cart (I'm not always in the short stuff)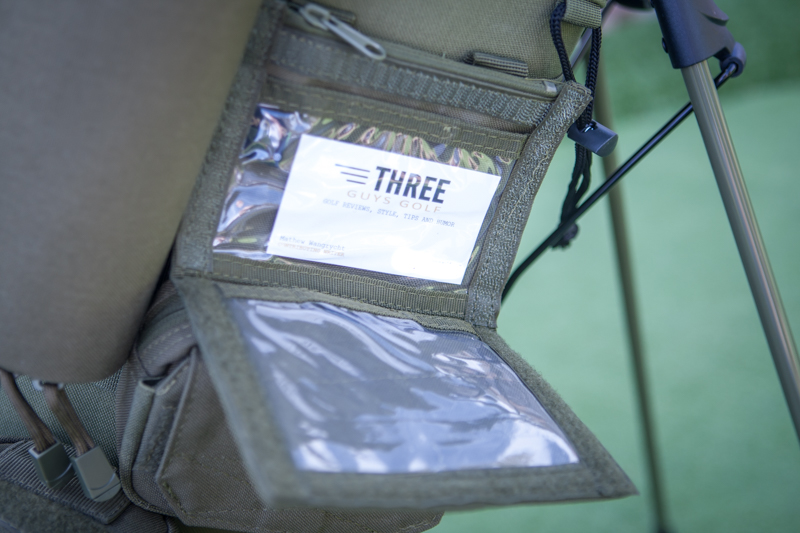 The second outing I took the BAMF out on I wasn't concerned one bit with anything breaking loose, coming apart or spilling my personal belongs across the fairways. It keeps everything in its place and does it very well. It goes without saying that while on the cart the bag was fantastic. I wish I could say the same for carrying it on the course for 18 holes but out here in Vegas walking is more frowned upon than you would think so that day will have to wait. Hauling it around the range, and to and from my car, was easy and stress-free and the straps are easily adjustable to get you the perfect fit. I'm willing to bet it's a great carry bag as well… this short fat guy golfer will definitely be using it on a cart though.
On the TactiCool website they express the phrase "ONE BAG, INFINITE OPTIONS." And let me tell you they're not messing around.
The BAMF bag comes in three different configurations and three color options; Stealth Black, Olive Drab (as seen in our photos) & Coyote Brown.
LOW DRAG $219: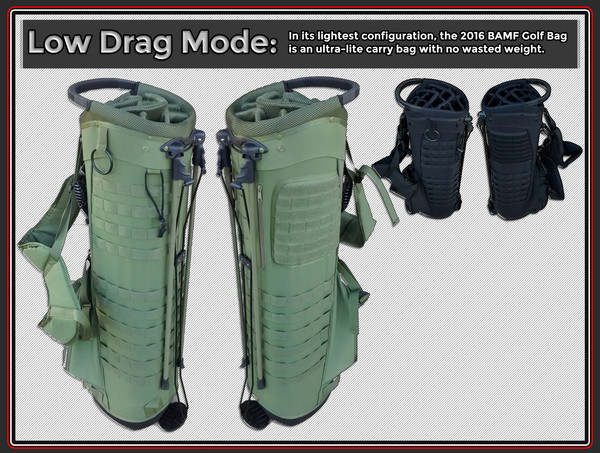 This is by far the best way to utilize the BAMF bag if you're the type of golfer that enjoys walking the course. The bag weighs in at 5lbs with this setup. With the build in compartment being your only means of storage, the bag is incredibly light and ideal for those who don't need two boxes of balls to get through 18 holes.
Low Drag Features:
Diamond-Shaped 14-Club Opening with handle
Integrated Self-Standing Frame
Stands Upright for Cart Use
Removable Backpack Carry Strap
Towel Ring
Umbrella Loop
Bottom Carry Handle
1000D Nylon Material
High-Quality Color Matched Zippers
Integrated Hip Pad with Velcro MOLLE Panel for Morale Patches, Name Tapes or Custom Pouches
STANDARD $249: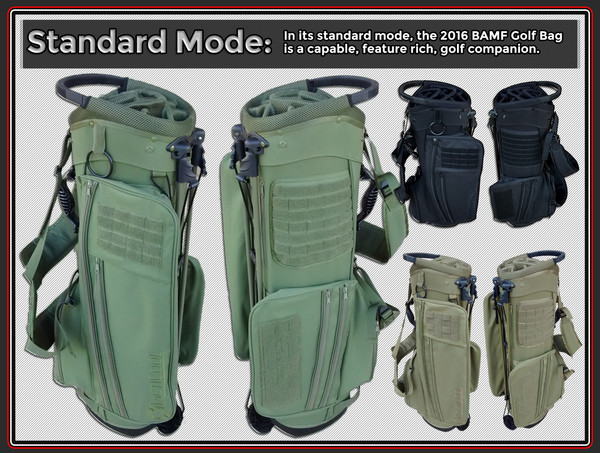 This set up adds two MOLLE pouches that are designed and manufactured by TactiCool. There's a large side pouch (that's removable) – think of this one like many of the large zipper pockets on any standard bag. Shoes, jackets, straps. All the things you would stash that are too large for a smaller pouch. The other one I'd compare to a goodies or a glove pouch. It perfect for small items like a wallet, cell phone, and personal items. These two additional pouches adds only 1.2lbs to the overall weight of the bag so you're not sacrificing weight for space.
Standard Mode includes these additional features:
Large (Removable) MOLLE Pouch w/ Subdued Logo
Small (Removable) MOLLE Pouch w/ Heat-Embossed Velcro
Pocket Interiors Finished With Gear Catches
Dual Velcro MOLLE panels on Standard Mode Pouches for Morale Patches, Name Tapes, or Custom Pouches
Travel/Rain Cover Included
EXPEDITIONARY $469: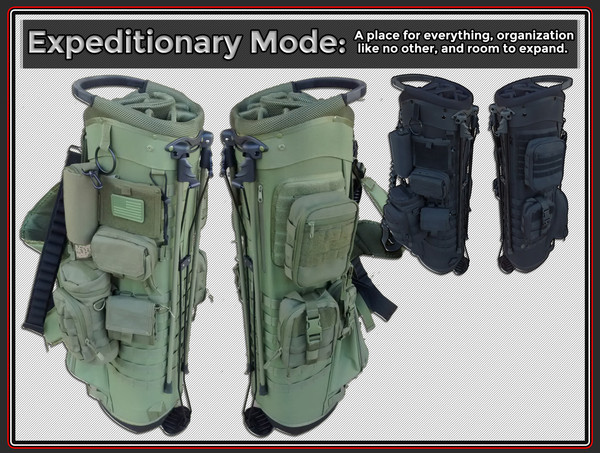 This is the wow factor version of the BAMF. Taking full advantage of the MOLLE, this is where your creativity and personality are sure to find a home. Fitted with more pouches and storage than you could ever imagine, the bag in the Expeditionary mode is not only function but it's also a show stopper. Like I mentioned before the looks I was getting toting the bag around the golf course was incredible. Take a look at this list of everything that's included with this setup:
 Expeditionary options includes these additional pouches and accessories pre-installed
Sidekick Pouch
Sun Glass Pouch
Smart Phone Pouch
EMT Light Tear-Away Pouch
Fold-Out Dump Pouch
Nalgene Water Bottle Pouch
Velcro ID/Admin Panel
iPouch
Matching US Flag Patch
Two Point Sling
If you looking for a bag that can express you inner Tactical fascination this is the one for you. I've never seen a MOLLE system incorporated into a golf bag and the gentleman behind the BAMF bag truly get the fit, feel, and function of this unique system. This first generation bag from TactiCool was done incredibly well and I can only see products down the road exceeding everyone expectations of a Tactical Golf Bag. I just can't wait to find a MOLLE holster that fits my Springfield XDs so I can add it to the bag! OK, just kidding.
Please visit the TactiCool TactiCool and check out all the possibilities MOLLE can bring to golf bag. You can also follow them on Twitter and Instagram
I'd like to personally thank Chris and Jake from TactiCool for their service to our country. The military has always had a special place in my heart and these two guys solidify why I'm proud to be an American. It was an honor to do this review for them and I wish them all the success in the world. They have a great product with tremendous passion. They way they've brought their passion to the golf industry is not only cool as hell but brave as well. They have the decks stacked against them in this brutal industry but I have no doubt in my mind they will persevere. Good luck guys!