ClicGear 3.0 Pushcart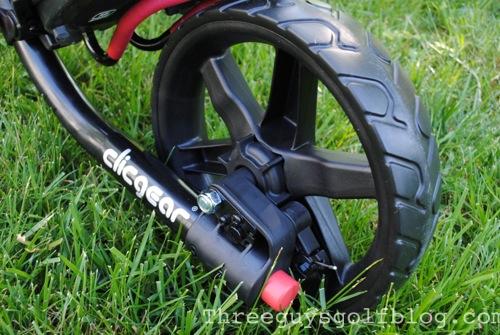 ClicGear 3.0 Review: The myth held by most non-golfers is that it is some sort of beer-and-cigar-sodden pastime played by over-weight, ex-frat boys riding around electric go-carts. While there is some truth to this, the majority of golf is played by regular people just looking to spend some time outside, socialize with friends, test their skills and get a bit of exercise, (and when I say a bit of exercise, keep in mind that walking 18 holes is approximately a 5-7 mile walk). Hence, for us walkers, having a solid, well rolling push-cart is a must have.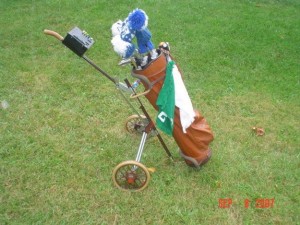 If your cart looks like this PLEASE keep reading!Enter Clicgear 3.0: I have always been a walker but after I herniated my back a few years ago I had to move to a push cart as it was no longer feasible for me to carry my bag. In fact, I am not convinced it is very healthy for anyone to carry a bag. While my old push cart met my basic needs, the newest ClicGear represents a real step up in style and functionality.
This is some kind of shiny rolling machine that isn't your old man's pull cart: more compact in folded position to give more room in your car, sturdier in construction with aircraft aluminum, and wider airless tires that won't go flat but can roll through all kinds of terrain with ease, with extra room for things like drinks, balls, tees, scorecards, pencils and range finders or whatever else you need with you on the course.
Inflatable tires v. non-inflatable tires:  One of the major difference with between the ClicGear and other push carts is the fact that ClicGear tires are non-inflatable. Obviously, one big advantage with this style is that it takes flats and low pressure out of the equation. However, what I also found was that the wider tires provide for a smoother and easier roll on wet ground or tall grass than with an inflatable tire cart.
Size and folding: Apparently ClicGear has hired a bunch of ex-NASA folks as they have somehow managed to allow you to quickly fold the cart into a 13″ x 15″ and 24″ box which can easily fit into a truck. Below is a full set of clubs and cart inside a Honda Fit.
Accessories: While the new ClicGear 3.0 comes standard with an umbrella and cup holder you can pimp our your ride with a ton of other goodies including:
GPS holder
Range finder bag
Cooler
Mitt (for cold weather)
Hydro-pak
Seat
Shoe brush
Wheel cover
And to top it off, ClicGear is adding a new bag to their product line which is designed to fit perfectly into the push cart.
Weight, Brake and Stability: The ClicGear is a bit heavier than my old push cart but not enough to make a difference. The brake is located on the handle and can easily be set. I play on a very hilly course and need to set it often during the round and have found it to hold on even steep slopes. From a stability standpoint, the ClicGear utilizes to bungie type cords to secure your bag so lock everything in place.
The ClicGear 3.0 retails for about $200 but saving $20 per round on an electric cart, this guy will pay for itself in no time. Moreover, walking is just more fun, healthier and I believe better for you game as it provides solitude and time to think about your next shot as you approach your ball.
And this is just how easy this puppy is to fold and unfold.
So whether you are looking to buy your first push cart or upgrade your old one, the ClicGear 3.0 is a great choice.
The bottom line: oh yeah!
You can read more about ClicGear3.0 and its accessories on their webpage.