Ecco Cage Pro – Maybe the best golf shoe of 2017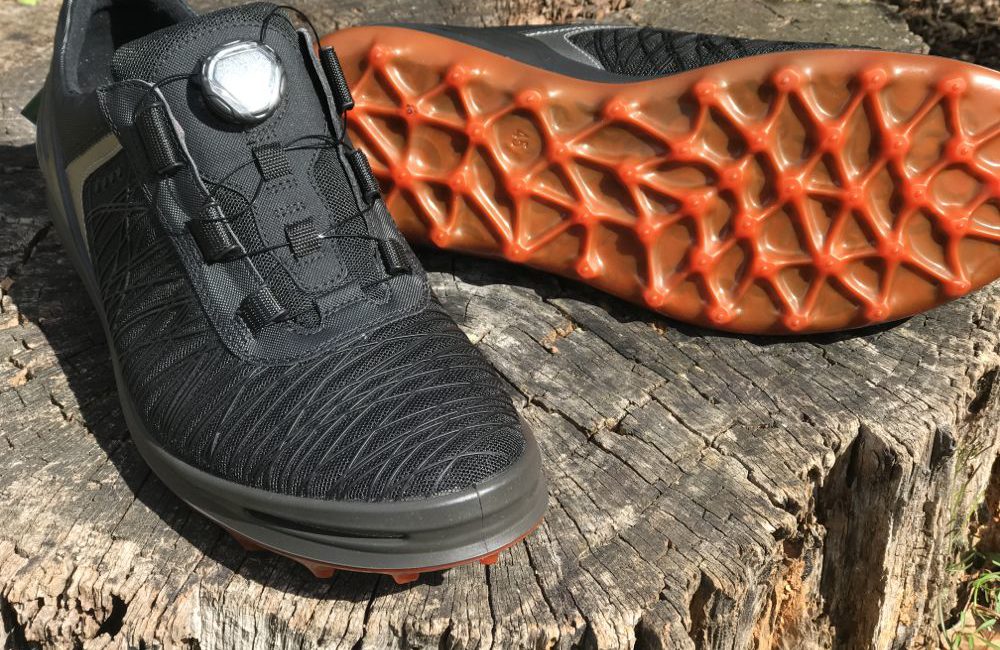 The first pair of expensive golf shoes I ever pined for were the Ecco Street. Unlike anything at the time, these shoes represented one of the first steps in the evolution of cross over golf shoes. While I never purchased the Ecco Street, I ended up reviewing them a few years later. Since that time I have reviewed a number of Ecco golf shoes and have carefully watched as the brand has made steady improvements to their line.
The Ecco Cage Pro is the latest shoe by Ecco, and in my opinion, it is the best golf shoe I have ever worn… and I have worn a ton. After going back and forth between a standard cleated golf shoe and a minimalist golf shoe, I have become frustrated with the lack of a lightweight-but-sturdy shoe that provides outstanding traction without being clunky.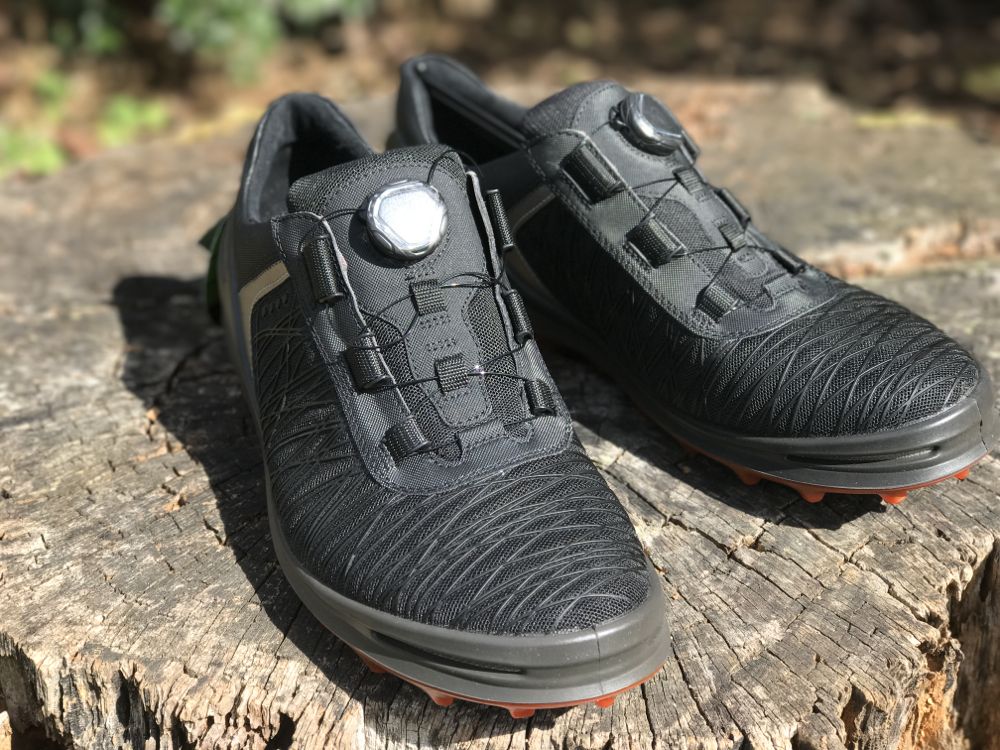 The Ecco Cage Pro has nailed virtually every key element required in a golf shoe, to the point where I no longer feel the need to keep searching for the perfect product. This may sound like a reach, but after 3 rounds wearing the Ecco Pro Cage, I can only find one thing I do not love about this shoe. Yes, one thing is not awesome.
Not Waterproof
This is the only complaint I have with the Ecco Cage Pro. I was actually totally stunned that this shoe is not waterproof, and it's kind of a bummer considering it was going to be the shoe I packed for Bandon Dunes. Alas, the Ecco Cage Pro is water resistant but not waterproof. What this means is that your feet will stay dry waking through morning dew, but not in any kind of rain. Ugg. For many people this may not be a big deal, but at this price point I had certainly expected waterproof. Game changer? Maybe. I know this could be a dealbreaker with some folks, which is why I put this section near the top. If, however, playing in the rain is not your cup of tea, then read on because everything else about the Ecco Cage Pro is top notch.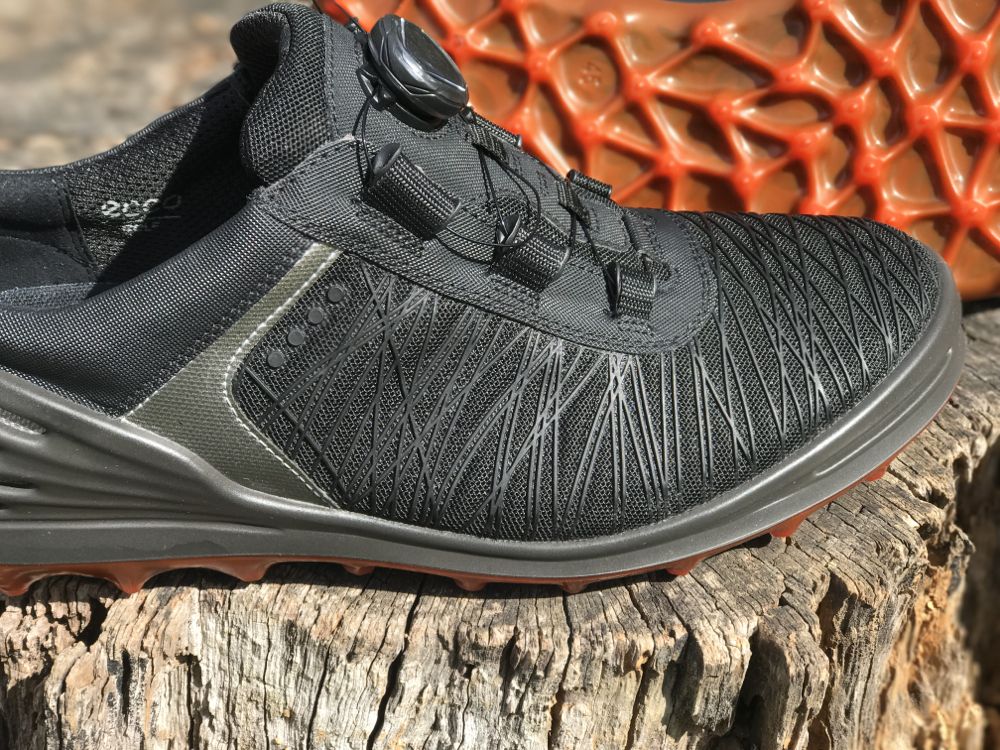 BOA System (AKA Shoe Tying Technology)
This was my first experience with the BOA system and frankly I did not expect to think much of it. However, it took me about 10 seconds to fall in love. The idea is simple, dial in the perfect amount of tension. Face it, shoe lace technology is about 400 years old. The BOA system completely revolutionizes how you tighten shoes. Not only is it easier but it is far more efficient. One added bonus is that taking off your shoes is super easy. Simply pulling up on the BOA circle will release all of the tension in the Ecco Cage Pro so that you can avoid either untying or stomping down on the heel.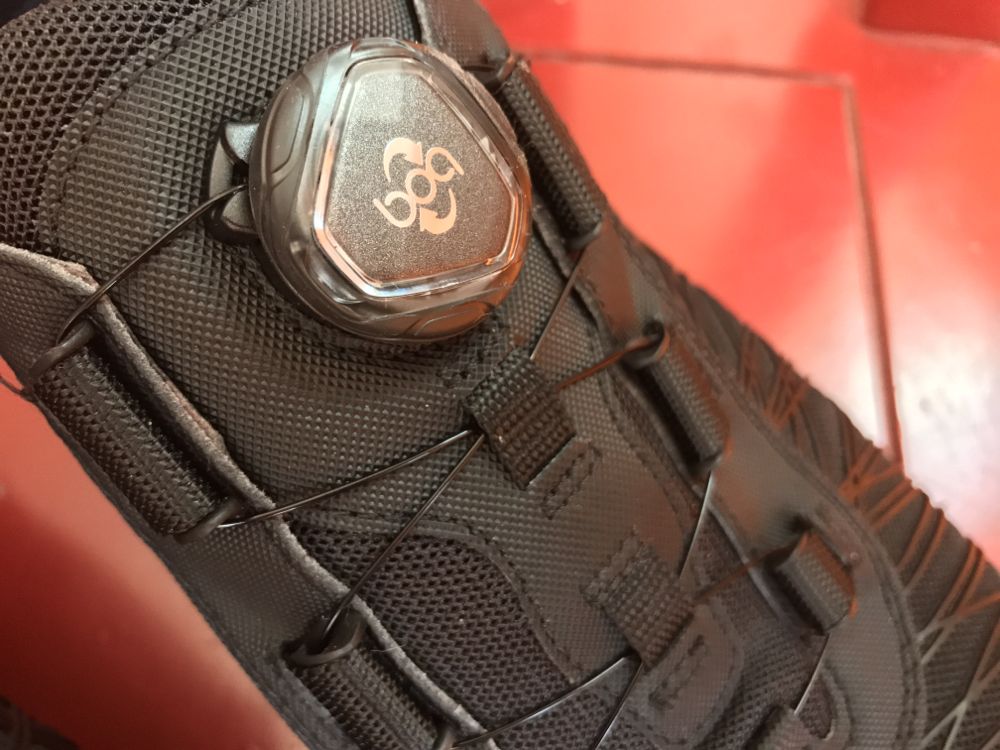 Grip and Support
Ecco has always been on the cutting edge of sole technology and the new SPYDR-GRIP is no exception. Despite being rarely seen, the sole is probably the biggest head turning feature of the Ecco Cage Pro. With no discernible pattern, the sole of the Cage Pro is meant to provide superior traction as well as avoid dirt build up. Anyone who has worn street golf shoes knows that dirt and mud can build up inside the nubs reducing the traction. The SYPR-GRIP is actually designed to self clean. While that may be a bit of a stretch, I have played a few rounds in sloppy turf and found the traction to be outstanding without any mud buildup. Equally important is that you can bang the shoes together at the end our your round to easily knock them free of dirt.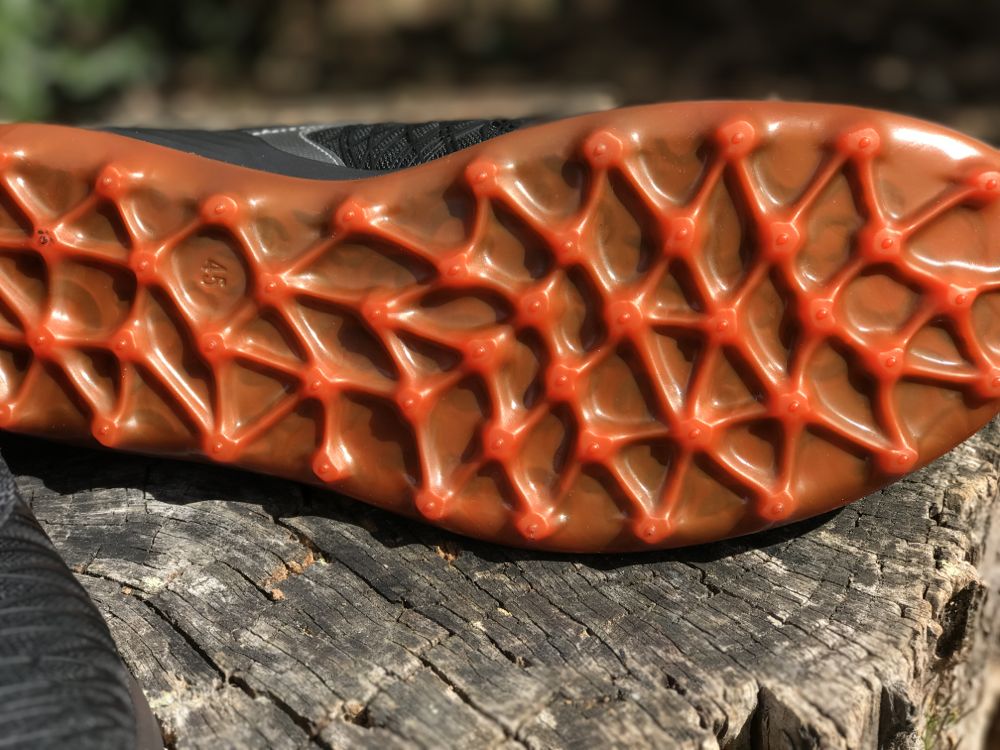 As I mentioned, I have gone back and forth between my preference for street shoes and standard spiked shoes. Most recently, I have landed on wearing heavier golf shoes because I have wanted better traction and support. Unfortunately, that also meant I had to wear a heavier shoe which is not optimal for walking 18 holes.
Fortunately, the Ecco Cage Pro has solved both of those problems. Along with the excellent grip, the Cage Pro provides outstanding support. The name Cage Pro is in reference to the cage that goes from the heel all the way to the toe of the shoe. The textile webbing provides additional support for the center of your foot. Frankly, I am not exactly sure what textile webbing is, but what it does is provide a ton of stability without feeling stiff or bulky.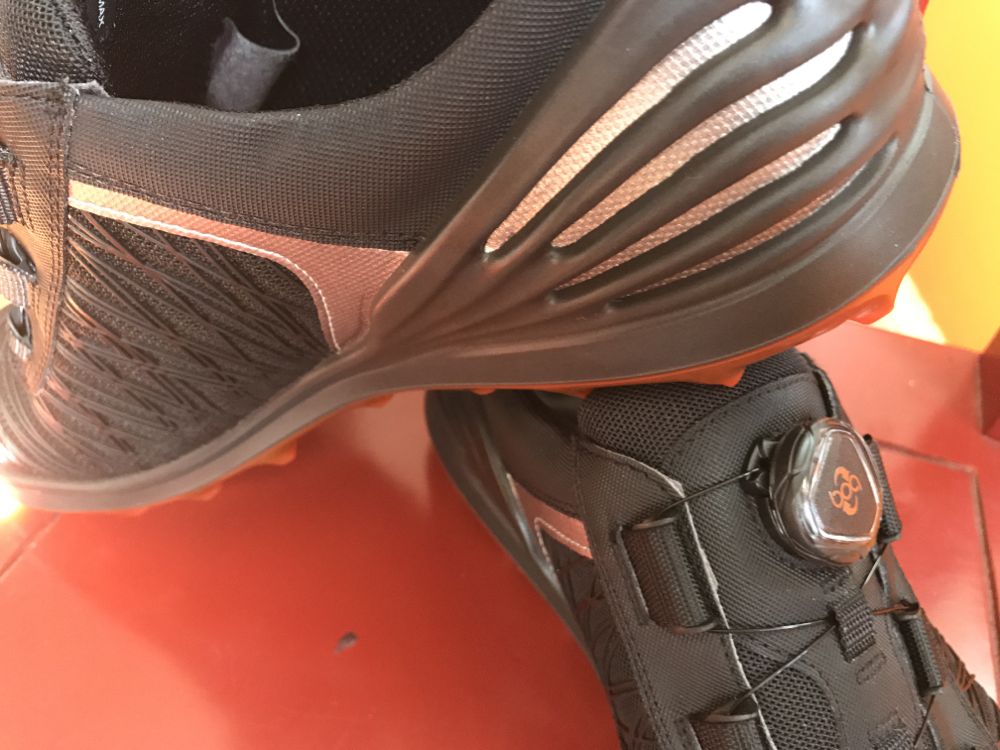 The Look
I have always liked the way most Ecco golf shoes look with the exception of a pointed toe. For me, a pointed toe makes your feet look too long (which is not good when you wear size 11 ½). A rounded toe, on the other hand, is a much better refection of your actual foot size as well as more representative of the shape of your foot.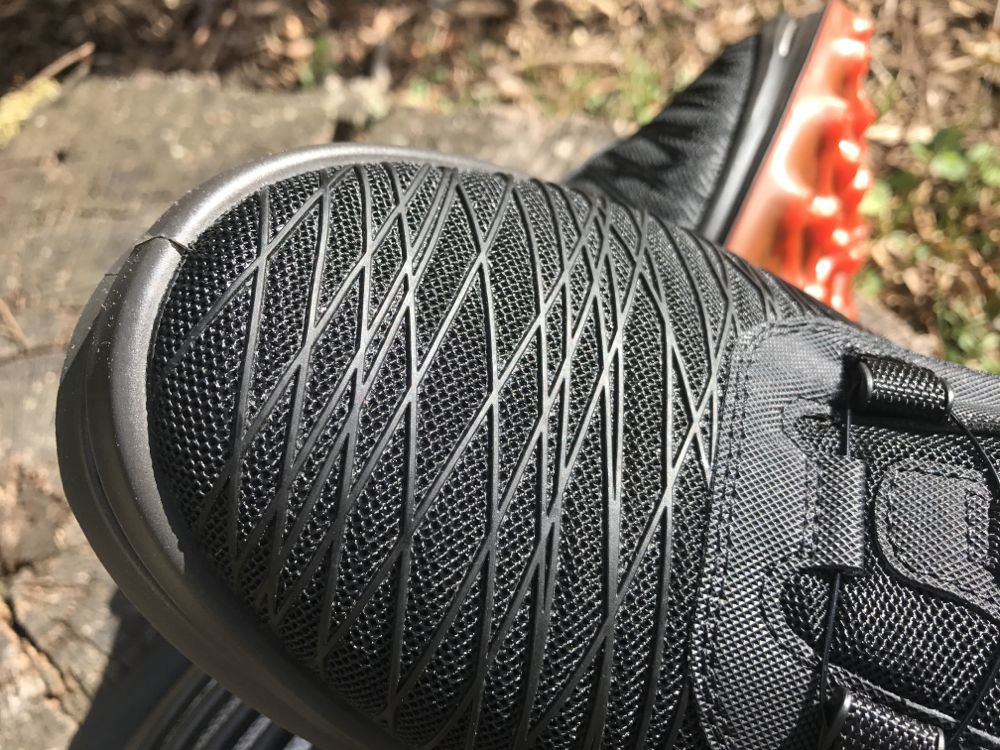 As you can see, the toe box in the Ecco Cage Pro is much more rounded than earlier Ecco models. For me, this was the final box to be checked in loving this shoe. Now I know there are plenty of Ecco haters out there, and while I respect that opinion, in no way is this shoe bobo or ugly. Modern, yes – ugly, no – I love the look, especially in black.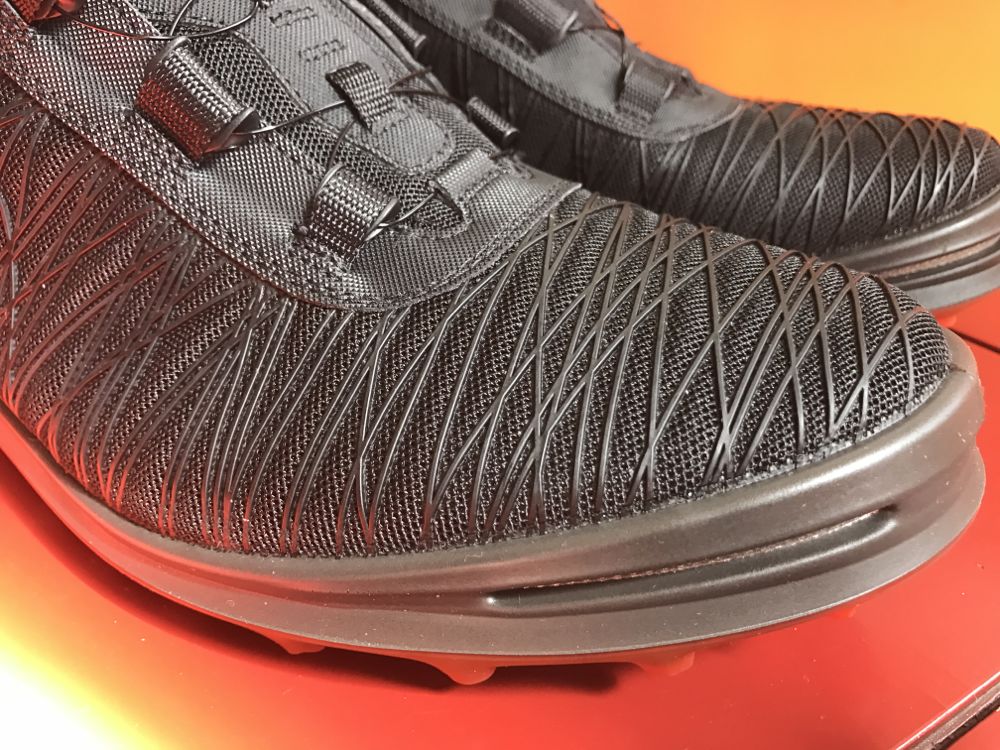 Despite the shoe being made of several different pieces and materials, the whole shoe flows well and looks like it was designed to work together. Additionally, even with the varying construction and texture, I have found this shoe to be very easy to clean. Rather than wiping them down, I simply take a hose to wash off pollen or any other dirt.
Price and Value
Ecco has always been proud of their products so it is not a surprise that this shoe retails for $230. Yep, that's a big number that puts it above 90% of other golf shoe price points. With that said, I think it is nearly worth every penny. Assuming the sole holds up for more than one season, you are not going to find a more comfortable shoe that provides this level of support and traction.
Bottom Line
Honestly, it took me 5 seconds to love this shoe. There is zero break-in required and after walking 18 your feet will thank you. As you may have guessed by now, I expect to wear the Cage Pros a ton this season. I also expect to see a lot more of the BOA system on other golf shoes. While they may look slightly odd, they really do work significantly better than traditional laces. Again, my only complaint is that the Ecco Cage Pros are not 100% waterproof.