B. Draddy Apparel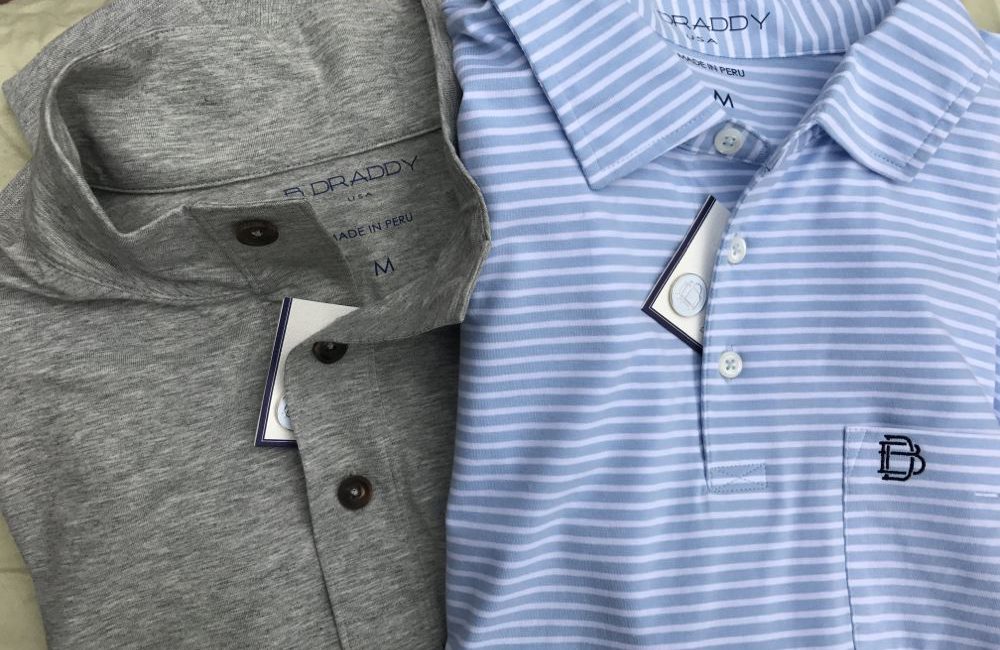 Looking through the pictures on the "heritage" page of the B. Draddy website, it is clear where much of the inspiration for this apparel comes from. Images of Kennedy, Nicholson and Hunter S. Thompson at play cast a reflection of the iconic preppy Northeastern lifestyle.
Draddy is short for Brothers Draddy so we can assume this is a family affair. At the helm of B. Draddy is Billy Draddy, who has a long career in fashion so it is not a surprise that this young company is quickly turning out great looking lines of apparel and finding their way into some of the country's premier golf club. Interestingly, the names for all of the pieces are taken from members of the Draddy clan. For my review I received the Tommy Polo, Ian Pullover and Richard Boxer Shorts.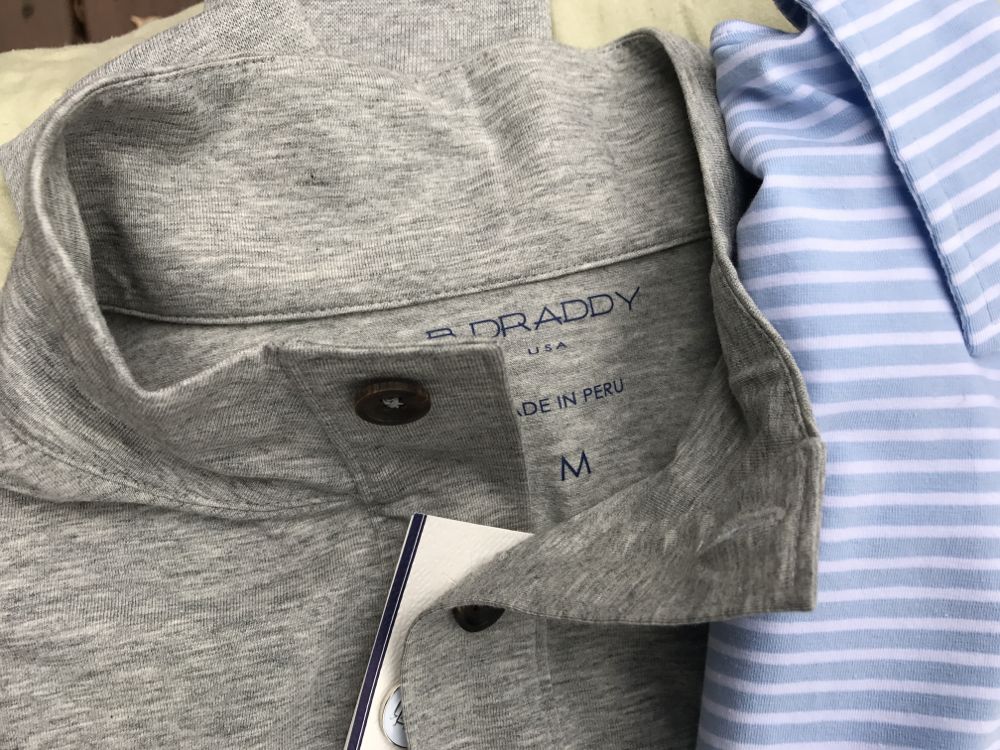 What is common amongst all of these pieces is Pima cotton, which has become one of my favorite materials. Pima cotton is primarily grown in Peru and is known for being incredibly soft and durable. You will note that all of the labels for B. Draddy state "Made in Peru".
B. Draddy Tommy Polo:
Just another striped shirt? In one sense yes, but the B. Draddy polo is so crazy soft you will absolutely want to wear this on a regular basis. Additionally, there are a couple of features that really make this shirt not only fashionable but functional. First, the cut, which is generous but not baggy, making it ideal for both golf and casual wear. You will also note that the tail is split and the length is a touch long so it works well to either tuck in or leave out.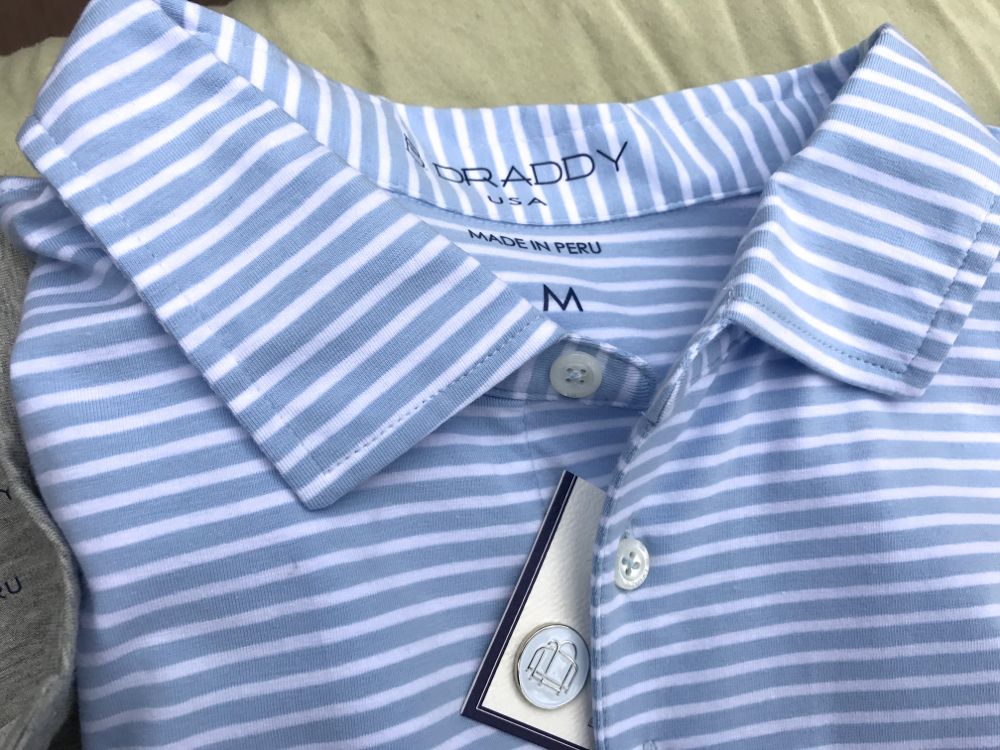 The two other features I really like are the breast pocket (which includes a small B. Draddy logo) and a thin self collar. For those unfamiliar with the term "self collar", this means that the collar is made from the same material as the shirt. Typically, this is done in higher end shirts. On the other hand, cheaper brands will make the collar out of a lesser quality material which is why most bargain polos do not hold up well. Suffice it to say, it's a pretty big deal once you start noticing this feature.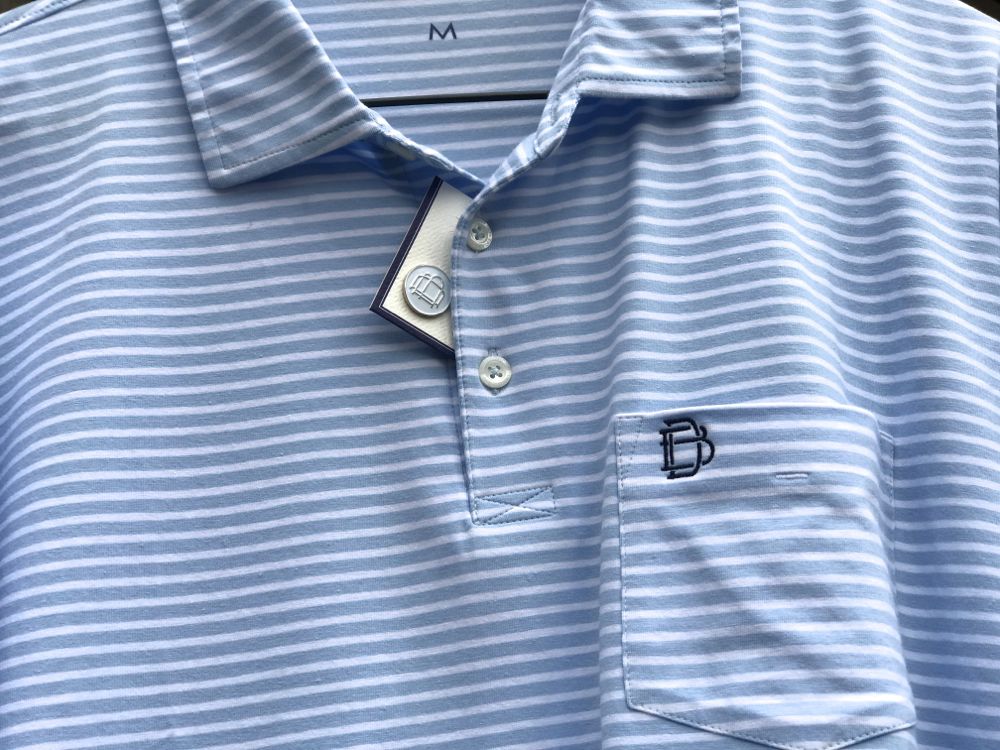 The B. Draddy Tommy Polo also has a touch of stretch, which, for golf, is much appreciated. Put together, Pima cotton and a little flex provides a light, durable and easy-to-care-for shirt that is appropriate for nearly every casual outing.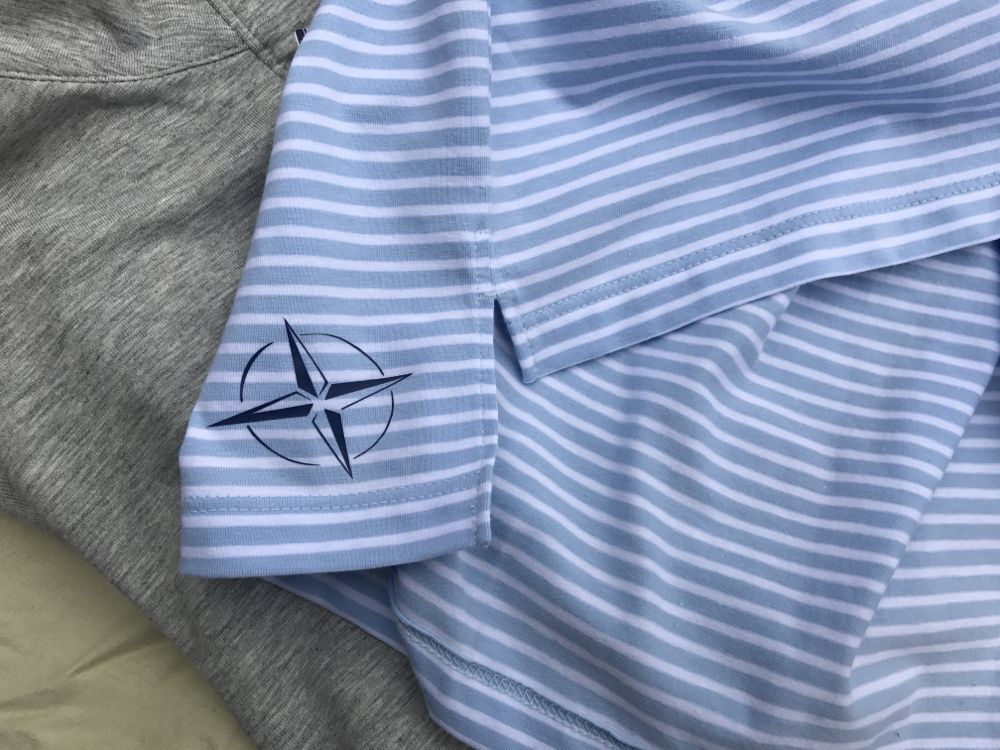 B. Draddy Ian Pullover:
Like the B. Draddy Tommy Polo, the Ian Pullover is also made from Pima Cotton with a touch of stretch. Interestingly, I am finding that many pullovers I am reviewing this spring share a number of features. Most notably is the high collar. In one sense I like the look but I wish it was just a hair shorter or was made to fold over and look good. The other commonality I am seeing is ribbed cuffs and bottom. While it may not seem like a big deal, I really like the ribbed cuffs because they keep the pullover from falling over your hands or floating up your arm. The same goes with the bottom where the elastic helps to keep the pullover in place.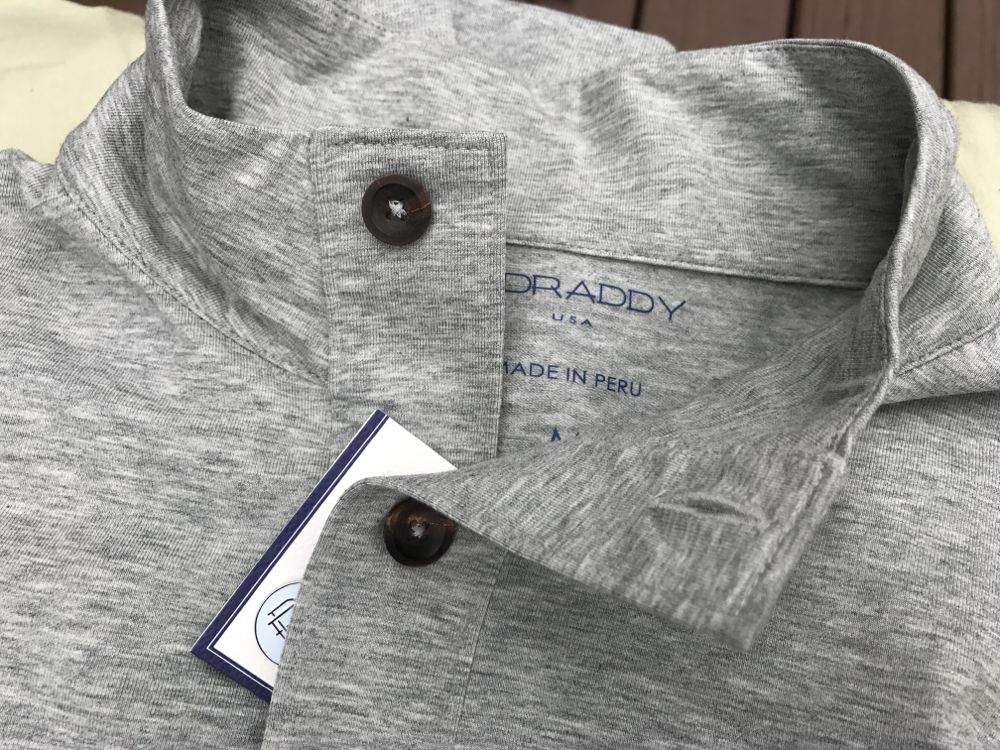 Rather than use a typical zipper, B. Draddy uses horn buttons, which gives the Ian Pullover a more distinguished look. Unlike most golf pullovers, the Ian Pullover can be worn anywhere without looking out of place. It is fairly light so it is perfect when it is just a touch chilly. Again, this harkens to the Martha's Vineyard lifestyle when you need to add a layer when the sun goes down.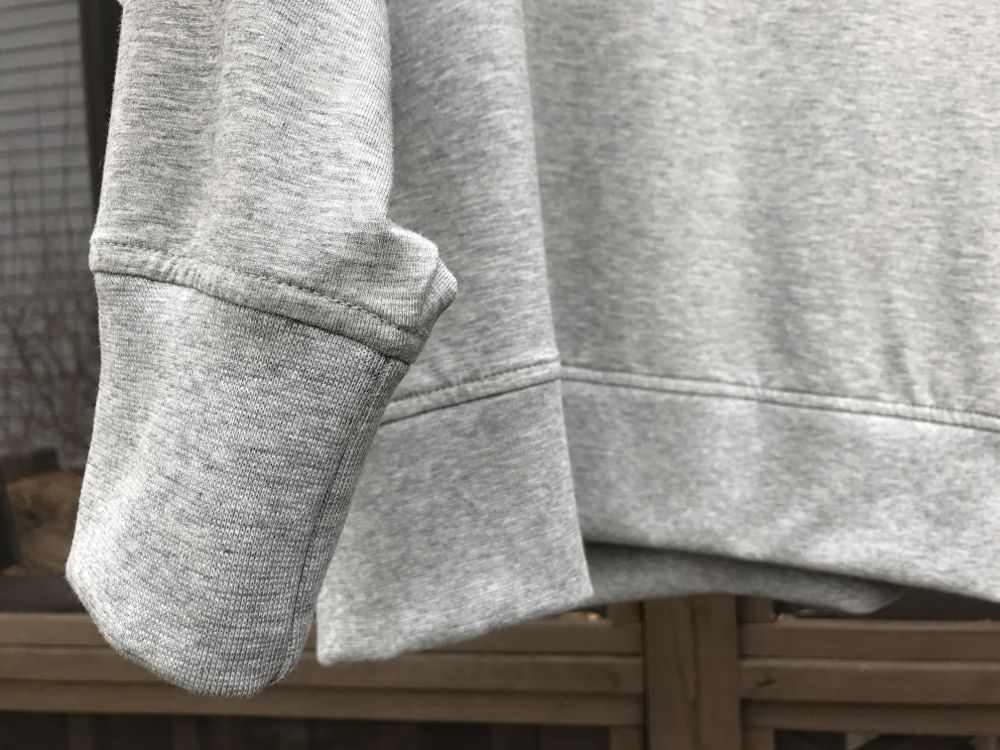 B. Draddy Richard Boxer:
After 30 years of wearing boxers, I have pretty much moved to a more fitted brief (TMI?), but those of you who still prefer the loose fit of boxers will love the B. Draddy version. These puppies are not cheap at $39 but if you want your bottom covered by premium Pima cotton then Richard is your ticket.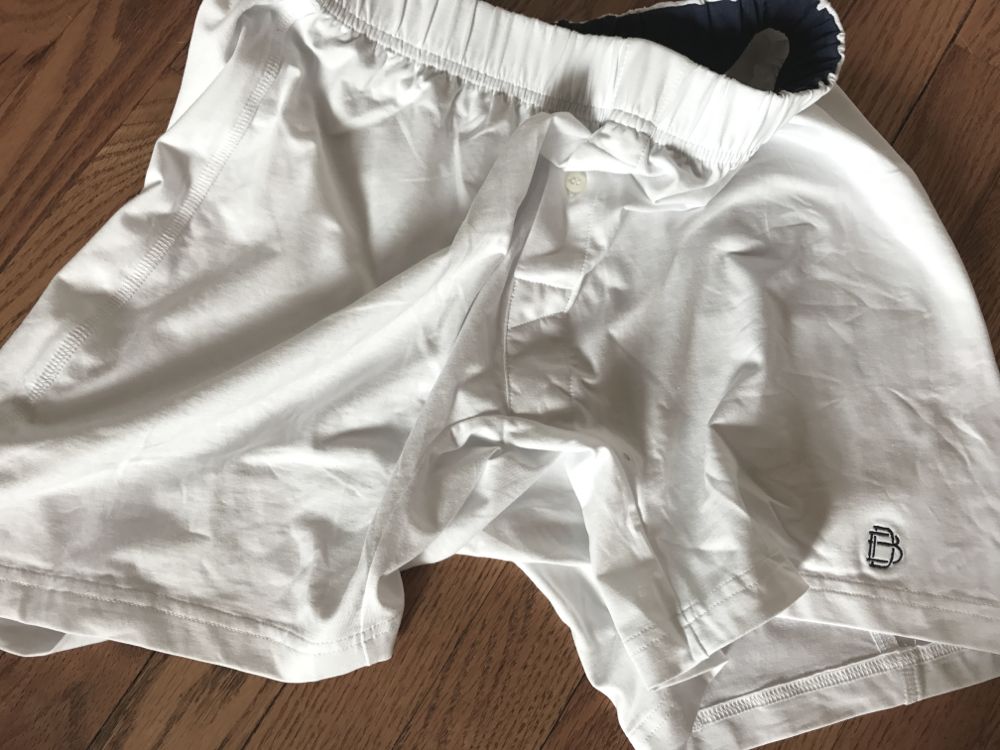 B. Draddy Sizing and Care:
I wear a medium and have a slim build. For most people, you will be very happy with the fit. As I mentioned it runs generous but not big. In terms of care, cotton can be tougher to care for but I have found B. Draddy to be quite easy. Simply wash and dry (no need to hang dry) will suffice and since these are Pima cotton the fabric will hold up much longer than lesser material. You might get a little wrinkle issue but that can mostly be avoided by promptly folding or hanging your clothes rather than waiting two days.
Bottom Line:
I am very impressed with the B. Draddy line and not surprised that they are finding their way into top clubs like Streamsong. Not only is the material top notch but the patterns are simple and timeless. Thankfully the price points are quite reasonable and comparable to other boutique brands.
Check out the whole line on the B. Draddy website.