Kikkor Select Blue Geo Review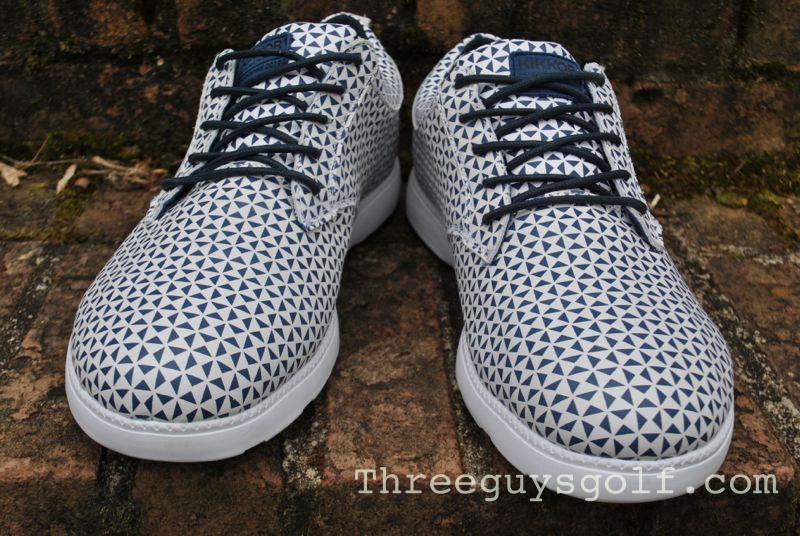 The old joke (that is not very funny) was that when you saw Tide get a new name like "Tide Breeze" you knew there was a change in the marketing department. The fact is most products go through endless incremental changes so that the company can always have something new without every really doing very much to improve the actual product.
For the past few years, while better than Tide, Kikkor has been making relatively small improvements to their shoes. Sure, there were noticable changes, but they never really addressed a few bigger issues, namely the weight and the spikes. With the new 2014 Kikkor Select golf shoes, the company has totally revamped the design, taking two giant steps forward.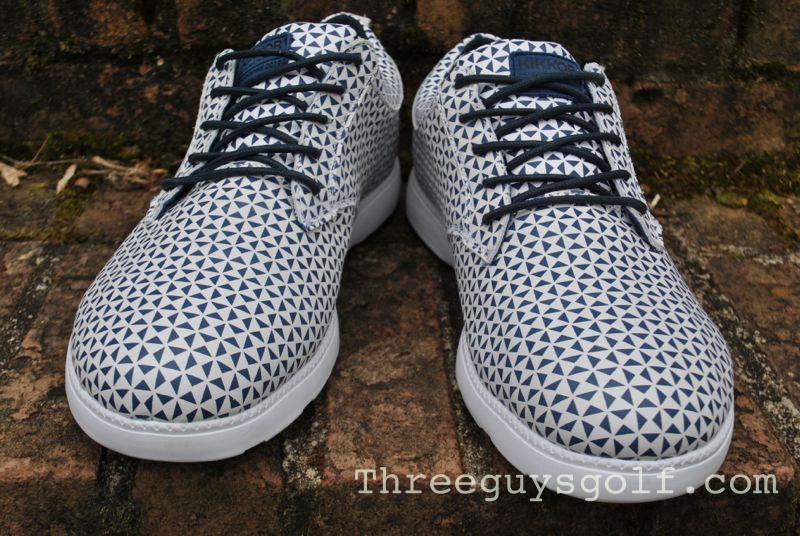 I got to know the guys at Kikkor three years ago when I visited them at the PGA Show and was intrigued by their skater-inspired line of golf shoes. Even though some of them were a bit goofy, like the high top version, you had to give them credit for drawing outside the lines. For example, the Mint Shadow remains one of my favorite shoes (at least from a style standpoint)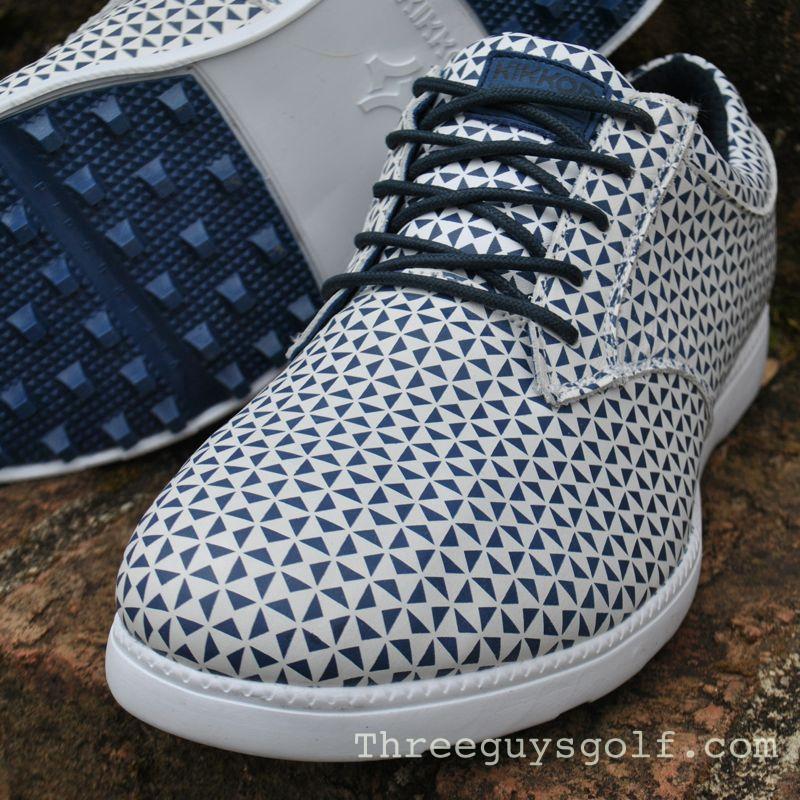 To date, the main Kikkor line included the Tenny and the Player. While these shoes have sold well and get praise for their style, I always felt they should be much lighter and more comfortable. Back in my 20's I wore Vans as my regular day to day shoes because 1) they looked super cool and 2) they were really comfortable. This is is exactly what I wanted Kikkor to be, but with each pair I tried, I felt like they were not as good as they could be.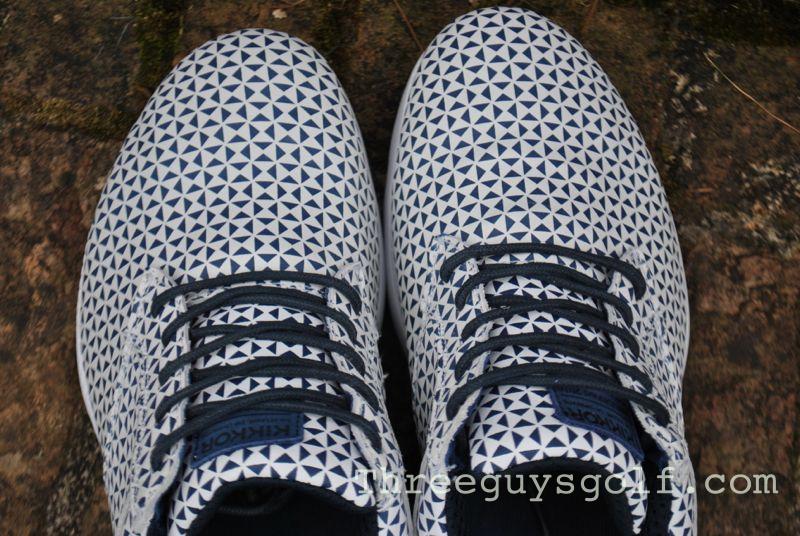 Clearly, someone at Kikkor was listening and now in 2014 Kikkor has introduced the new Select golf shoes which are dramatically lighter and more comfortable than their predecessor. You see, it's one thing to make a comfortable shoe and another to make a comfortable shoe that can stand up to a 5 mile walk . . . a.k.a. a round of golf.
The Kikkor Selects now boast that ability. I have worn the Geo Select shoes over 6 rounds (all walking) and have been very impressed with their comfort. They remain true to the Vans origin in that they well cushioned around the heel and have a wide footprint, but now are light enough that you don't feel like you are tromping around with "too much shoe".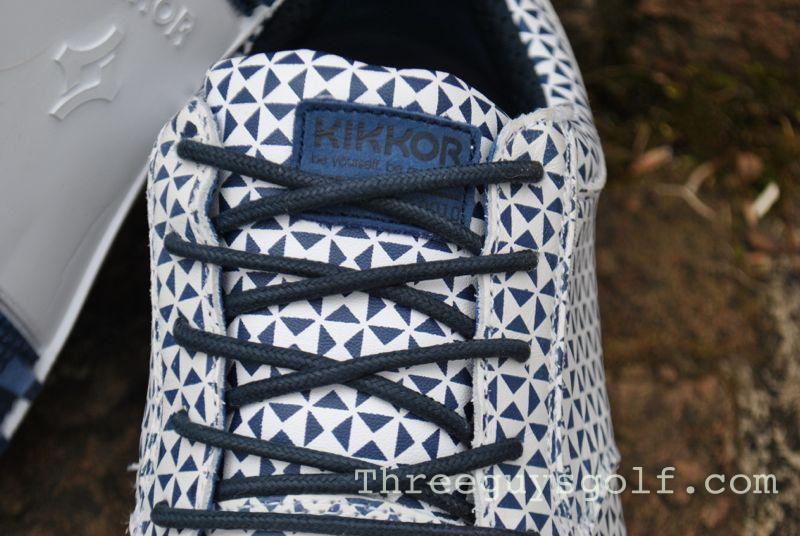 The other huge improvement Kikkor made with the Select shoe is the spike redesign. While I personally know guys who have had the Kikkor spikes last a long time, I have also seen cases in which they wore down way too quickly, especially when worn by heavier fellas. Now, instead of having spikes that protrude and are more susceptible to wear, the bottoms of the shoe are akin to what you see in a pair of ECCO golf shoes. With the Kikkor Select you get a ton of spikes that have no sharp edges so you get a shoe that will last longer without sacrificing grip.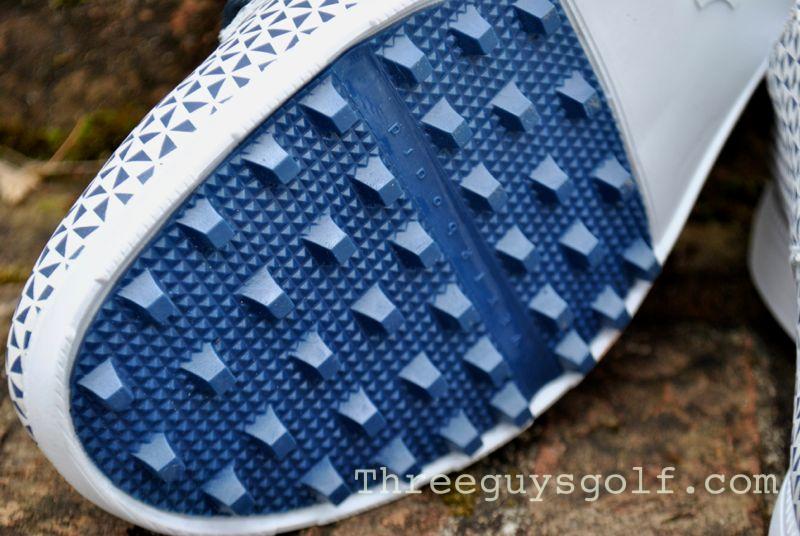 Finally, the Select shoes carry a two year waterproof guarantee which is one year more than previous versions. Plus, they are really easy to clean since there is very little stitching or texture on the shoe.
Despite all of the changes, I was glad to see Kikkor did not mess with a few details I really did like about the older models. Most importantly, each pair of shoes comes with an extra set of insoles so you can make sure the shoes fit just right. Need a little more room, use the smaller insole. Along with the extra inserts, you also get an extra set of laces to you can mix up the color scheme to suit your style.
Style, yeah that's the elephant in the room with these Kikkor Blue Geo Selects. Originally, I had picked out a pair of white shoes but apparently my reputation precludes me being sent anything other than the most color blinding versions.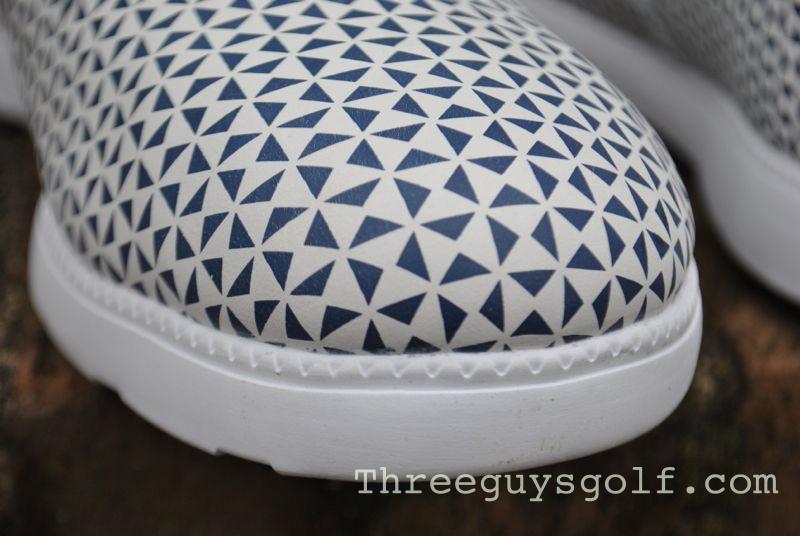 Being no stranger to bright shoes, I am not intimidated by the geometric pattern. Plus they really are not that crazy since the pattern mostly blends in and is not super noticeable from a distance. As per usual, I get my peanut gallery feedback each weekend when I play with a group of fellas who are never shy to give me their opinion. Believe me, I have been asked why I was wearing my pajamas and whose clown shoes I stole. In other words, I get an honest scoop.
The Kikkor Select Geo got a pretty positive reaction from the same group that gave two thumbs up for the Kikkor Mint Shadow. In part, I think it is because the shoe has a very easy on the eye shape. Basically, it looks like a golf shoe without looking like every other golf shoe.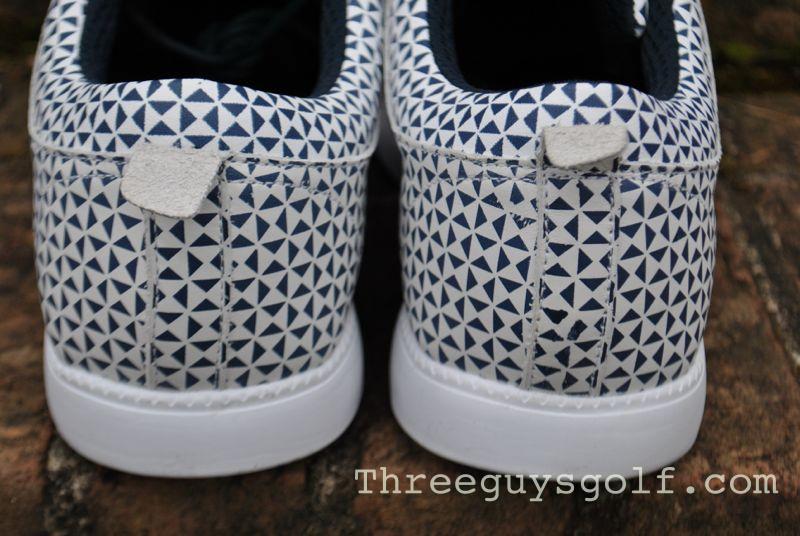 Therein lies the rub for companies like Kikkor . . . how do you make a shoe that can compete with the mega brands like Nike and Adidas. For Kikkor they have tried to find the niche of golfers who want something a bit more hip but still performs. Where they have missed in the past (in my opinion at least), is when the design has gone too far (like in the case of the high top). I think 2014 will be the year that Kikkor hits it stride with a very nice mix of "alt" and "norm".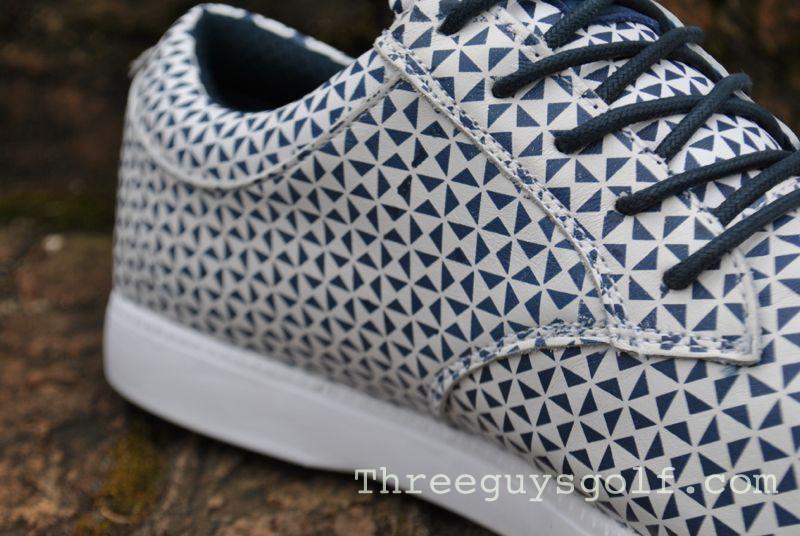 A few notes on sizing and care. I wear 11 1/2 or 12 in most shoes so my option was pretty clear with Kikkor since their sizing groups those two together. I opted for the thinner insert which gave me the best fit as well. As I mentioned, the shoes are easy to clean. Kikkor recommends not scrubbing the shoes to preserve the geometric shapes. I typically just wipe them off with a towel. To date, there is a bit of scuffing near the toe but overall the pattern still looks crisp and clean.
The Kikkor Select are $120 and can be purchased directly from the Kikkor website.