LoudMouth Golf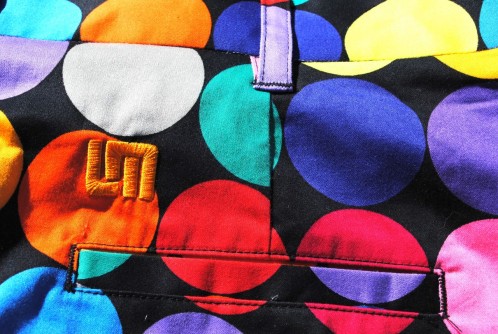 LoudMouth Golf Review: I must admit that I was more than a bit nervous about reviewing LoudMouth Golf attire. Sure, John Daly pulls it off, but what are my chances? So on the fateful day when the box of LoudMouth arrived, my first thought was "oh boy, the fellas are gonna really give me hell about these". (Remember, I live in North Carolina).
Then upon closer inspection, I realized there were a ton of small details not typically found in most off the rack golf attire. For example, the inside of the shorts is lined with logoed material, the zipper is heavy-duty and the stitching on the back pocket is raised.
Ironically, all the the shirts we received were solid colors, but again, small details set them apart from your average shirt. Specifically, the monstrous embroidered logo on the back and silver collar snaps give each shirt a distinctive look. In terms of fit, here again, I was taken by surprise. I guess I halfway expected a gimmicky shirt with gimmicky quality – this could not be further from the truth. Simply put, the cut of the shirt is absolutely perfect. At each size, the fit was just right with arms not too long and shoulders not too broad. Equally well-fitting are the shorts which are just about the most comfortable I have ever put on. One final note on sizing – I suspect old John Daly may have been the test-sizer for LoudMouth Golf since the hats were too big for me but according to melon-heads Wade and Matt, they are the best fitting lids they have ever worn.
So with two tests complete, the final test was going to be what the fellas thought. Yes, you will get comments, but honestly once you get over the fear of standing out, LoudMouth Golf is an absolute blast to wear. And you know what, it is way better looking and tailored than any of the blue and khaki outfits your buddies got from Dick's Sporting Goods. Moreover, you just feel more fun when you are wearing LoudMouth Golf and, (cross my fingers/hope to die), I honestly think they look really sharp. Like anything left of center, LoudMouth is not for everyone, but there are at least three more LoudMouth fans now. I guess the only downside I can see is that you can't exactly wear the same pair twice in a row like you do all of your other Khaki shorts.
You don't honestly think anyone with a pony tail is going to tuck in his shirt, right?
You can learn more about LoudMouth Golf by visiting the Loudmouth Golf web page to see all styles and our Facebook gallery to see more images.