Tattoo Golf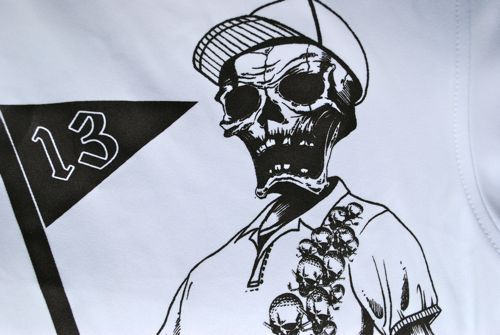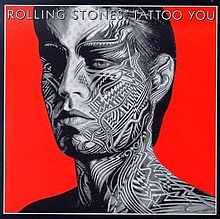 Tattoo Golf Review: In 1981 a little band called the Rolling Stones released Tattoo You which included over-played hits like "Start Me Up" and "Hang Fire". Fortunately, it also included two of my favorite Stones tunes, "Heaven" and "Waiting on a Friend", which by the way, may be the best low rent video ever. Beyond the music, Tattoo You remains one of the most recognizable album covers of all time.
While tattoos are no longer just for bikers and punks, they still are reserved for those who prefer to draw outside the lines.
Until recently, golf fashion rarely ventured outside of the lines. Yes, guys like Ian Poulter and Ricky Fowler are bringing a sense of color to the course, but where is the swagger? Where is the bad-ass? I am here to tell you Tattoo Golf has got your swagger and more. 
Three Guys Take: Wow! That is the first thing that came to mind when I opened the box.  These are not your fathers golf shirts. Now if you are thinking "whoa, that stuff is too crazy for me" then you should probably stick to Khakis, blue shirt and Footjoys. But if you like your wings hot, music loud and cars fast then Tattoo Golf may be right for you!
The shirt is made from dry-fit material and is super light. Two things to note:  1) because of the style, many of the shirts are not meant to be tucked in since the artwork goes all the way to the bottom (just more attitude in case no one noticed the huge skulls),  2) Compared to the current industry sizes, I would say they run just a bit small. Typically I buy medium shirts, but I found the medium Tattoo Golf shirt just a touch small.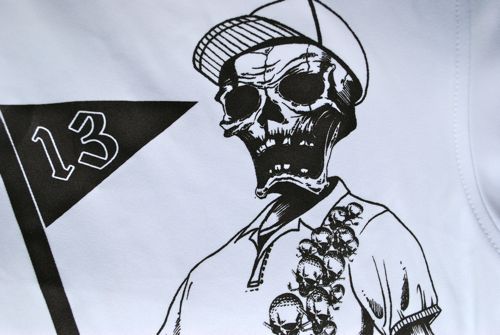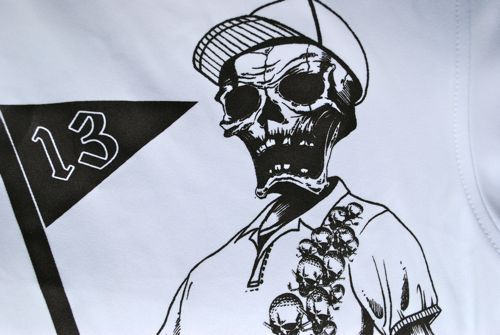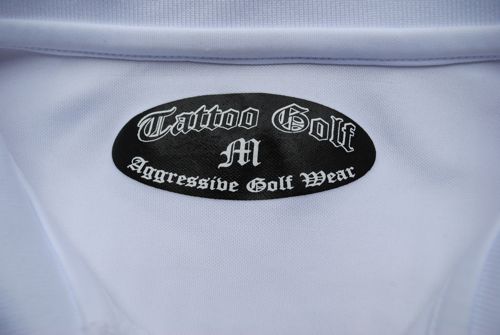 The hats are flex-fit which helps with sizing. I have what I would call a medium head but I would go with the large rather than medium.  Quality wise, the Tartan plaid hat almost feels like wool even though it is made from polyester and rayon. For me, this is a great looking winter hat and is a nice change from the typical big brand hat.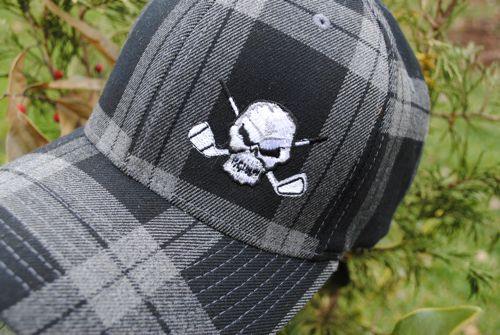 The headcover is just like you would expect from Tattoo Golf- bold and brash. There will be no hunting for the driver with this headcover. It is big, black and solid. My only issue is that it is a bit harder to get on and off due to the length of the cover but you can rest assured no harm will come to your club when it is in the holster.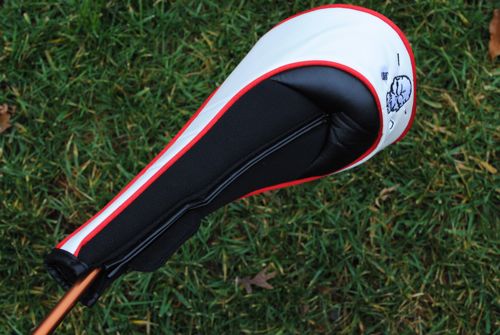 Summary:  I was definitely a bit nervous about wearing the Tattoo Golf shirt as it demands attention.  I mean, you kinda feel like you need to back up the shirt with some game. Now I am not making promises but the 1st round I played in the Bones shirt was one of my better rounds quite a while. Coincidence?
More photos of Tattoo Golf are in our Facebook Gallery.