Axis1 Umbra Putter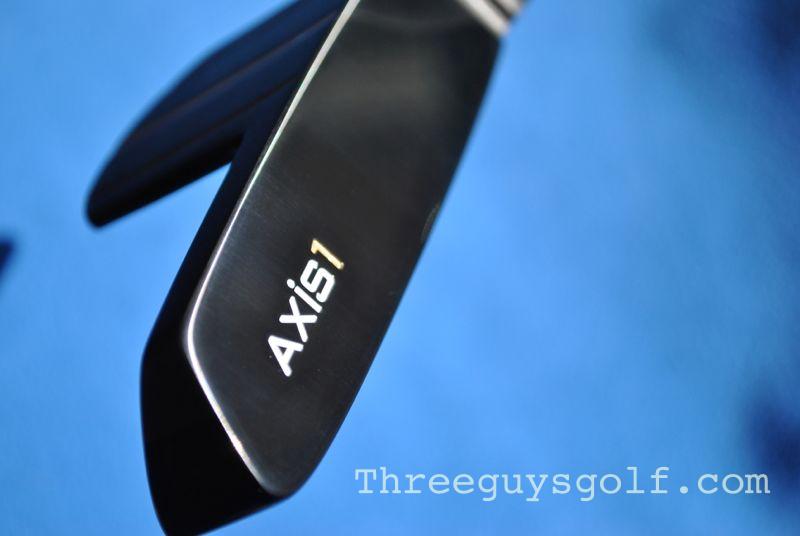 Axis1 Umbra Putter Review: The putter is perhaps the most personal piece of golf equipment any golfer owns, which is why preferences vary so widely. With that said, I think Bob Rotella is correct in his assessment that we should approach putting like we were a kid and not overthink the whole process. Unfortunately, we grow old, miss too many putts and begin to question everything – including our flat stick. This is exactly why having trust in your putter is so important. If you trust your putter, you make a more confident stroke and utilize your natural hand-eye coordination.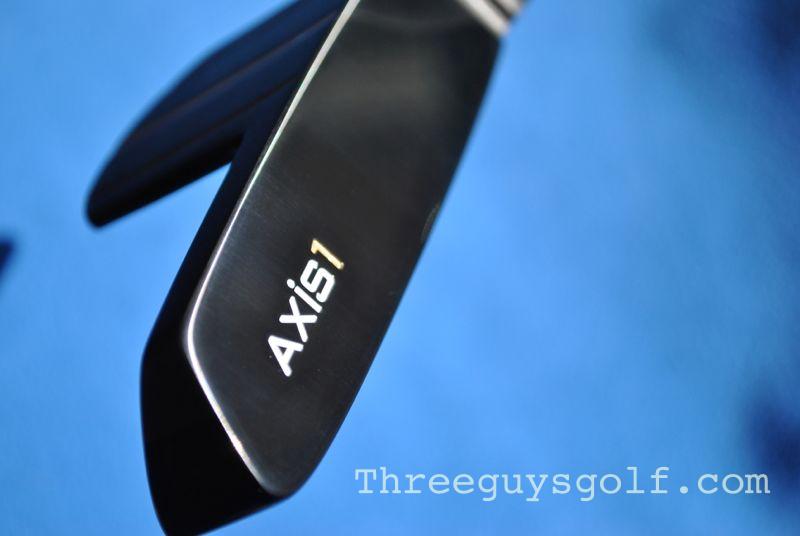 Confidence in your putter starts with how it feels in your hands and how natural your stroke is. The Axis1 putter is designed to have the center of gravity at the exact place where you are meant to hit the ball. This means that the putter is incredibly well-balanced and won't spin right or left when you pick it up. Axis1 was not the first company to believe balance was critical to a putter's design, but they updated the materials with space-age precision and attention to detail.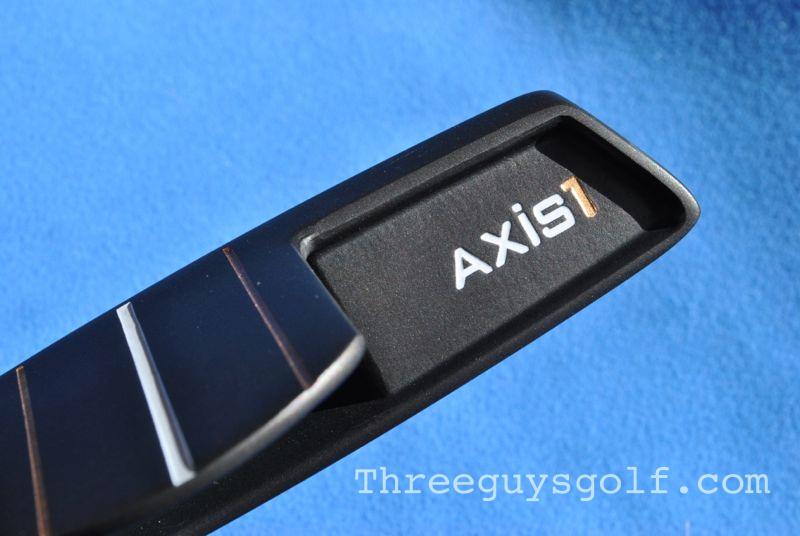 I played my first round with the Umbra putter without ever hitting it on a practice green or in a store. For some reason, Adam likes to spring new equipment on us just before we tee off. So, after negotiating the funky head cover that protects all the science in the putter head, the first thing I did was spin it in my hand to feel how it moved. My first thought was  'man, this feels so natural.' Interestingly, this was a common first impression for a few of my buddies who also remarked on its exceptional balance.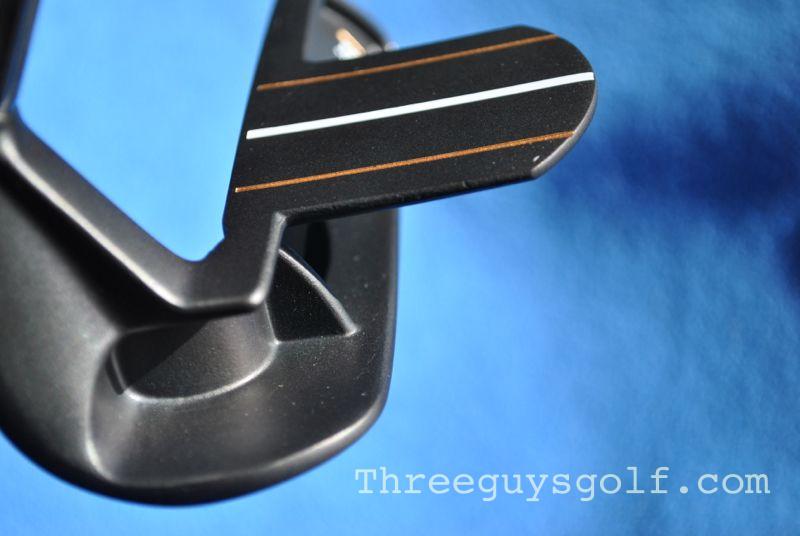 Axis1 Umbra is labeled as a mallet design but it is really very different than most traditional mallets. I would say it is more of a cross between a blade and a mallet. In the end, I don't care what it is called as long as it putts well. One design feature it does share with many mallets is the alignment aid on top. These are called  'L-frame alignment sight lines' that are reminiscent of a two-ball putter. Conversely the length of the blade and the feel of the ball off the face are reminiscent of a toe and heel-weighted blade putter. A bit of the best of both worlds.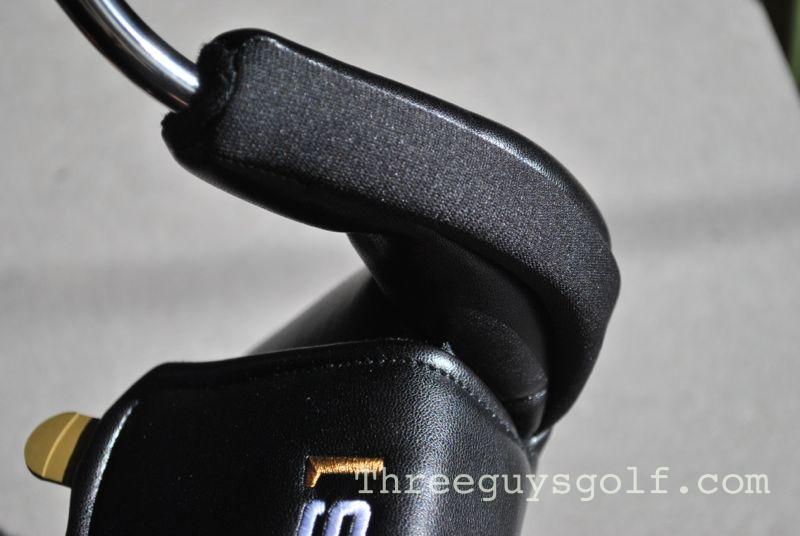 One aspect that did take a little getting used to was the counter-weight in the heel that comes forward from the face (see the bent shaft near the blade). At first, I found myself not making a full stoke because I was not comfortable really putting through the line because I was worried about the shaft hitting the ball. However, with a little practice, I didn't even see the counterweight. In terms of impact, the face of the putter is smooth although it sounds a little pingy when you hit it. However, I stopped noticing that after a round or two. Moreover, we have been told that there is an Umbra version that has a damper insert to mute the sound if you prefer a deeper sound off of the face.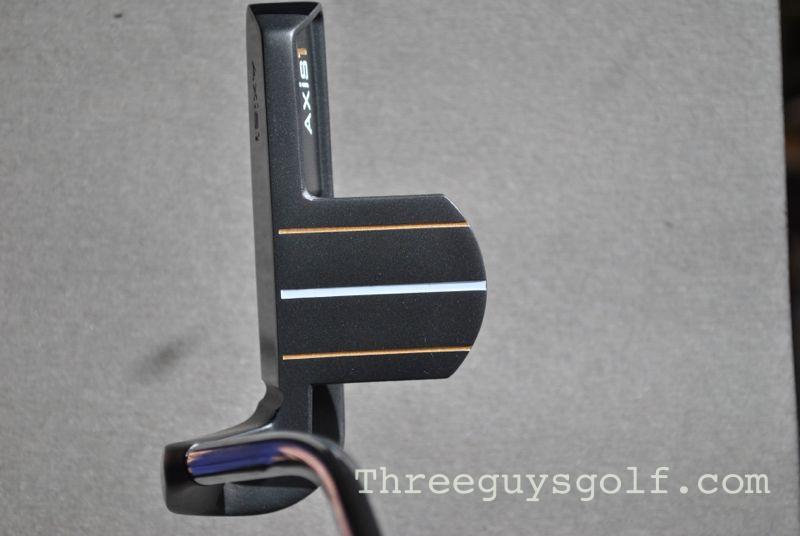 As I mentioned, I played my first round with the Axis1 without ever practicing with it. Despite that fact, I made a couple of birdie putts from the fringe and was a few strokes below my handicap in my first round using it. Since that time, I've spent a decent more time practicing with it and have grown to trust that the ball will go exactly where I'm looking.  and I mean, really go where I'm looking.
The Axis1 comes with a Wynn AVS slightly oversized-grip that feels great. My distance control has been really good even though it's a different swing-weight than my normal putter (I tested the 350g and there is a slightly heavier 400g for faster greens) and I am comfortable using it on both fast and slow greens alike. While clearly not a scientific test, I feel like I have hit more short-to-mid length putts right in the dead center than I can remember for a while.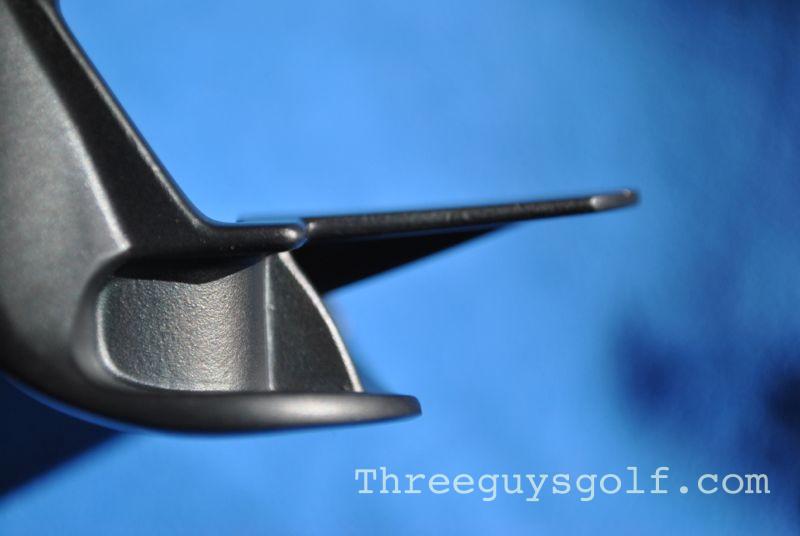 These putters are $300 at your normal outlets, and if you consider what you are shelling out for your new driver, and how much more you hit this club during a round, it's not that hard to figure out. This may just be the club that has you playing with the exuberance of a kid again as you watch those putts roll right in the center of the hole.
You can see the whole line of Axis1 putters on their website.