I watched my first tournament of the year this weekend (and Monday night), and quite frankly, it's good to get back into the golf thang. Without taking too much of your time, a couple of tid-bits I noticed while watching our boy Tiger get it done:
– Did CBS bring in a cinematography crew over the off-season to add some spice to the broadcast? There were a few times this weekend when I didn't know if I was watching a lag putt or a Terrence Malick film. I know Torrey Pines is a pretty cool place, but really I always thought Pebble Beach was the kingpin of landscapes . . . well I've never seen more majestic shots and vanguard camera angles than during this weekend's tournament, makes me think there is a concerted effort to add a little Sundance to the game.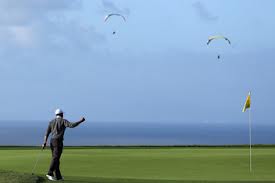 And while we're here, is California like 4,000 times more fun than the rest of the planet or what? Hang-gliding, paragliding, parasailing, ultralight piloting. Does anyone have jobs? I like to think I love where I live, but good lord, if you didn't get jealous of that scene out there while watching the tournament this weekend you should check your pulse.
– I saw a lot more yukking it up on the course during this tournament than I ever have, except for maybe a Skins Game back in 1986 that featured Fuzzy Zoeller on the tee sheet. Rarely do we get to see Pros standing on a tee cracking up with other players and caddies (not even their own!), guys walking down the fairway shooting the breeze, caddies throwing their guy his cleaned ball across the green, etc. Of course this has always been a part of the game, and I never understood why golf coverage was so hell-bent on NOT showing it. Maybe they've had a change of heart in that department as well. If so, it's about time.
To that end, can we stop accusing Tiger of being a "robot"? He was having as much fun as anyone out there, that kid Horschel had him cracking up, and it doesn't look like anyone out there is treating him like Darth Vader or Bobby Knight (redundant? . . . watch some NCAA coverage on ESPN and get back to me). Of course he tends to shut it down when the tournament is on the line, but if that's how he wins then so be it. When Phil doesn't discipline himself in crunch time we crucify him – we can't have it both ways.
– Gotta love McCord and Feherty.
– Gotta love the new Taylor Made R-1 commercial, that club looks . . . oh wait, what's happening . . . NO!!!
TaylorMade painted their faces! They let their faces be painted by TaylorMade! It's a hall of mirrors in bad marketing gimmick deployment! I'm sure the club is sweet, and of course TaylorMade has had more than their fair share of home runs, but I gotta call them out on this one. I can see how this ever-so-thin line can get crossed in a concept meeting, I'm just surprised that Dustin Johnson's look of sheer disappointment at the photo shoot didn't give TaylorMade pause. I guess it's the most fierce Justin Rose has ever looked, so it's got that going for it. No worries TaylorMade, I still love your Ghost Spider.