Major Scripts-Blogger Edition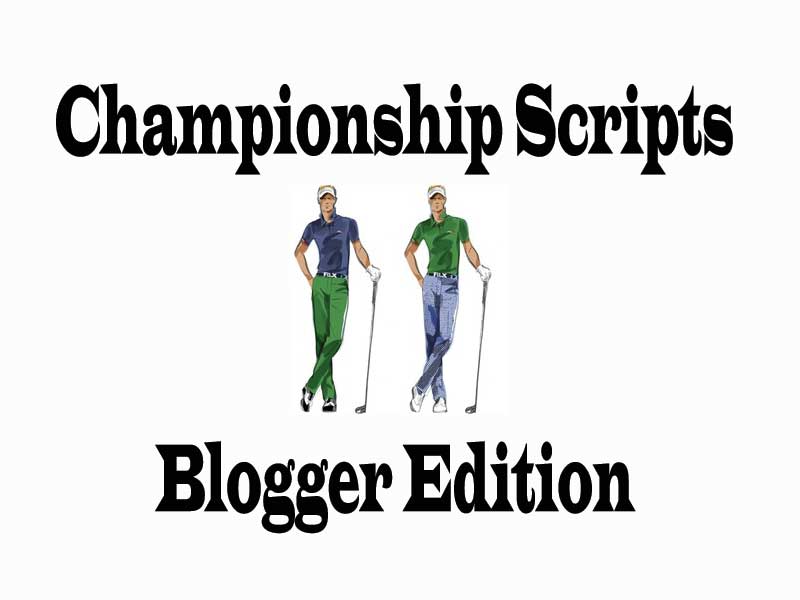 One of the few advantages of writing a golf blog is that it gives me a chance to see and review a wide range of golf apparel. Inevitably, I end up digging some brands more than others, and if push comes to shove, I can definitely name my favorite golf outfit. Call it the "Championship Script".
With that in mind, I reached out to some of the more notable bloggers who also do a lots of apparel reviews to see if they would be interested in submitting their "Championship Script".
The rules were simple: Choose an outfit that you would wear for your Club Championship or other important round. NOTE: all bloggers submitted their picks with no prior knowledge of what the others would choose, nor did they get any "coaching" from me.
The panel: For our inaugural post, we have the following list of distinguished bloggers (in alphabetical order)
Ben Carey |
Fresh Golf Reviews
Ryan Heiman |
Independent Golf Reviews
Fernando Solorzano | 
South Florida Golf Magazine
Adam Staelin | 
Three Guys Golf
Stephen Zinger | 
My Golf Spy
Championship Scripts: 2013 Blogger Edition
Follow Ben on Twitter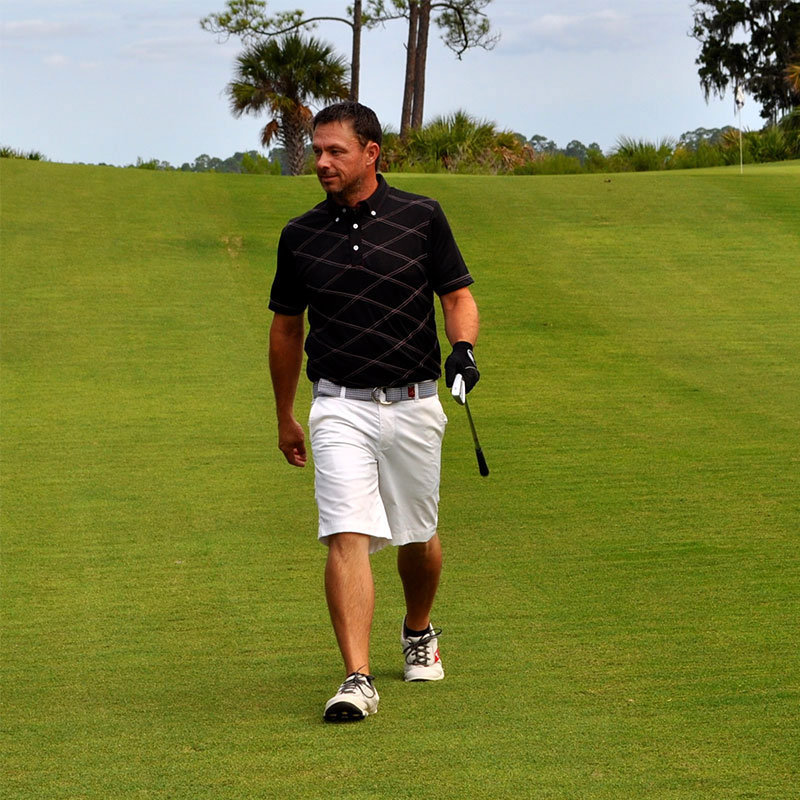 I've seen a lot change in the few short years that I've been digging in deep to review clothing. The past few years have brought out a huge movement in the variation of fits, materials, and the addition of some overall style (finally) to the golfing world. While most golf clothing is getting better overall, there are only a few pieces to me that have absolutely nailed it. Here are my big match picks…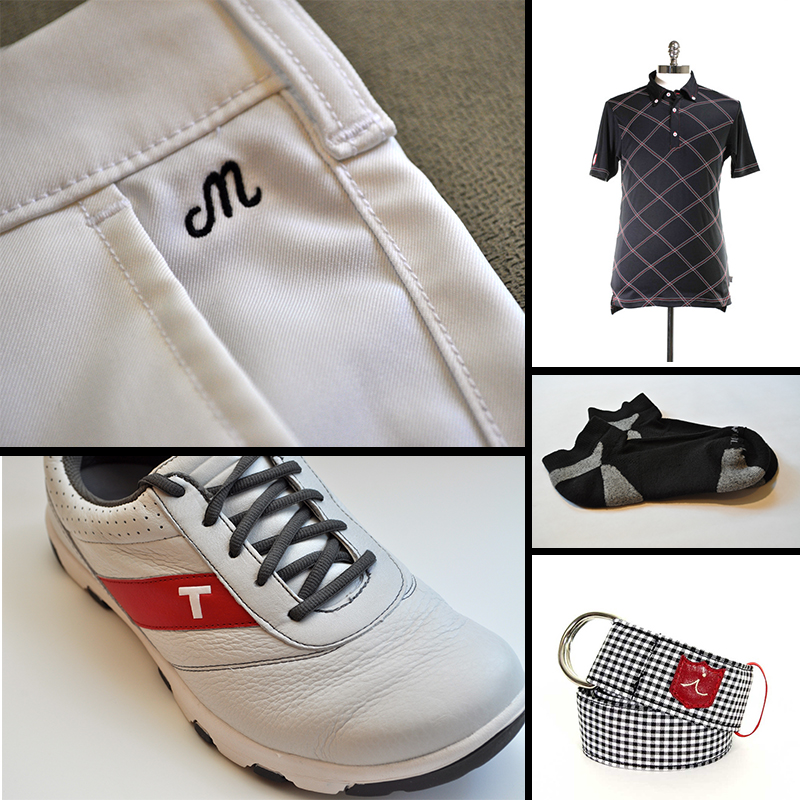 Shirt: iliac- The Jockey
Shorts: 
Maide – The Barton Short 
Belt:
 Iliac – Gingham D-Ring
Socks:
 Kentwool Tour Profile 
Shoes:
 True Linkswear Proto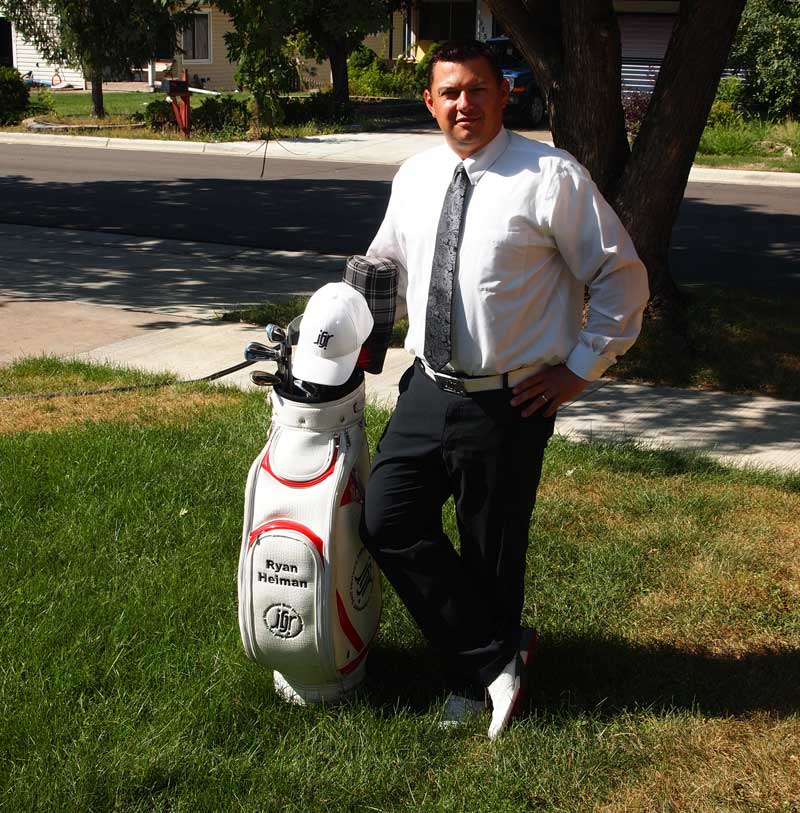 It is a Sunday Morning in late August and the Club Championship is today. It is an opportunity to show off my style. I'm not looking to blend in. I'll let my game and apparel say, "I'm here and I'm going to win." My favorite apparel will give me a confidence boost to win the championship. The picture of me holding the trophy is going to be on the clubhouse wall for a long time and I want to be wearing something that will look great for many years down the road. That is why I'm going to be wearing something traditional, yet stylish. From top to bottom my choices are: An iGr FlexFit hat. I've yet to find any hats more comfortable than these. My shirt will be a Vesti Ascendi Golf Dress shirt with matching tie. It's a classic old school look with stretch comfort and cotton breathability. If the temperatures soar over 85, then I'd probably have to switch out for a QED Style white Eureka shirt. My pants would surprisingly be a pair of C9 pants from Target. I have a couple other brands that are awesome pants, but I don't have them in the right color, besides these are amazing pants at a great price and available at any Target. My pants would be held up with a 59 Belt and custom stainless buckle. I consider my socks a key part of my wardrobe. I'd wear ProCompression Tour Golf socks. Since I'd be walking to play, the benefits of compression keep my calves and feet feeling great all 18 holes. I'd finish with a pair of white ECCO Hybrid wingtips. They are the perfect blend of style and comfort. The look is classic, tradition, stylish and wins my Club Championship.

Hat:
 iGr FlexFit hat
Shirt:
 Vesti Ascendi Golf Dress shirt with matching tie
Pants:
 C9 pants from Target.
Belt:
 59 Belt and custom stainless buckle
Socks:
 ProCompression Tour Golf socks
Shoes
: ECCO Hybrid wingtips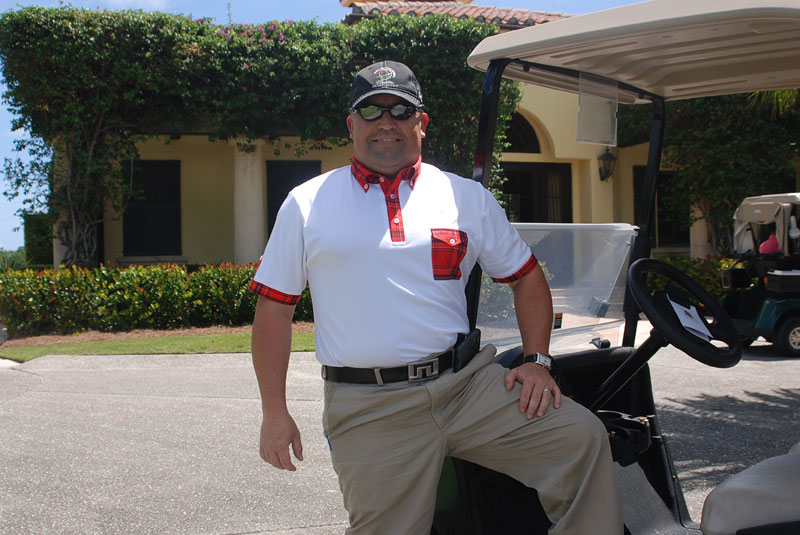 Not too many people love South Florida during the summer months like I do. Sizzling temperatures and humidity just below the melting point makes most daring golfers stay indoors. Staying ahead of the game and making the right choice using cool / quick drying fabrics has become the standard. Today, I was invited to play a round of golf at the exclusive Old Palm Golf Club in Palm Beach Gardens, home of 15+ past and present PGA touring professionals including Lee Westwood, Darren Clark, Louis Oosthuizen, Raymond Floyd, Charl Schwartzel and many others.
My outfit feels cool and confortable as I am wearing the best of the best in high performance fabrics. From top to bottom I am wearing an Imperial Microfiber Tour Golf Hat, Hand Made Limited Edition The National Tour Crested by Iliac Golf (high performance silk with moisture wicking technology material for the ultimate in luxury and performance). My khaki golf pants, also 100% microfiber polyester, are from the new Greg Norman Collection Epic Ultra Light Rain and Wind pant for the ever-late afternoon South Florida rain. My leather belt is the Slater Model by J. Lindeberg. My golf socks (not pictured) are FootJoy Men's ProDry Sport Socks and last but not least I am wearing the super confortable Crocs Men's AllCast Duck Golf Shoe.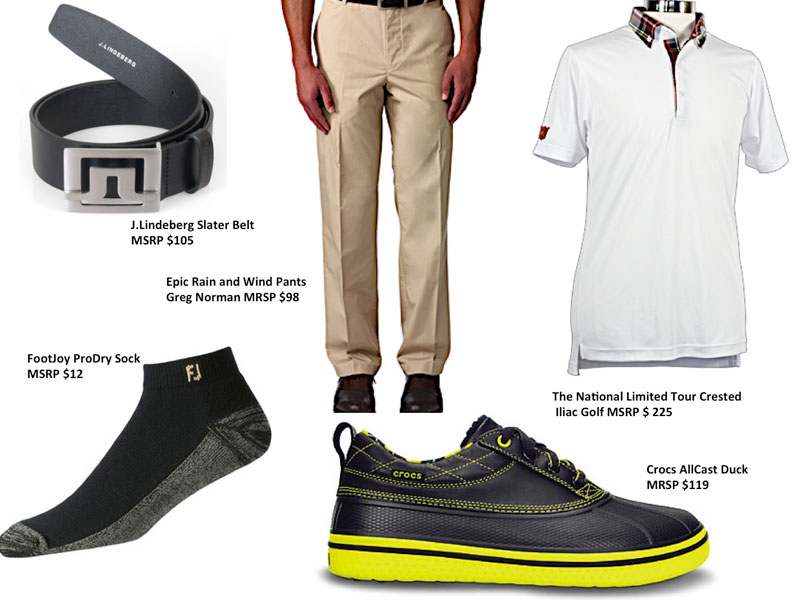 Hat:
 Imperial Microfiber Tour Golf Hat
Shirt:
 Hand Made Limited Edition The National Tour Crested by Iliac Golf 
Pants:
 Greg Norman Collection Epic Ultra Light Rain and Wind pant 
Belt:
 Slater Model by J. Lindeberg 
Socks:
 FootJoy Men's ProDry Sport Socks 
Shoes
: Super confortable Crocs Men's AllCast Duck Golf Shoe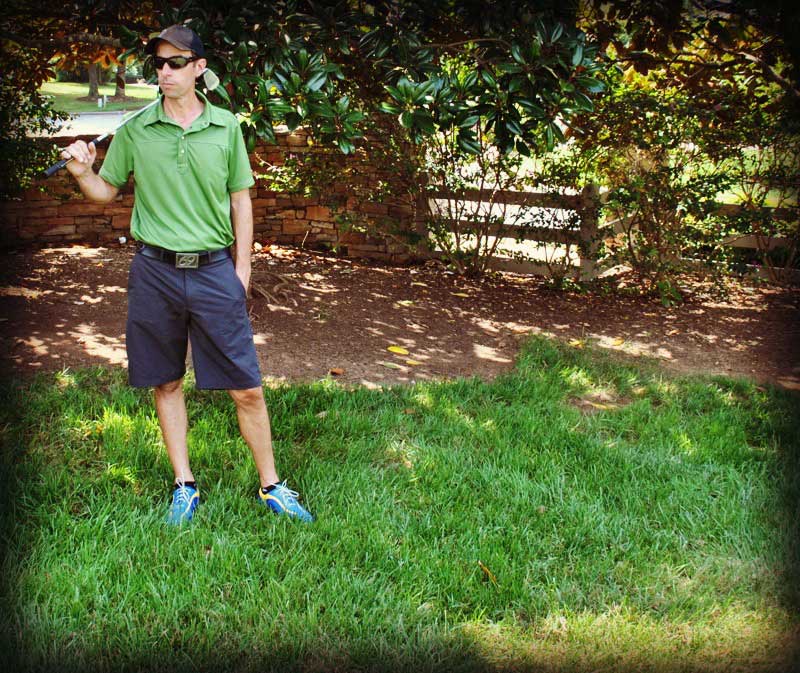 Each fall I play in our club championship and while I may not finish in the top 10, I am at least gonna look good. Although I like a lot of the big brands, my picks are primarily from lesser known companies. As many regular readers know, I am not shy about wearing colorful and crazy clothing but when it comes to a big match I want to go with something a little more traditional but include a few details that say "yea, this is kinda money".
First, I really like the idea of wearing the same brand shirt and shorts as great companies have designed them to fit together. Currently, my favorite golf apparel brand is QED Style. The Logan polo, while solid in color has nice over-stiching and pearl snap buttons rarely seen in other shirts. The Alpine shorts are super comfortable and absolutely functional. My belt collection may be in double digits but there is no doubt I will be wearing my 59 Belt (one of only two made with this particular finish). My socks are of course are Kentwool (the best socks on the planet). As for the shoes, I wear my True Linkswear about 70% of the time but for this big match I am breaking out my custom Footjoy Icons. Boom! Finally, I will be wearing a logo "Breakfast Ball" hat to give props to our contributing writer Mathew Wangrych who is the author of that fine blog.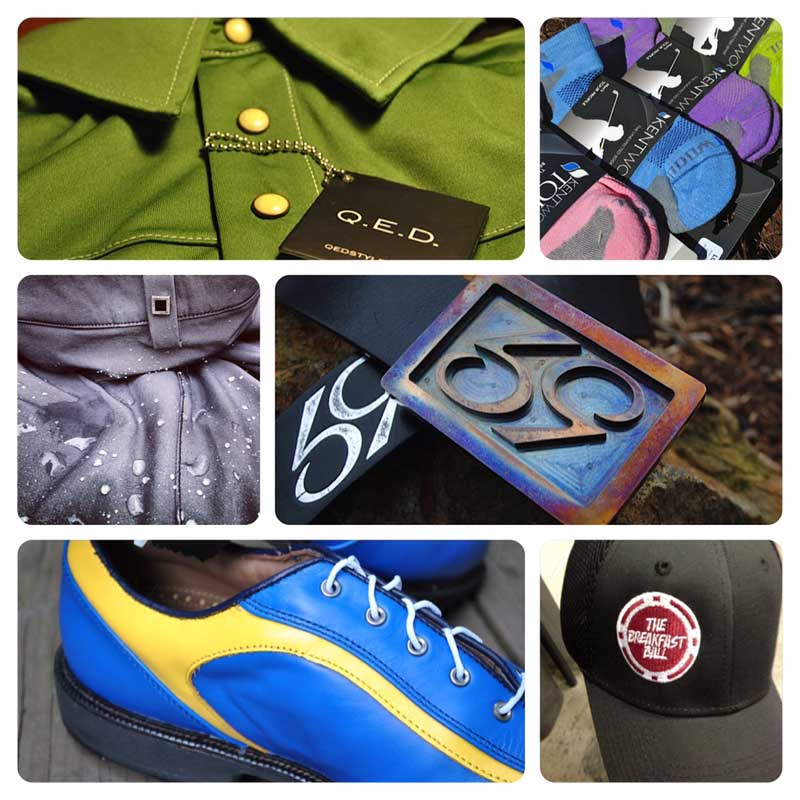 Shirt:
QED Style Logan Polo
Shorts:
 QED Style Alpine Shorts
Belt:
 59 Belt 
Socks:
 Kentwool socks
Shoes:
 Custom designed Footjoy Icons
Hat:
Breakfast Ball logo hat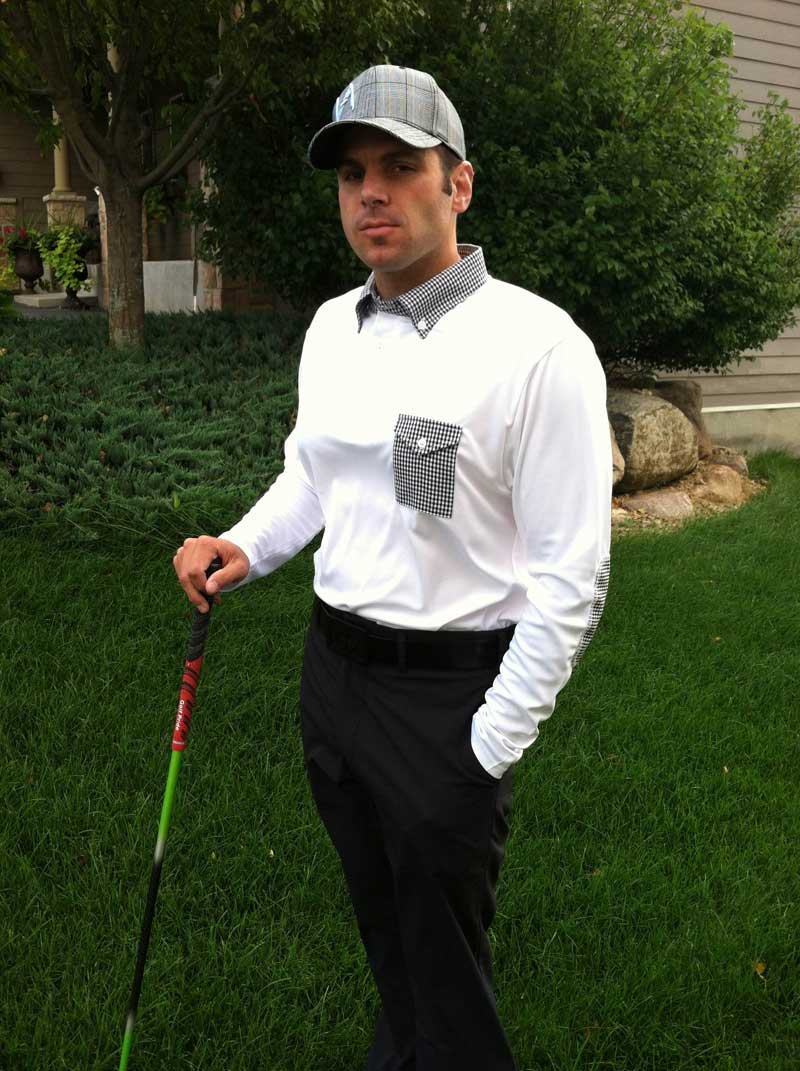 It's no secret to the readers over on our site that Iliac Golf is my top pick for golf apparel. There is just something about the brand, and the guy running it, Bert LeMar, that I like. Most of the selections from Iliac are made to order, meaning production for the piece starts after you have placed the order. Contrasting collars on the shirts, luxury fabrics, contemporary fit, and the best pants in golf are just some of the reasons why this company is on the top of my list. My pants are typically held stationary with a leather strap and buckle from 59 Belts.  There is something cool about having your buckle cut out of a block of stainless steel, just for you.  On the feet are almost always TRUE Linkswear shoes.  Since their inception as a brand in 2010, I have worn their shoes almost exclusively.  The TRUE Protos from this season have to be the most comfortable shoe in golf.  Pair the TRUE's with Kentwool socks, and you have the most enjoyable walk in golf. Last but not least, one of my favorite hats of all time is the Vesti Acendi Plaid "VA" hat.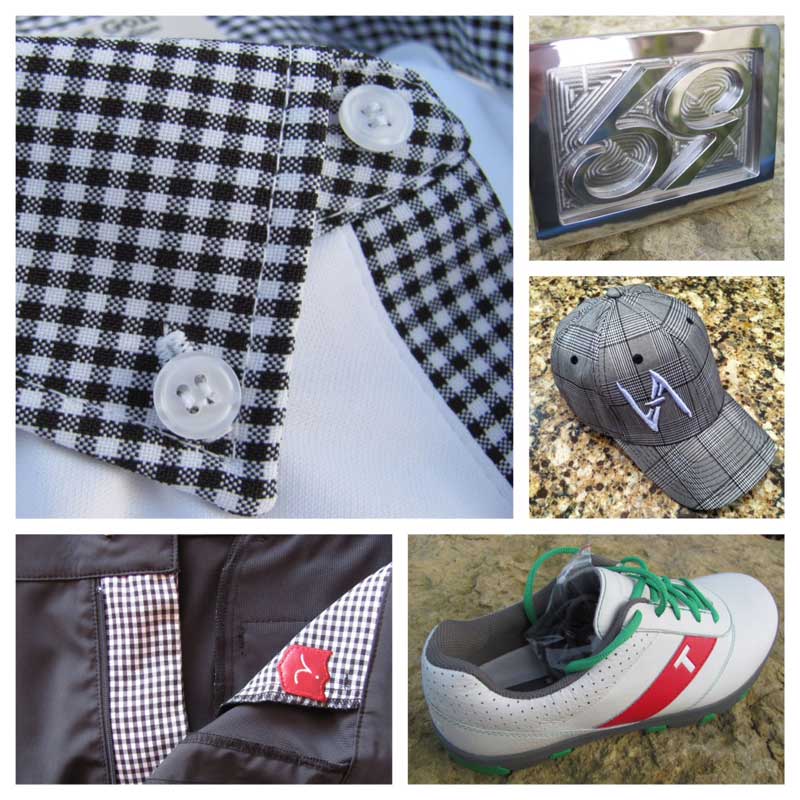 Shirt:
Iliac Golf Checked Gingham Shirt
Pants:
Iliac Golf Luxury Dry Stretch Tour Pant
Belt:
59 Belts
Shoes:
TRUE Linkswear Protos
Socks:
Kentwool
Hat:
Vesti Ascendi Plaid
Reflection in Mirror:
Handsome
Thanks to all of the bloggers who made this post happen. Let us know what you think and hopefully we can make this a regular piece with other guest bloggers weighing in on the subject.