Just4Golf Headcovers: Until recently, there were few options when it came to headcovers. There was your standard "came with the club" cover or the "oversized animal" cover but not much more. Fortunately, there are a number of new companies coming out with other styles to choose from. One of the more popular styles that is popping up is the knit sock throwbacks. Derived from a day when wool and cotton were the material of choice and argyle and stripes were in vogue , these new headcovers add a splash of color to your bag.
At the high end of this market, you have companies like Rocket Tour who make a pretty sweet headcover, but at $35 a pop it can be tough to justify for my used 4 wood. Fortunately, there are some more affordable alternatives with similar styling and quality.
Just 4 Golf headcovers is one of the companies making this style of headcover and they were nice enough to send us a few samples to check out. While the Just 4 Golf headcovers may not have quite the cache of Rocket Tour, they are up to 50%  less per cover so they are definitely worth considering especially if you want to get 3-5 of them.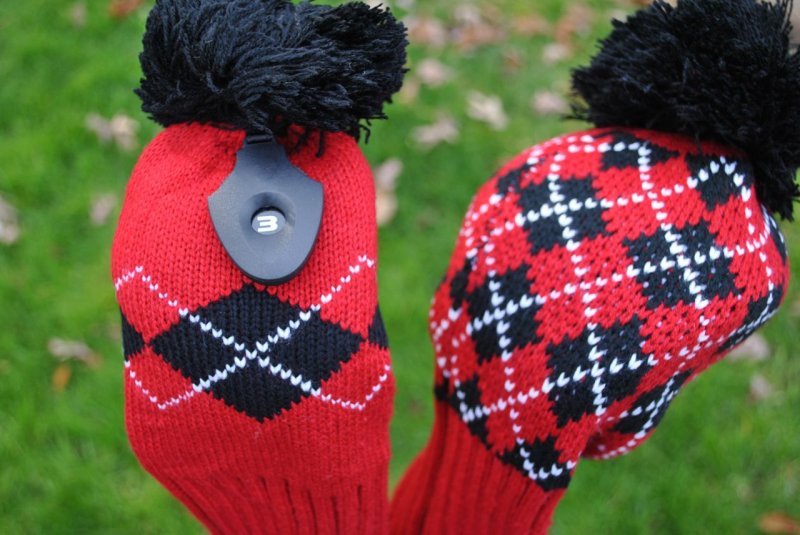 Background: Just4Golf Accessories headcovers come in ten styles and include putter covers for both mallet and blade putters.  From a style standpoint, they have a nice selection of argyle, stripes and old school looks.  Moreover, I would say 1/3 of their selections skew to women so it is a great shop for the ladies as well as the guys.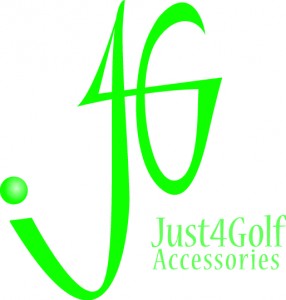 Three Guys Take:  Overall, I was quite pleased with all of the Just4Golf headcovers. I thought the styles were unique and the construction solid.  As a test, I tugged on all of the pom poms and each one showed to be securely fastened. In terms of functionality, all of the covers we tried easily fit on my clubs including a Ping G10 driver.  NOTE: These head covers are NOT one size fits all which is really a good feature because it means the covers  fit better and are more snug.  Therefore, make sure you check the description to note if it is sized for a driver, fairway wood or hybrid.  I did find that the fairway woods and hybrids are pretty close in size but you will definitely need the driver size for your drivers.
The other unique feature is the plastic toggle on some of the models that you can spin around to indicate what club it is (see photo gallery below). I actually preferred the models without this feature, but you can easily cut the tag off if you like.
Overall, I like the Just4Golf headcovers and they have a number styles which I would put in my bag.  I also found that you could mix and match the styles (you will note that I have a black headcover mixed with the argyle in the below photos).  Lastly, Just4Golf headcovers are incredibly affordable. Many of the covers are just $16.00 which is 1/2 the price of the big boys.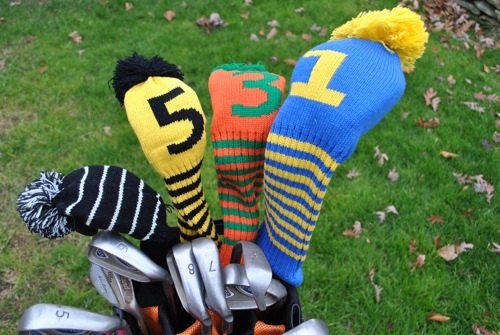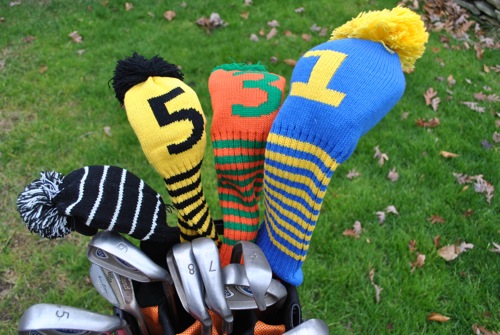 You can see more photos in our Facebook Gallery.