Last summer Three Guys Golf was introduced to a funky British company called Bunker Mentality. While their look is clearly not for everyone and fringes on golf punk, they are steaming full ahead and I for one am on board the S.S. Funky.
As I mentioned we have reviewed Bunker Mentality summer wear and their sister company Queen of the Green (the ladies version), so we thought it appropriate to also do a quick review the fall/winter gear. The two items we saw were the 'Warm-up Jacket' and Crest Sweater. Unlike many of the Bunker styles, the warm-up jacket is as tame as a house cat. Simple grey with blue piping is the only remarkable feature. Oh, there is that huge logo on the chest but no one will notice it. Actually, I totally dig the Bunker Mentality logo and it is absolutely the reason why the jacket looks so cool.
Seriously I love this jacket and wear it all of the time. It is a perfect weight for temperatures in the 40's and 50's. It is also tight-fitting so as to not be bulky. Plus it is also stretchy enough to move through your swing. Add the fact that the jackets are not very expensive and you have what I call a winner.
The sweater, on the other hand is full on Euro. As long a you are comfortable with your masculinity, the shirt is royal. Heck it has a crest on the chest so how can you not feel like a player? Sure it has pink stripes and is regularly stolen out my closet by my teenage daughter, but if you can channel your inner Ian Poulter you may actually dig the look (just make sure you order at least full size larger as they run small).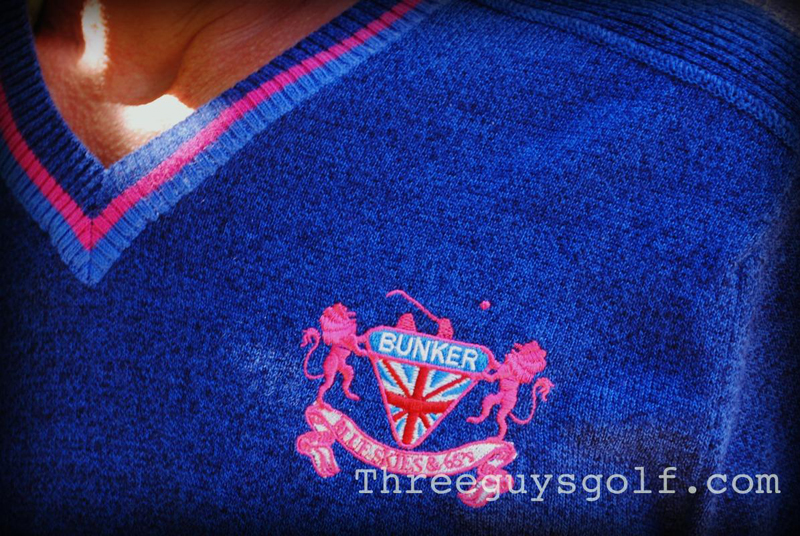 With so many companies cranking out yet another striped shirt, I find it refreshing to find a company who is willing to be a bit daring. Even if Bunker Mentality does not always hit the mark in mainstream style, I give them credit for providing a unique clothing line that is also very affordable (and they have regular sales!)
You can see the whole line of Bunker Mentality on their website.